My morning began with a walk in the woods to gather my thoughts, to admire and enjoy the glorious sunlight, blue skies and white puffy clouds.
It was quite lovely and it felt like a gentle blanket of silent beauty had been draped all around me.
I was loathe to leave, but work called me back to the studio.
So here I sit editing, cropping  and creating photographs. Below are some of my recent art work.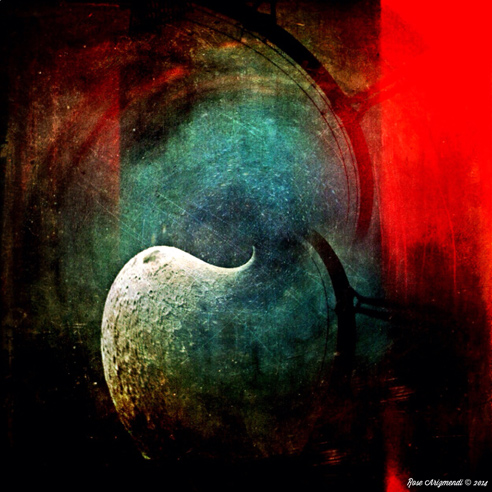 Hovering on the edge of immortality ~ Rose Arizmendi © 2014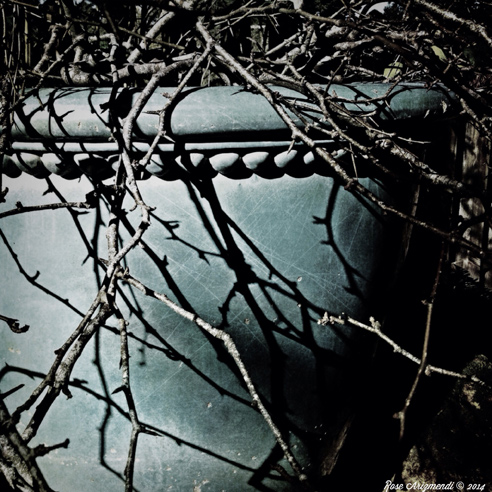 Moonlight printed garden pot ~ Rose Arizmendi © 2014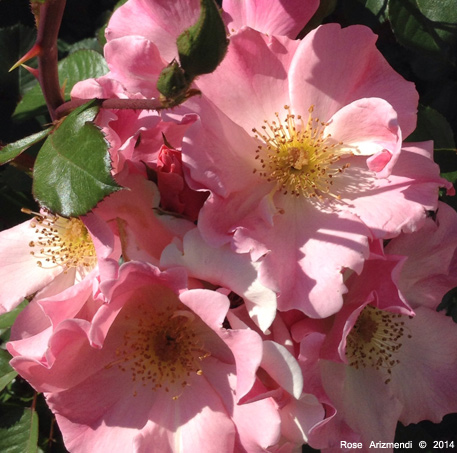 Vintage Roses ~ Rose Arizmendi © 2014
Have a lovely, magical, creative day everyone~rose
I have always been fascinated with the sea and old stones worn smooth by the tides,
 the hidden mysteries beneath the deep ocean and the folklore of mermaids.
Come away with me to a place of mystery, imagination and beauty.  ~rose

Seawater rushing across ancient stones…a remembered dream. ~rose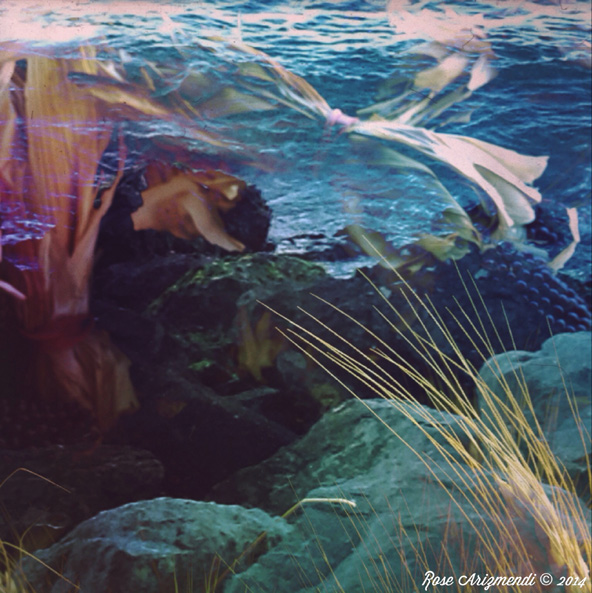 I am still creating traditional art work as well, but for now I am enjoying the freedom that
mobile photography has given me. The ability to create imaginative, photographic
images while traveling and exploring throughout beautiful Northern California.
Wishing all of you a beautiful, magical Spring! ~rose
Sunny and pleasant in northern California today while the rest of the country is experiencing wild winter storms. Please stay warm and safe everyone!
It's been awhile since I've posted here, actually it's been over two years and I have no particular reason why I stopped posting on this site except to take a break, to go deeper,  and to explore other mediums .
Here's what I have been working on lately…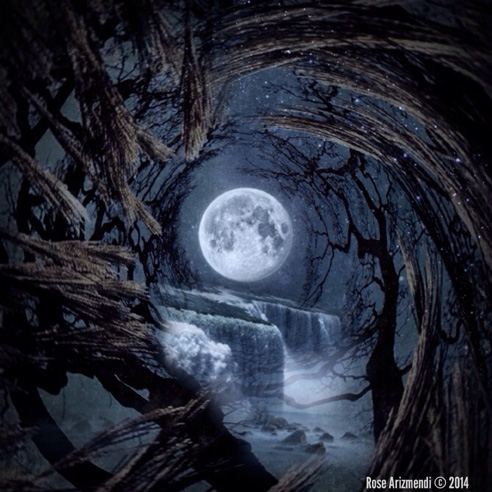 And this….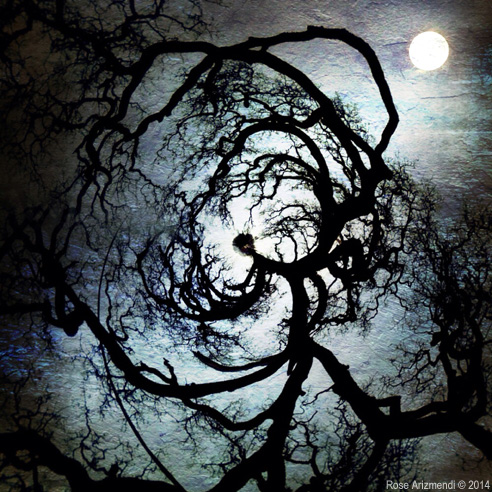 The enchanted moon…kissing the realm of the sacred, darkling woods. -rose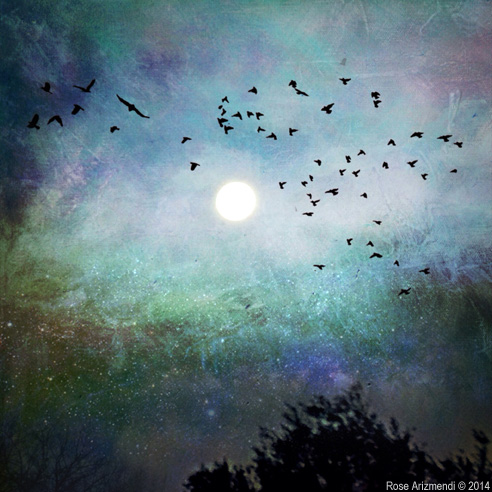 A gossamer hush fell over the woods…echoing with enchantment and mystery. -rose
That's all for today folks! xo
Quotes for the day ~ "There is a vitality, a life force, an energy, a quickening that is translated through you into action, and because there is only one of you in all time, this expression is unique. And if you block it, it will never exist through any other medium and will be lost." ~Martha Graham
"Do your little bit of good where you are; it's those little bits of good put together that overwhelm the world." ~ Archbishop Desmond Tutu

"I dream of painting and then I paint my dream." ~ Vincent Van Gogh
Lately, I have been mesmerized by  crows and pomegranates. The painting below was inspired by the crows I see on my morning walk down by the creek . They are so very intelligent and I love their wickedly funny antics.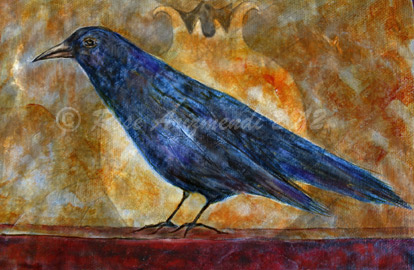 The Golden Pomegranate ~ Acrylic/ Mixed Media ~ 12 x 12 inches on canvas
Below is a sampling of the work currently on my easel. The first one is an experimental piece on 10 x20 canvas~Layers of texture built up with art tissue paper, plaster, fabric, mixed "Golden" gel mediums, Golden acrylics, charcoal, etc…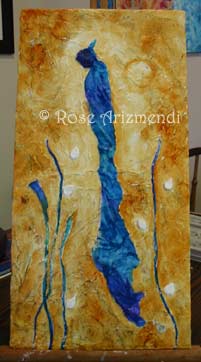 The Bone Mother Mask is another experimental piece on 24 x 36 inch canvas ~ Layers of plaster, gel mediums, sand, cheese cloth, pieces of tree bark, Golden acrylic washes, tea stains, etc…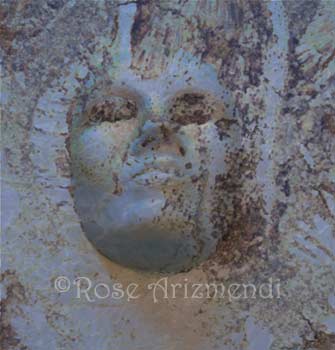 My goal for this year is to dive into some projects that I've kept on the back burner for awhile. You know those ideas that always begin with the words "someday, I'm going to begin . . .
I am so tired of pushing my sculpting tools further and further back into our storage unit, all the while thinking I really need to start working with clay again. There is this deep need inside of me to experience the alchemy of fire, earth and  water. The feel and texture of clay in my hands that feeds the soul in some way.  And yes, there is an open studio near our home. So excited!
Until the veil of the unknown yields
And something original begins
To stir toward your senses
And grow stronger in your heart.
~John O'Donohue
Happy solstice everyone ~ wherever you are in the world! Summer has arrived and it's been a sweltering hot day. Outside its 96 degrees.
However, I have been managing to stay nice and cool with a fan blowing, tucked away in my studio working. Here are a couple of projects I've been working on lately.
This ~ . . .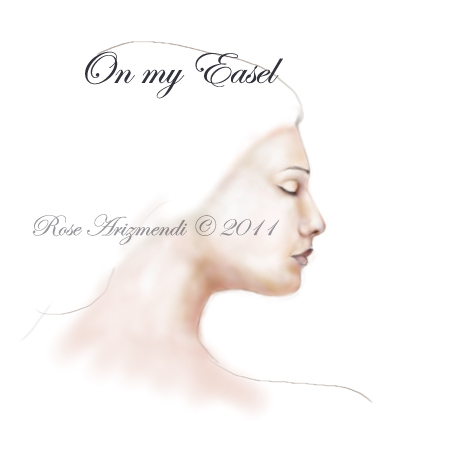 Then followed that beautiful season ~ Summer. Filled was the air with a
dreamy and magical light; and the landscape lay as if new created in all the
freshness of childhood." ~ Henry Wadsworth Longfellow
And This . . .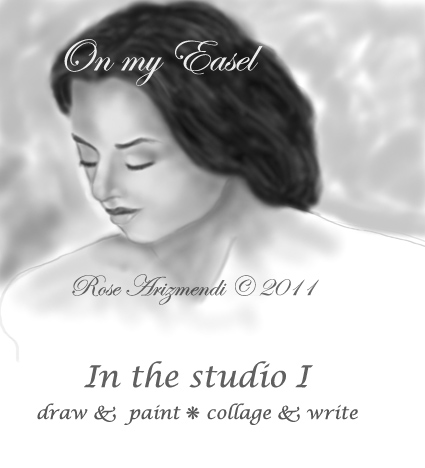 Now it is time to put away the mess on my table and clean my dirty brushes. I have finished dipping my brush into a soup in which bits of inspiration have been simmering for months or maybe years. The perfect word for today ~ Unfurling . . .
Here is one of my favorite poems by Mary Oliver
Something whispered something
that was not even a word.
It was more like a silence
that was understandable.
I was standing
at the edge of the pond.
Nothing living, what we call living,
was in sight.
And yet, the voice entered me,
my body-life,
with so much happiness.
And there was nothing there
but the water, the sky, the grass.