"I dream of painting and then I paint my dream." ~ Vincent Van Gogh
Lately, I have been mesmerized by  crows and pomegranates. The painting below was inspired by the crows I see on my morning walk down by the creek . They are so very intelligent and I love their wickedly funny antics.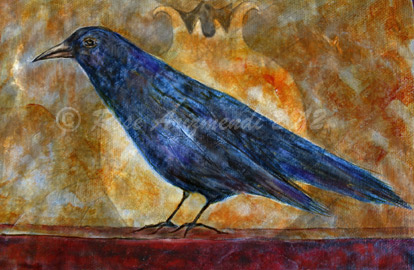 The Golden Pomegranate ~ Acrylic/ Mixed Media ~ 12 x 12 inches on canvas
Below is a sampling of the work currently on my easel. The first one is an experimental piece on 10 x20 canvas~Layers of texture built up with art tissue paper, plaster, fabric, mixed "Golden" gel mediums, Golden acrylics, charcoal, etc…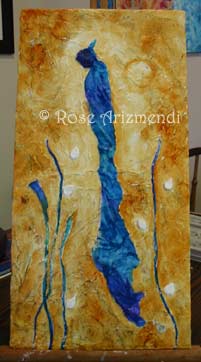 The Bone Mother Mask is another experimental piece on 24 x 36 inch canvas ~ Layers of plaster, gel mediums, sand, cheese cloth, pieces of tree bark, Golden acrylic washes, tea stains, etc…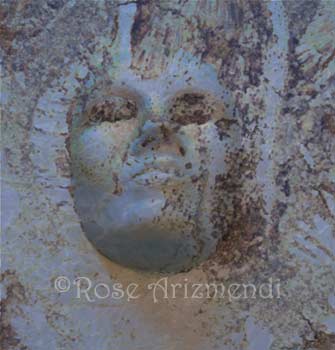 My goal for this year is to dive into some projects that I've kept on the back burner for awhile. You know those ideas that always begin with the words "someday, I'm going to begin . . .
I am so tired of pushing my sculpting tools further and further back into our storage unit, all the while thinking I really need to start working with clay again. There is this deep need inside of me to experience the alchemy of fire, earth and  water. The feel and texture of clay in my hands that feeds the soul in some way.  And yes, there is an open studio near our home. So excited!
Until the veil of the unknown yields
And something original begins
To stir toward your senses
And grow stronger in your heart.
~John O'Donohue
Lately,  I have been obsessed with all things related to Puzzlewood, in the Forest Dean. Forest Dean  is located in the western part of the county of Gloucestershire, England. I watched a video awhile back and was inspired by it's beauty, magic and mystery.
I would love to spend a few months living there, sketching, painting and mostly drinking in the sheer beauty of this forest, but for now I am satisfied with the inspiration and burst of creativity the video stirred up in me.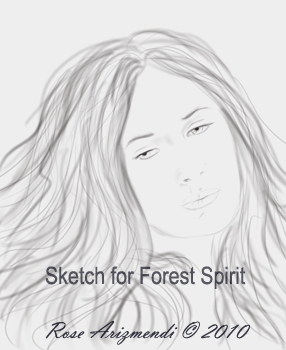 From a dream;  A young woman walking in the forest with a crescent moon suspended in the sky where trees dream and owls fly overhead. She loved the play of moonlight on the leaves ~ shadow and light. The wind playing with her hair ~ the sweet smell of the damp earth beneath her feet, Mother Earth whispered "Child of the forest reach out and touch your wild nature for therein lies your power." To be continued….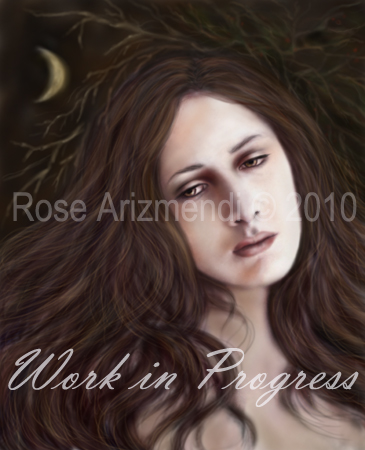 Forest Spirit ~ Digital Painting ~ 11 x 15 inches
This is as far as I got on the painting today. I'm not sure about the background. The crescent moon will stay but the rest may change. The forest floor in my dream sparkled with shades of purple, muted greens and browns with silver moonbeams thrown in. The forest  bejeweled in moonlight.
I was able to capture the forest floor part of the dream in a necklace that I created last week. I have only three of these ceramic goddesses left ~ one of a kind ~ each one different from the other.
I chose this Goddess pendant because it reminds me of  an ancient goddess relic with the soft muted moss colored glaze and rich earth colors sprinkled about. The piece is signed and will soon be available at http://www.rosearizmendi.com/shop/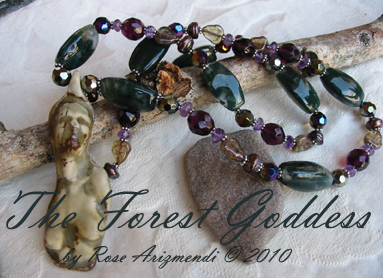 To learn more about Puzzlewood located  in the Forest Dean click here
If you love owls ~ You will love this beautiful Video!
Summer is always a very busy time of the year for me, and there seems to be no end to the various projects that need to be done.
So far I've managed to slowly whittle down a rather large to do list, but when it is so beautiful outside, it's hard not to be distracted by Mother Nature.
Of course, I also have a stack of books next to my bedside table, patiently waiting to be read. I plan to start one real soon (like tonight) . . .  Mainly because I just can't stand them staring at me any longer.  lol
This video is an introduction to Ashville abstract artist, Jonas Gerald. Wow! I love his energy.
thought for the day;
"No matter how busy you may think you are, you must find time for reading, or surrender yourself to self-chosen ignorance." – Confucius
I have been a busy bee over the past week or so. Unfortunately, this means I have had less time for blogging.
I've been in the studio everyday from early morning to late afternoon working on two paintings for the Egyptian series. Yes, I have been hard at play and loving every moment of it!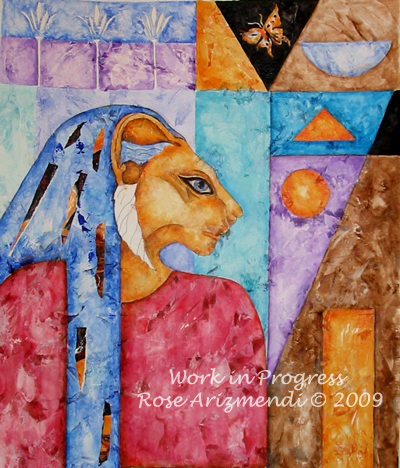 Sekmet -Acrylic Art – Mixed Media Collage – 17 x 21 inches on paper
thought for the day: "If you want to get better at painting or making art, then do it everyday (passionately/religiously) as if there is no tomorrow. Let go of the judge within, and be surrounded by positive, supportive people. Be gentle on yourself and others. Give. Never hold back. – Nancy Davies Bilbro
Happy Vernal Equinox!
I have been out and about enjoying the nice weather, taking lots of photos. I love the sense of renewal that comes with Spring!
I have also been hard at work in my studio painting a new piece which features a portal and an abstract bird. I will post it in a couple of days or so.
This video shows spectacular images of Gaia, our Mother Earth . . .  So beautiful and so fragile . . .
"Evolution is a tightly coupled dance, with life and the material environment as partners. From the dance emerges the entity Gaia". -James Lovelock
Last night I had the strangest dream!
I dreamed that I was watching trees walk out of the ocean onto land. They walked in small groups, communicating with each other by waving their branches back and forth. The sky was orange with red and gold light playing across he landscape. The dream was very magical and I felt so happy and free. It was at that moment I realized I was a tree too.
After writing my dream down I got up and grabbed a cup of coffee. Then I decided to make a painting of my dream.
Even as a child I have always had unusual dreams, which include a great deal of detail, and I always dream in full technicolor, with all five senses engaged.
For more info on dreams and dream cards go here.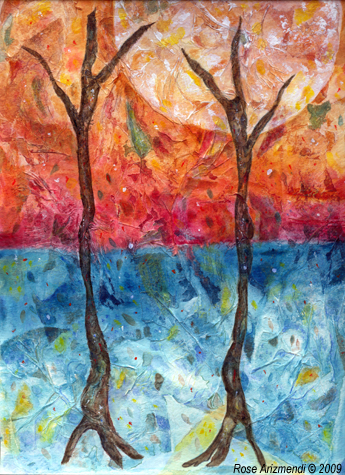 When Trees Walked the Earth – Acrylic Art – Mixed Media Collage – 9 x 12 inches on paper.
Beatriz Mihazes – Video portrait of artist Beatriz Milhazes
I have been working on this painting again and have added a few new elements to it.
I am making progress on the piece despite the occasional interruptions. Oh, such is life. But I am having fun!
It felt really good to have two full days in the studio so I could get some work done. My current goal is to spend more time in the studio and less time with my nose in the computer. We will see how that works out . . .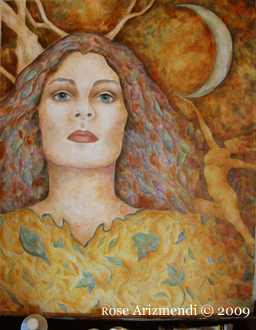 Lady of the Forest #2 – Acrylic/Watercolor/ Mixed Medium – 16 x 20 inches on Canvas
Metaphor
When you start on a long journey, trees are trees, water is water, and mountains are mountains. After you have gone some distance, trees are no longer trees, water no longer water, mountains no longer mountains. But after you have travelled a great distance, trees are once again trees, water is once again water, mountains are once again mountains. – Zen teaching
During this time of the year, the focus is on new beginnings, new projects, manifesting dreams, and I was thinking about what the future holds for us and future generations.
Well, after reading the news this morning I decided it was time to stop and smell the roses so I turned off the computer and headed out to the studio.
I pulled out a sheet of watercolor paper and began to sketch a portrait of my sister which then morphed into something completely different. I began to hear my muse whispering in my ear of ancient forests, beautiful winged beings, swirling colors of blues, russet and subtle shades of green sprinkled with lavender.
What's a woman to do? Go with the flow, of course!
Below is a photo of the painting in it's first stages.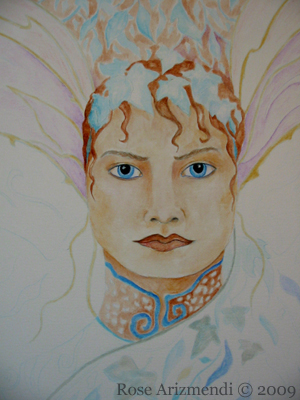 Tree Guardian – Acrylic/Watercolor Mixed Medium – 16 x 20 inches on watercolor paper
Merlyn in Calydon
"If you sit still long enough on the forest floor, the universe will approach you like a shy animal.
Breathe softly and don't move:  If encouraged it will nuzzle your open hand.
Open more! Open your heart … your head … your soul … all doors … all bars
that catch and trap and bind the wild and dreaming beast that sleeps in you."  – Mara Freeman

Wow! The Acrylic and alcohol video below is awesome!

Have a great weekend!
I dream a lot. I do more painting when I'm not painting. It's in the subconscious.
-Andrew Wyeth