Posted by
Rose
on Apr 28th, 2011 in
Video
|
0 comments
Creativity ~ Obvious  ~ Amazing  ~
This has happened to me many times. ~ Has it  happened to you?
Lately,  I have been obsessed with all things related to Puzzlewood, in the Forest Dean. Forest Dean  is located in the western part of the county of Gloucestershire, England. I watched a video awhile back and was inspired by it's beauty, magic and mystery.
I would love to spend a few months living there, sketching, painting and mostly drinking in the sheer beauty of this forest, but for now I am satisfied with the inspiration and burst of creativity the video stirred up in me.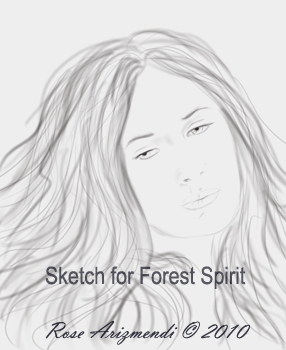 From a dream;  A young woman walking in the forest with a crescent moon suspended in the sky where trees dream and owls fly overhead. She loved the play of moonlight on the leaves ~ shadow and light. The wind playing with her hair ~ the sweet smell of the damp earth beneath her feet, Mother Earth whispered "Child of the forest reach out and touch your wild nature for therein lies your power." To be continued….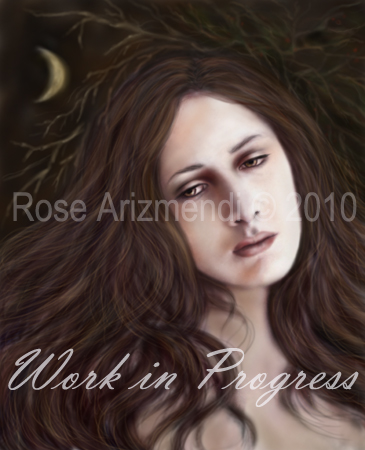 Forest Spirit ~ Digital Painting ~ 11 x 15 inches
This is as far as I got on the painting today. I'm not sure about the background. The crescent moon will stay but the rest may change. The forest floor in my dream sparkled with shades of purple, muted greens and browns with silver moonbeams thrown in. The forest  bejeweled in moonlight.
I was able to capture the forest floor part of the dream in a necklace that I created last week. I have only three of these ceramic goddesses left ~ one of a kind ~ each one different from the other.
I chose this Goddess pendant because it reminds me of  an ancient goddess relic with the soft muted moss colored glaze and rich earth colors sprinkled about. The piece is signed and will soon be available at http://www.rosearizmendi.com/shop/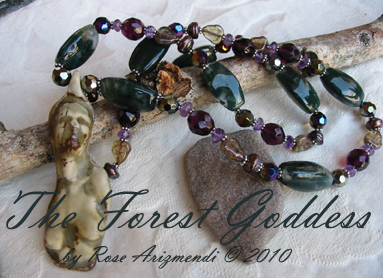 To learn more about Puzzlewood located  in the Forest Dean click here
If you love owls ~ You will love this beautiful Video!
Sacred Moments: She Carries Me
I love this video by Andrea Dorfman, inspired by the the song "Art" by Tanya Davis.
Andrea is one of Canada's most promising and truly gifted independent young filmmakers.
It's all about Art!
thought for the day;
"In order for my work to continue to evolve, I become involved in playfulness and take the opportunity to look at the 'what-ifs.' Whatever the result, it expands my vision by letting go of who I think I am and discovering the spirit within." – John Denver
A great video  of a live painting session by Tali Farch to the music of one of Brubeck's jazz standards.
It's not so much the painting that attracted me as it was the idea of painting to music.
The total experience of getting lost in the rhythm, brush strokes, colors, mood and the energy expressed as the two paint brushes danced across the canvas. Wow!
I would love to try this process as one of my daily morning warm-up exercises.
thoughts for the day;
"Nourish your eye and spirit with inspiring things. They will bloom with your tending." – Sark
"Art is the only proof we have of the existence of the soul." – Author Unknown
Here is a little something for all you cat lovers out there.
Great Animation!

quote for the day;
"A cat's eyes are windows enabling us to see into another world." – Irish Legend
I'm Only a Cat
I'm only a cat,
and I stay in my place…
Up there on your chair,
on your bed or your face!
I'm only a cat,
and I don't finick much…
I'm happy with cream
and anchovies and such!
I'm only a cat,
and we'll get along fine…
As long as you know
I'm not yours… you're all mine!
Author Unknown
Wow! I would love to try this technique using a print of one of my paintings.
Thinking about the endless possibilities makes my head swim. lol
thought for the day;
"To stimulate creativity, one must develop the childlike inclination for play and the childlike desire for recognition." – Albert Einstein
I love this guy! Great energy!
Artist Robert Bosler
thought for the day;
"Perhaps painting is a dance in even the smallest way.. that is, the brush dances if nothing else" …  – artbytv
This video was designed for reflection and deep thought. Very beautiful, imaginative and relaxing!
thought for the day;
"It's important to be heroic, ambitious, productive, efficient, creative, and progressive, but these qualities don't necessarily nurture the soul. The soul has different concerns, of equal value: downtime for reflection, conversation, and reverie; beauty that is captivating and pleasuring; relatedness to the environs and to people; and any animal's rhythm of rest and activity." – Thomas Moore
Summer is always a very busy time of the year for me, and there seems to be no end to the various projects that need to be done.
So far I've managed to slowly whittle down a rather large to do list, but when it is so beautiful outside, it's hard not to be distracted by Mother Nature.
Of course, I also have a stack of books next to my bedside table, patiently waiting to be read. I plan to start one real soon (like tonight) . . .  Mainly because I just can't stand them staring at me any longer.  lol
This video is an introduction to Ashville abstract artist, Jonas Gerald. Wow! I love his energy.
thought for the day;
"No matter how busy you may think you are, you must find time for reading, or surrender yourself to self-chosen ignorance." – Confucius