Posted by
Rose
on May 6th, 2009 in
Photography
|
0 comments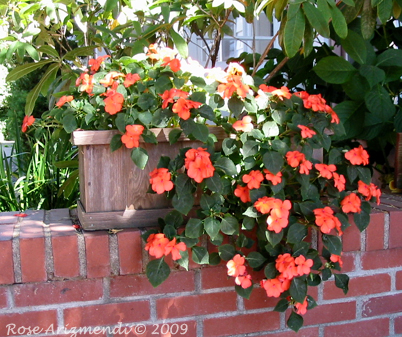 thought for the day:
"'Tis like the birthday of the world,
When earth was born in bloom;
The light is made of many dyes,
The air is all perfume:
There's crimson buds, and white and blue,
The very rainbow showers
Have turned to blossoms where they fell,
And sown the earth with flowers."
–   Thomas Hood
Posted by
Rose
on Oct 27th, 2008 in
Photography
|
0 comments
I took a walk this afternoon and came across this beautiful mosaic memory wall located at a local hospital which has been creating a healing garden on their property.
Over the years they have planted herbs and flowers along winding walk ways and added lovely statues, bird feeders and a water fountain. Most recently they have also begun building a labyrinth and  I can hardly wait for it to be finished.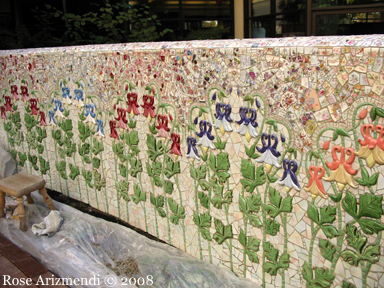 Mosaic Memory Wall – Artist unknown
Posted by
Rose
on Feb 5th, 2008 in
Work in Progress
|
0 comments
This morning I went into my art room, flipped the light switch on and began preparing to work, and within five minutes the power went out. Our power was out for a good hour or so.
As we were hurrying around unplugging the computer, and television, I must have strained a back muscle. When the power came back on I started working on one of my paintings and ignored that nagging little ache in my lower back, until I couldn't ignore it any more.
Now here I am sitting at my computer all propped up with a heating pad. At least I can work on posting my paintings on my new Art Gallery site, and catch up on the news.
Today, I ended up making digital collage paper for a family project. I began by painting the background, and using a photograph I took to create the image below, later I will add text, family photos, etc…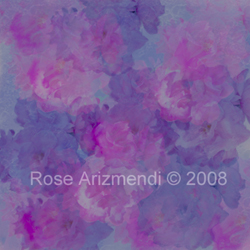 Digital Collage Paper
"Trust in yourself and everything will fall into place". – Vedic Scriptures