Posted by
Rose
on May 26th, 2010 in
Digital Art
|
0 comments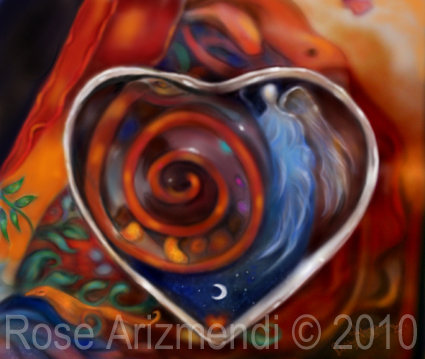 Dream Heart – Digital Painting – Soft pastel variant of pastels & Soft charcoal variant of charcoal – 6 x 7 inches
I had no other desire or plan for this painting except for creating a heart with a spiral inside it. All the rest came from somewhere within my subconscious mind, where half glimpsed worlds of strange beings flitted past the corner of my eye and brilliant bold colors begged to be splashed onto the canvas.
I worked for two straight days on this piece and all I want to do right now is sleep.
For the past couple of nights I've had strange dreams, the one dream image which stands out from the others, is where I find myself standing on a hillside overlooking a valley where hundreds of women and children are gathered together, carrying buckets and rags.
Everywhere I looked,  I saw oil seeping up out of the earth.
I used Painter 7 and Painter IX to paint Dream Heart.
Posted by
Rose
on May 20th, 2009 in
Acrylic/Mixed Media
|
0 comments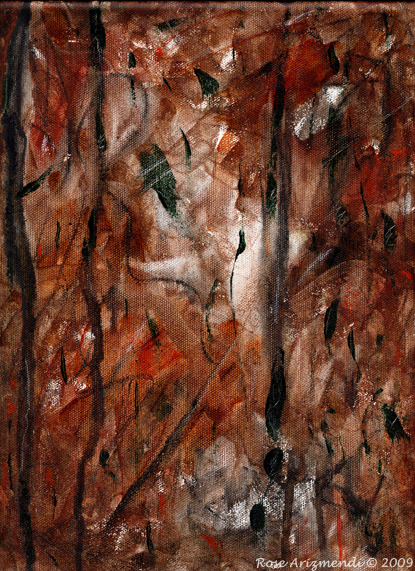 Abstract Trees #1 – Acrylic/Mixed Media – 9 x 12 inches on canvas
It's been a while since I've posted, but that doesn't mean I haven't been painting.
I 've actually been squirreled away in my studio, completeing several paintings that I started earlier this year.
My focus for the next few weeks will be on finishing works in progress. I will try to post a few as I go along.
thought for the day:
"Stand Tall and Proud
Sink your roots deeply into the Earth
Reflect the light of a greater source
Think long term
Go out on a limb
Remember your place among all living beings
Embrace with joy the changing seasons
For each yields its own abundance
The Energy and Birth of Spring
The Growth and Contentment of Summer
The Wisdom to let go of leaves in the Fall
The Rest and Quiet Renewal of Winter"
–  Ilan Shamir, Advice From a Tree
Posted by
Rose
on May 6th, 2009 in
Photography
|
0 comments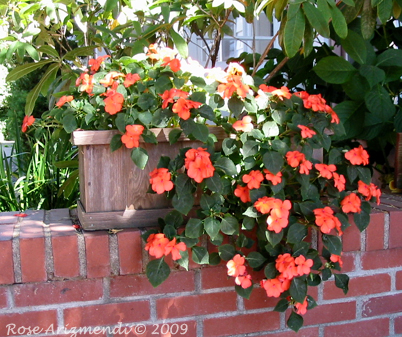 thought for the day:
"'Tis like the birthday of the world,
When earth was born in bloom;
The light is made of many dyes,
The air is all perfume:
There's crimson buds, and white and blue,
The very rainbow showers
Have turned to blossoms where they fell,
And sown the earth with flowers."
–   Thomas Hood
Posted by
Rose
on Mar 20th, 2009 in
Video
|
0 comments
Happy Vernal Equinox!
I have been out and about enjoying the nice weather, taking lots of photos. I love the sense of renewal that comes with Spring!
I have also been hard at work in my studio painting a new piece which features a portal and an abstract bird. I will post it in a couple of days or so.
This video shows spectacular images of Gaia, our Mother Earth . . .  So beautiful and so fragile . . .
"Evolution is a tightly coupled dance, with life and the material environment as partners. From the dance emerges the entity Gaia". -James Lovelock
Posted by
Rose
on Feb 12th, 2009 in
Acrylic/Mixed Media
|
0 comments
I am still working on the Lady of the Forest painting. Below is a photo of my progress so far. It's been a slow go, but only because there has been so many other things needing my attention. "C'est la vie"
I am looking forward to this weekend because we don't have anything important planned and we can spend some quality time together, and maybe do a bit of sketching around town or stay home and play with paint.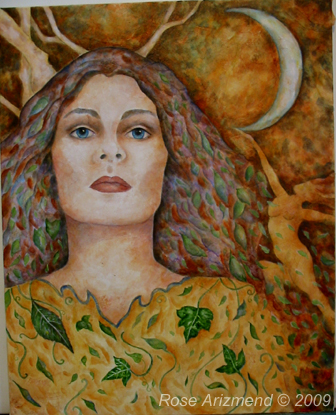 Lady of the Forest #3 Acrylic/ Watercolor/Mixed Medium – 16 x 20 inches -on  Canvas

"The artist is a receptacle for emotions that come from all over the place: from the sky, from the earth, from a scrap of paper, from a passing shape, from a spider's web." -Picasso.
Posted by
Rose
on Oct 30th, 2008 in
Digital Art
|
0 comments
I am sitting here at my computer looking out the window watching the wind scatter dead leaves across our yard as I wrap my cold hands around my tea cup. Brr!
The dark gloominess of the day has really affected my work output. I started the morning out with sketching a few designs for a new project and found myself staring off into space. Needless to say I was getting nowhere fast.
October is drawing to a close and it seems the earth is exhaling it's last breath before winter. Maybe I am also releasing, exhaling, turning inward in preparation for winter as my thoughts stray towards warm fuzzy slippers, hot apple cider, flannel sheets and all those books I've collected and set aside for the cold wintry nights ahead.
I've decided the only thing that can set things right is to take a walk and let the wind sweep the cobwebs from my brain.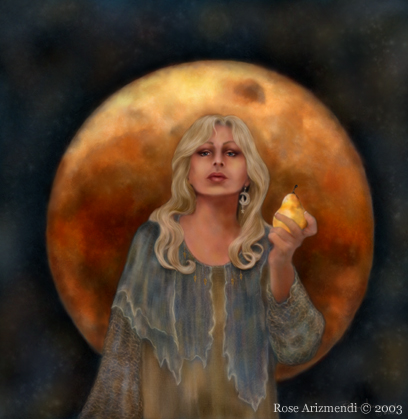 Harvest Moon – Combined Media – 8 X8 inches
Jack – o – Lantern
"Jack-o-lantern, Jack-o-lantern,
You are such a funny sight.
As you sit there by the window,
Looking out into the night.
You were once a sturdy pumpkin,
growing on a curly vine.
Now you are a Jack-o-lantern,
See your night lights shine." – Unknown
Posted by
Rose
on Aug 13th, 2008 in
Digital Art
|
0 comments
A couple of years ago while we were flying back from visiting my dad in the Midwest, we were enjoying our flight and took some wonderful aerial shots with our camera.
While sitting in my  window seat watching the landscape below change and shift, cities became tiny islands of humanity in the midst of large expanses of land. The roads appeared as a multitude of tiny web like strands crisscrossing across the land like a giant spider web.
It reminds us that no matter how evolved and technological we become, each of us are only ever a few paces away from the edges of the wild forest and the living storied land.
I wondered what stories would this land  be telling about humanity if the earth could speak, and what would our ancient ancestors make of our world. What kind of stories, art, songs and myths would they create about us.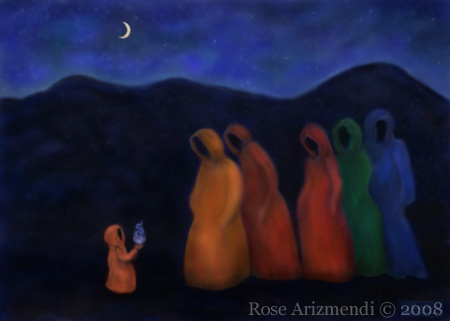 Edge Dwellers – Combined Media – 5 X 7 inches