Posted by
Rose
on May 20th, 2009 in
Acrylic/Mixed Media
|
0 comments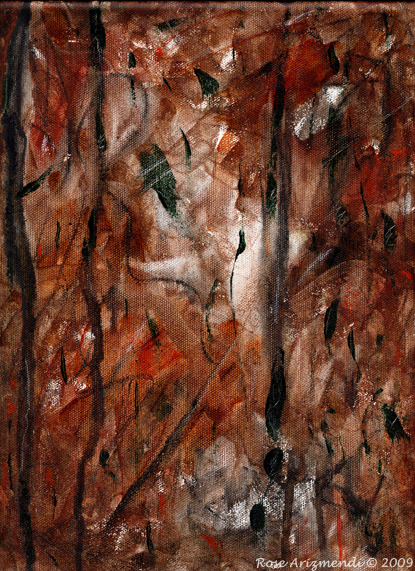 Abstract Trees #1 – Acrylic/Mixed Media – 9 x 12 inches on canvas
It's been a while since I've posted, but that doesn't mean I haven't been painting.
I 've actually been squirreled away in my studio, completeing several paintings that I started earlier this year.
My focus for the next few weeks will be on finishing works in progress. I will try to post a few as I go along.
thought for the day:
"Stand Tall and Proud
Sink your roots deeply into the Earth
Reflect the light of a greater source
Think long term
Go out on a limb
Remember your place among all living beings
Embrace with joy the changing seasons
For each yields its own abundance
The Energy and Birth of Spring
The Growth and Contentment of Summer
The Wisdom to let go of leaves in the Fall
The Rest and Quiet Renewal of Winter"
–  Ilan Shamir, Advice From a Tree