Posted by
Rose
on Apr 14th, 2008 in
Digital Art
|
0 comments
I was feeling a little under the weather today, so I didn't get much done in the studio. I'm sure tomorrow will be a much better day.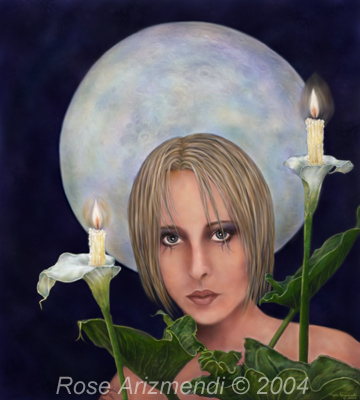 Moon Child – 9 X 10 – Combined Mixed Media
"There are nights when the wolves are silent and only the moon howls." – George Carlin
"The moon, like a flower in heaven's bower, with silent delight sits and smiles on the night." – William Blake
Spent most of the afternoon working on the painting below, using a texture stamp I made on the background and the face.
I found this process adds interesting detail to the overall look of the painting. Hopefully, I can find some time to work on it over the weekend.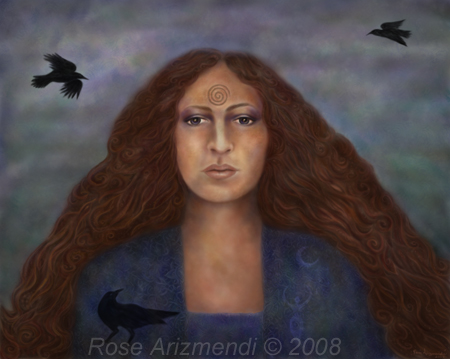 The Morrigan – Combined Mixed Media 11X 14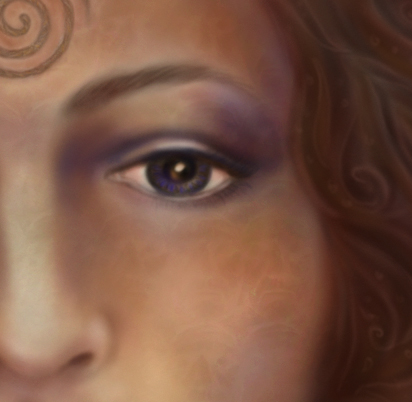 Close up of the face
Today I have been mostly knocking about in the studio trying to tie up some loose ends and such. Later on, I prepped a couple of canvases and decided to call it a day.
"The artist is a receptacle for emotions that come from all over the place; from the sky, from the earth, from a scrap of paper, from a passing shape, from a spider's web". -Pablo Picasso
"All true artists, whether they know it or not, create from a place of no-mind, from inner stillness". – Eckhart Tolle

"A lot of it's experimental, spontaneous. It's about knocking about in the studio and bumping into things". – Richard Prince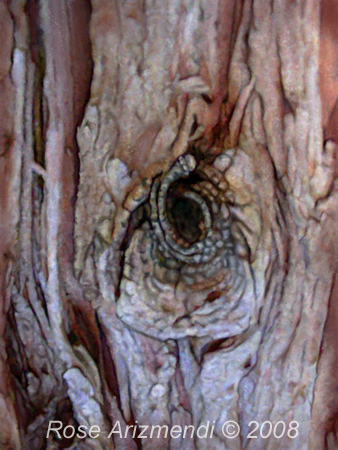 Earth Wood – Combined Mixed Media
I love photographing trees and I have a fondness for tree knot holes, especially those which have interesting shapes and textures.
As a child I would imagine all sorts of magical beings living in these holes, and would place little treasures inside as gifts.
Now that I am older, I have discovered there are subtle images and shapes lurking in the places between light and shadow within these knot holes. Below is a sketch of a knot hole near our home.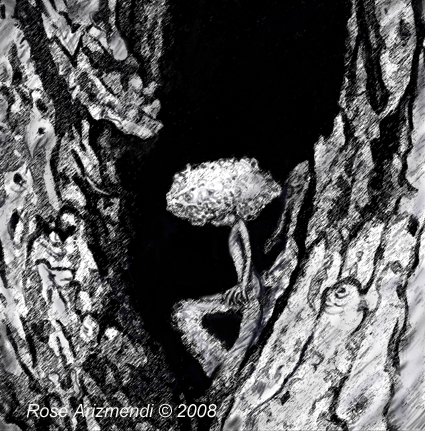 Tree Spirit – Digital Combined Mixed Media
In towering splendor once I stood
A regal monarch of the wood,
My branches once reached to the sky
See me now but do not cry.
The Creator's work has yet to cease
I've become a shelter for bird and beast,
And when at last I fall to the Earth
The life I leave will inspire new birth;
A seedling springs forth from the ground
Nature's cycle goes round and round.
– S. Edward Palmer, Spirit Tree