Posted by
Rose
on Feb 2nd, 2009 in
Photography
|
0 comments
Today I had my yearly retinal scan, during which they dilated my eyes. They gave me a set of plastic glasses to wear while my eyes readjusted.
I then left the doctor's office and everything was bright and blurry.  My husband laughed when he saw me wearing those big plastic glasses.
I guess I looked pretty weird.  hehe . . .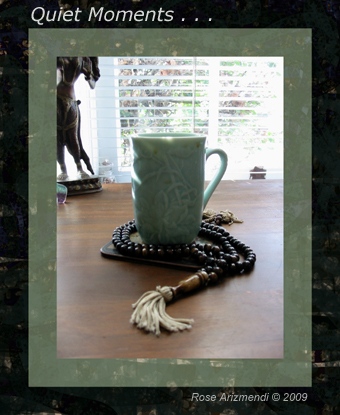 Quiet Moments – Digital Collage & Photography
I knew painting was out of the question so I decided to create a digital collage using a photo I took of a tea cup.
Afterwards I had a cup of chai tea and a quiet moment to myself.
"Traditionally we are taught, and instinctively we long, to give where it is needed – and immediately.  Eternally; woman spills herself away in driblets to the thirsty, seldom being allowed the time, the quiet, the peace, to let the pitcher fill up to the brim". – Anne Morrow Lindbergh
For the past few days I have been working on my new blog site at Gaia's Garden and I'm having a lot of fun updating and writing new content for the blog and the original website.
Today I am working on ideas for new images for the website and came up with the image below for Gaia's herbal section. I still have a long ways to go before it's finished.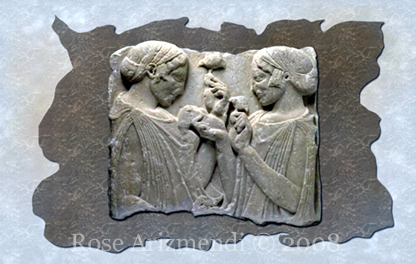 Demeter & Persephone – Digital Collage
"O hushed October morning mild,
Thy leaves have ripened to the fall;
Tomorrow's wind, if it be wild,
Should waste them all.
The crows above the forest call;
Tomorrow they may form and go.
O hushed October morning mild,
Begin the hours of this day slow.
Make the day seem to us less brief.
Hearts not averse to being beguiled,
Beguile us in the way you know.
Release one leaf at break of day;
At noon release another leaf;
One from our trees, one far away."
–   Robert Frost, October
I spent this evening working on this digital collage. For the background I used an image that I created a while back and added some detail with ink and pastels.
Next I digitally enhanced the image of an angel statue and layered pastel and ink details over three separate images and then merged them together. This collage was created with Painter IX and Photoshop.
Later on I may add some distressed text and numbers, but first I will need to create them. I guess there is no rest for the weary!…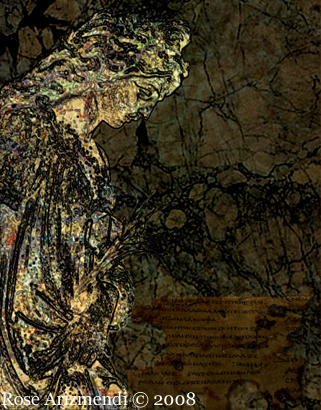 Passage to Heaven – Digital Collage – 8 X 10 inches
"Perhaps they are not stars, but rather openings in heaven where the love of our lost ones pours through and shines down upon us to let us know they are happy." – Eskimo Proverb
I spent most of the day working in the studio and managed to get quite a bit done. I prepped a new canvas, and layered in more color on another work in progress.
As I was working, I kept thinking about the meaning behind the word "inspiration". To inspire, bring about the arousal of the mind to unusual activity or creativity. What inspires creativity? Is it learning something new? I'm not sure what inspires creativity, however, when it strikes I feel excited and passionate about expressing it through color and line.
This evening the inspiration bug hit, and I worked on the digital collage below. The background was created by laying in some watercolor on a blank canvas, then I began painting the figure on a separate layer with watercolor & pastels. Next I merged the painted layers and added text.

Divine Mother by Rose Arizmendi (C) 2008 – Collage/Combined Media
"Maybe we should develop a Crayola bomb as our next secret weapon. A happiness weapon. A beauty bomb. And every time a crisis developed, we would launch one. It would explode high in the air – explode softly – and send thousands, millions, of little parachutes into the air. Floating down to earth – boxes of Crayolas. And we wouldn't go cheap, either – not little boxes of eight. Boxes of sixty-four, with the sharpener built right in. With silver and gold and copper, magenta and peach and lime, amber and umber and all the rest. And people would smile and get a little funny look on their faces and cover the world with their imagination."
This morning I went into my art room, flipped the light switch on and began preparing to work, and within five minutes the power went out. Our power was out for a good hour or so.
As we were hurrying around unplugging the computer, and television, I must have strained a back muscle. When the power came back on I started working on one of my paintings and ignored that nagging little ache in my lower back, until I couldn't ignore it any more.
Now here I am sitting at my computer all propped up with a heating pad. At least I can work on posting my paintings on my new Art Gallery site, and catch up on the news.
Today, I ended up making digital collage paper for a family project. I began by painting the background, and using a photograph I took to create the image below, later I will add text, family photos, etc…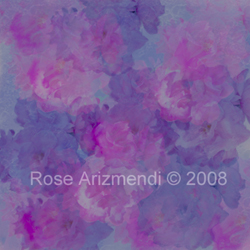 Digital Collage Paper
"Trust in yourself and everything will fall into place". – Vedic Scriptures