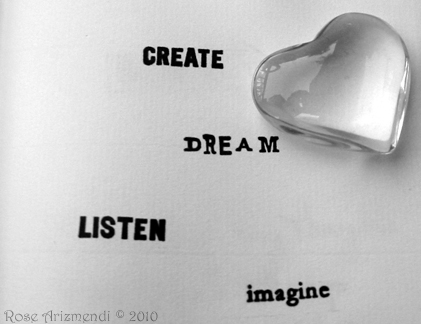 The days of summer are going by so fast and I have been taking lots of photographs to capture the precious moments to soothe and comfort me in the winter. I will post more later.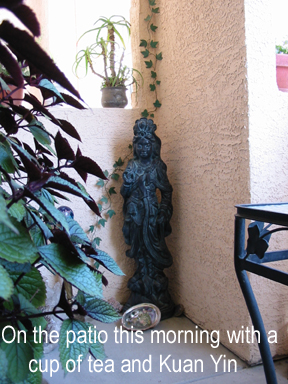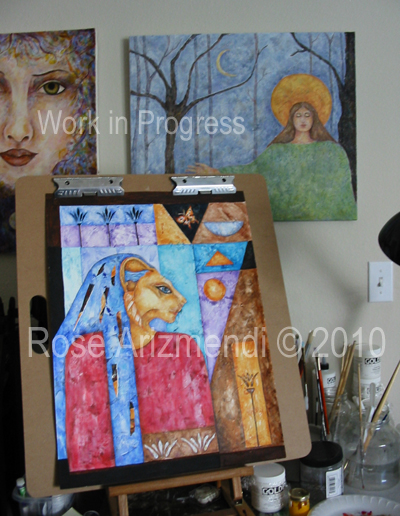 Thought you might like to take a peak at my work space.
I am painting more. . .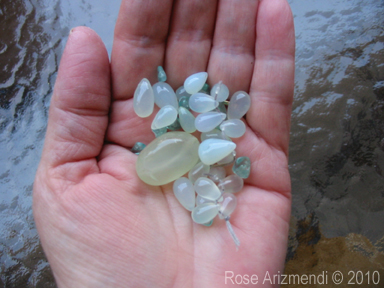 Playing with beads and creating more necklaces . . .  Enjoying myself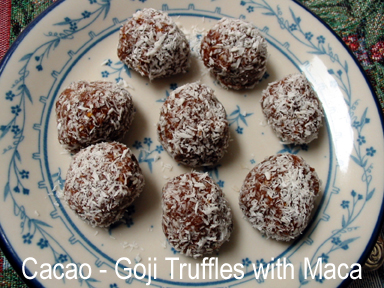 Making heavenly organic cacao truffles. Yummy! Many thanks to my friend Salina for this wonderful recipe.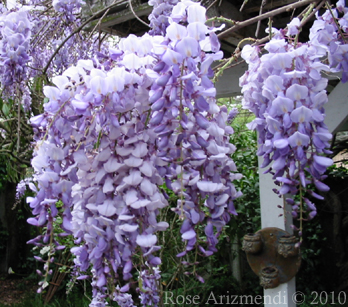 I love this time of the year and all the good things that come with warmer weather barbecues, unplanned adventures, gathering my thoughts, journaling, sipping tea, going for long walks, visiting friends and creating fearlessly.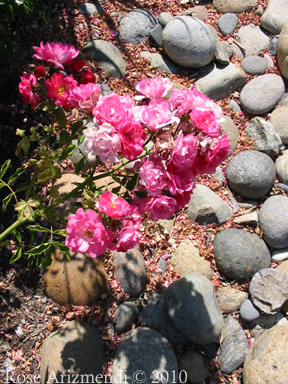 Finding refuge in the simple things – roses, stones and tree roots.
That's all for today folks. xo
1st January. Early in the morning, the sky is gloomy and gray with rain. As  I drink my tea, I find myself trying to ignore the chaos of boxes stacked behind my chair as I write this post.
Over the holidays, I finally unpacked most of my art supplies. I'm still in the process of organizing everything and trying to figure out where some of my brushes disappeared to? … lol
Our new place is smaller so I carved out a little niche  for myself  in our bedroom for my art table & supplies. It's nice and cozy!
I'm sketching and painting for the first time in ages, and feeling better for getting back into the swing of things.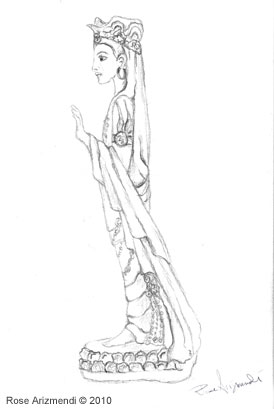 Sketch of Kuan Yin Lamp – Tombow Mono 100 # 2B & #3B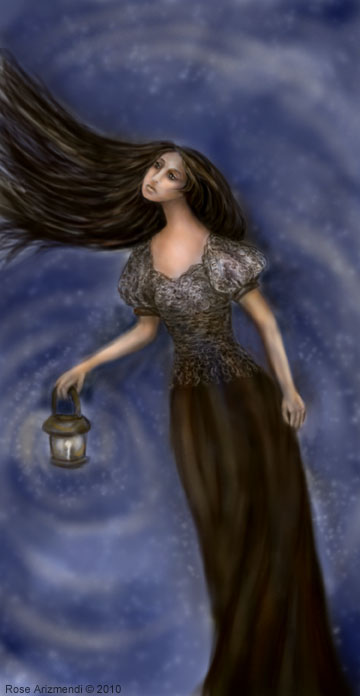 Morning Warm Up – Digital using Painter 7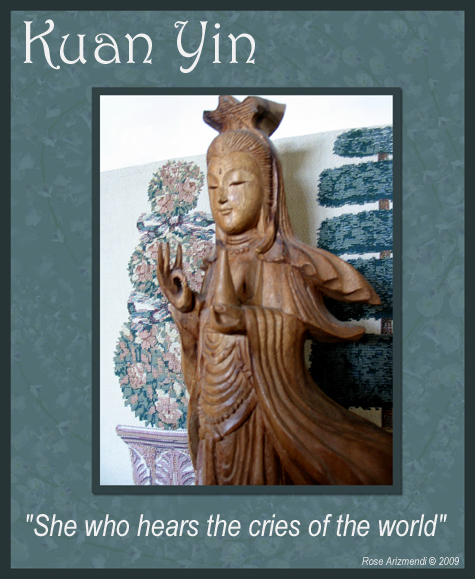 Here's my latest creation.
I created the digital collage above using Photoshop and Painter IX.
I started by taking a photo of one of my Kuan Yin statues with a digital camera. Then I loaded it into Photoshop and tweaked it a bit.
Next I created the background using Painter IX. I played around with color and texture until I came up with the image above, then I merged all the layers together, and added text to the image in Photoshop.
Kuan Yin is not generally regarded as a goddess, but rather a Bodhisattva. A Bodhisattva, is a being destined for full enlightenment and nirvana who, out of compassion for the suffering of other beings, has taken a vow to postpone his or her entry into nirvana in order to remain in the world to help other beings. She who hears the  cries of the world represents the virtues of compassion, mercy, forgiveness and faith.

"True compassion is not forged at a distance from pain but in its fires. We do not always have a solution for suffering. We cannot always fix pain. However, we can find the commitment to stay connected and to listen deeply. Compassion does not always demand heroic acts or great words. In the times of darkest distress, what is most deeply needed is the fearless presence of a person who can be wholeheartedly receptive." She Who Hears the Cries of the World, by Christina Feldman,.
What a beautiful morning! The sun is out … the air is crisp, and from my studio window I watch people hurrying along the sidewalk,  listening to the sound of  fallen leaves crunching beneath their feet.
With coffee cup in hand I begin prepping canvases by laying down a coat of gesso.
While the canvases dry I make some preliminary sketches then choose the ones I want to use and transfer these to watercolor paper. I cut out the selected images and apply a light coat of gesso to the back of the watercolor paper and leave it to dry.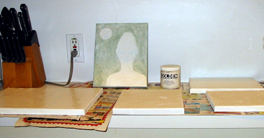 When the canvases have dried completely I apply either Golden ( soft or hard) molding paste with a large painting knife and put these aside to dry. This gives the canvas the look of aged plaster.
At this stage I may choose to apply the individual watercolor collage components using the molding paste or wait and use gel medium to glue them down after the molding paste has dried. The above picture shows the images applied with molding paste.
Now I am ready to apply acrylic paint to the background. First I lay in a light wash of color and let it dry before I begin adding additional layers of color, making sure  not to completely cover the first layer because I want each layer to show through.
While each background layer is drying I usually begin painting the collage elements using watercolor, acrylic, and inks.
Below is a photo of the under painting and it is at this point I can make any necessary adjustments to Kuan Yin's face and begin adding stamping, text and more collage elements. In this painting/collage I have added the I Ching hexagram Tai which means harmony, great powers, and the flow of good things.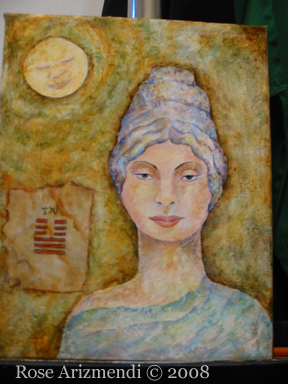 I Ching – Collage/Mixed Media – 8 X 10 inches on canvas
I was a busy little bee today. I started the morning with the ATC project I've been working on lately, then I moved on to an acrylic painting that has been waiting in the wings.
Afterwards I finished up a watercolor painting and then cleaned up the mess I'd made in the studio. Whew!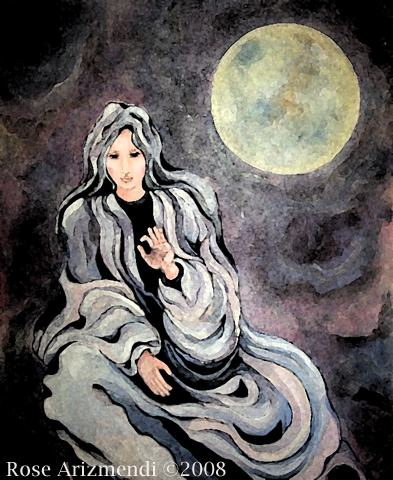 Kuan Yin – Watercolor – 16 X 20 inch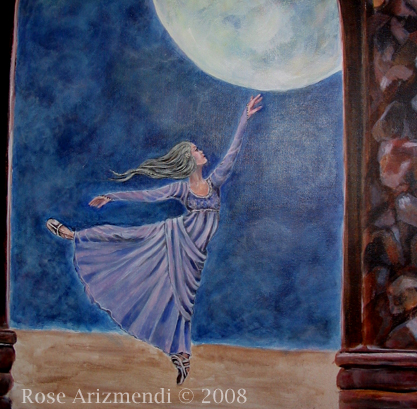 Touch The Moon – Acrylic – 16 X 20 inches on canvas – Work in Pogress
I really enjoyed the gorgeous sunshine this morning when Rupert and I took our walk. He sniffed every bush and flower along the way and had a great time barking at two very large dogs we happened to run into.
Afterwards I made a pot of Earl Grey tea, poured myself a cup, pulled my chair up to the easel and began working on the Kuan Yin painting.
Several hours later I noticed people walking their dogs and heard children's laughter from next door. I suddenly realized it was time for me to stop and begin preparing dinner. Where did the time go?
Without a doubt, time flies when you are having fun!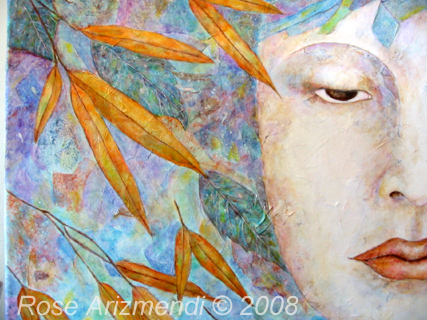 Kuan Yin – 16 x 20 Acrylic & Mixed Media on Canvas

"Time is the most undefinable yet paradoxical of things; the past is gone, the future is not come, and the present becomes the past even while we attempt to define it, and, like the flash of lightning, at once exists and expires". ~Charles Caleb Colton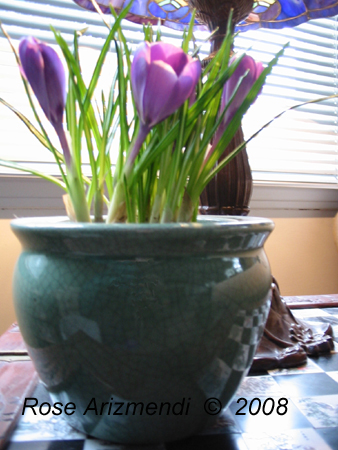 "When you take a flower in your hand and really look at it, it's your world for the moment. I want to give that world to someone else. Most people in the city rush around so, they have no time to look at a flower. I want them to see it whether they want to or not".
– Georgia O'Keeffe
I worked on the Kuan Yin painting this afternoon, laying in some more layers of color and developing the golden bamboo leaves.
Later I decided to prepare another canvas and set it aside to dry. Then I looked out my studio window and noticed rain clouds moving towards us. Ah, such is life…
I spent most of the day working on my painting of Kuan Yin , layering in watercolor, golden fluid acrylics, acrylic inks, and also used Golden's Iridescent Bright Gold (fine) on the bamboo leaves.
The picture below is a closeup of Kuan Yin's face so you can see how tissue and rice paper have added texture to the canvas.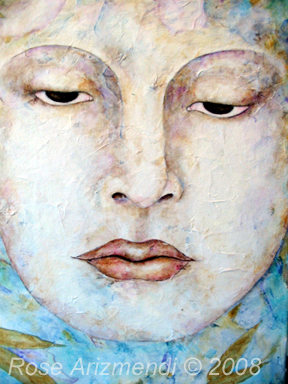 Kuan Yin
"Hope is the dream of a soul awake".
-French Proverb
This morning as I finished my tea, I felt inspired by the lamp on the table next to me to create a painting of Kuan Yin. This lamp was given to me by a very dear friend, who moved to Hawaii several years ago.
Kuan Yin is one of the most universally beloved of deities in the Buddhist tradition, known as the Goddess of mercy and compassion.
As chance would have it, I already had a canvas prepared and waiting. Using the Kuan Yin lamp as my muse I began to paint.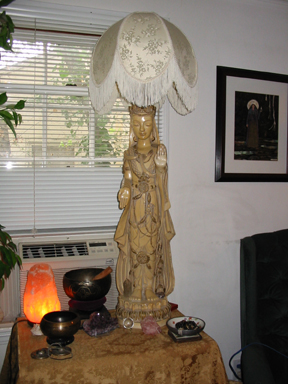 Kuan Yin Lamp
I spent most of the day working on this painting, and feeling good about how it's beginning to shape up. There's still a lot more to do before it is finished, and I hope to have some time to work on it this weekend.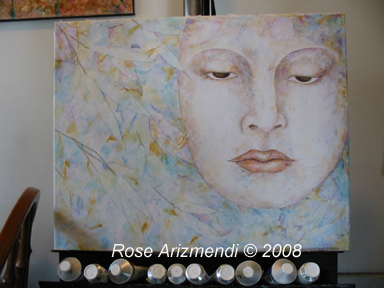 Kuan Yin