Posted by
Rose
on Feb 26th, 2009 in
Photography
|
0 comments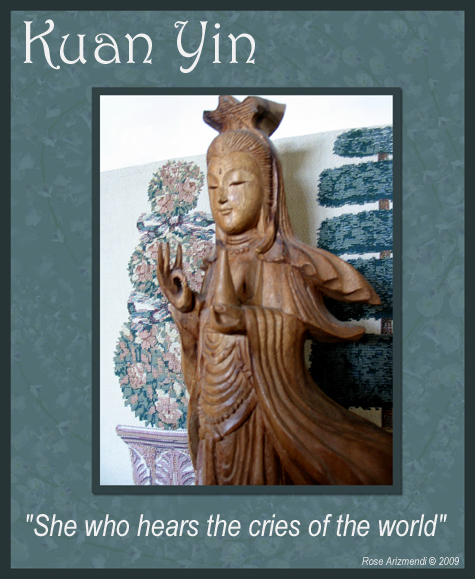 Here's my latest creation.
I created the digital collage above using Photoshop and Painter IX.
I started by taking a photo of one of my Kuan Yin statues with a digital camera. Then I loaded it into Photoshop and tweaked it a bit.
Next I created the background using Painter IX. I played around with color and texture until I came up with the image above, then I merged all the layers together, and added text to the image in Photoshop.
Kuan Yin is not generally regarded as a goddess, but rather a Bodhisattva. A Bodhisattva, is a being destined for full enlightenment and nirvana who, out of compassion for the suffering of other beings, has taken a vow to postpone his or her entry into nirvana in order to remain in the world to help other beings. She who hears the  cries of the world represents the virtues of compassion, mercy, forgiveness and faith.

"True compassion is not forged at a distance from pain but in its fires. We do not always have a solution for suffering. We cannot always fix pain. However, we can find the commitment to stay connected and to listen deeply. Compassion does not always demand heroic acts or great words. In the times of darkest distress, what is most deeply needed is the fearless presence of a person who can be wholeheartedly receptive." She Who Hears the Cries of the World, by Christina Feldman,.