What I have been working on lately . . .
This . . .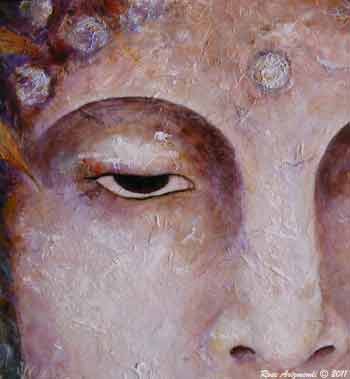 Golden Bamboo & Kwan Yin ~ 16 X 20 inches ~ Mixed Media on Canvas
and this . . .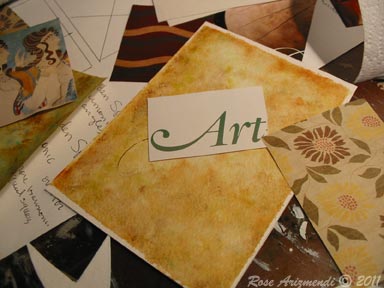 Gathering ideas for my next collage project ~
and this sketch of a dream I had  . . .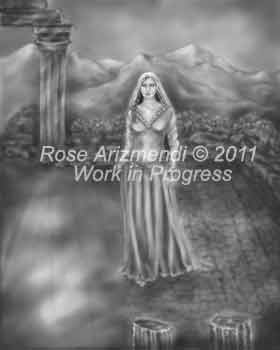 I am going to sit with this for a while, before deciding whether to create a painting or just leave it in my journal. The dream was strange and I want to process the imagery more fully.
The sun has returned for a couple of days along with warmer weather, and I'm feeling the sap rise ~ as the sun kisses my face. A perfect day for a walk by my beloved creek . . .  xo
thought for the day:
"Participating in the creation of art is like being one element in a process of improvisation, where a brushstroke responds to a color, and a shape evokes a texture." Eileen Ross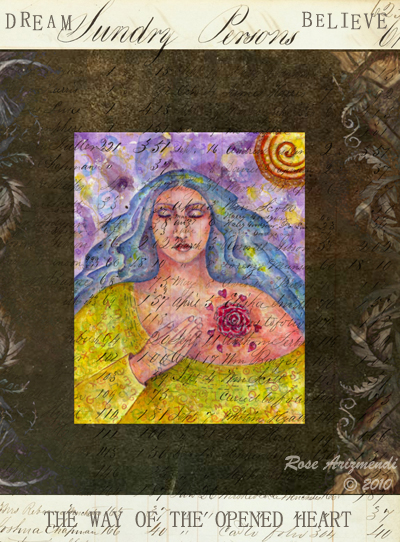 The Opened Heart – Mixed Media
The mixed media piece above is a combination of digital & Traditional painting. The center is a Mixed Medium/Acrylic/Watercolor/Ink  8 x 10 inch painting on canvas that I decided to play around with using Corel Painter 7 and Photoshop. For the background I used scanned papers, fabrics, vintage ledgers and anything else I could think of. Wow, did I have fun!
Later, when I went to the market they had pumpkins and gourds  stacked on bales of hay reminding us that change has come and sweet autumn is here. It all made me feel so grateful for being a part of the eternal dance of life from one season to the next.
thought for the day:
In the deep fall don't you imagine the leaves think how
comfortable it will be to touch
the earth instead of the
nothingness of air and the endless
freshets of wind? And don't you think
the trees themselves, especially those with mossy,
warm caves, begin to think
of the birds that will come…six, a dozen…to sleep
inside their bodies? And don't you hear
the goldenrod whispering goodbye,
the everlasting being crowned with the first
tuffets of snow? The pond vanishes, and the white field
over which the fox runs so quickly brings out
its blue shadows. And the wind pumps its
bellows. And at evening especially,
the piled firewood shifts a little,
longing to be on its way.
– Mary Oliver
Yesterday was a cold, blustery rainy day. Imagine my surprise when I found a flier neatly tucked under our front door inviting us to an ice cream social. I don't know about you, but ice cream is the last thing on my mind when the weather is so dreary and cold.
The funny thing is, later on, we couldn't stop thinking about ice cream! lol Hopefully by the time the event takes place in two weeks, the sun will be shining and the weather much nicer than it has been.
However, for me, there is an upside to all the rain. It gives me more time to explore and let my creative wild woman out to play. The mixed media collage below is what happens when some Japanese stamps, gesso, newsprint and one rain crazed baby boomer woman with a glint in her eye meet on a blank canvas. I had such a great time I started two more collages.
Yes, for every season there is a time to play, to create and eat dessert first!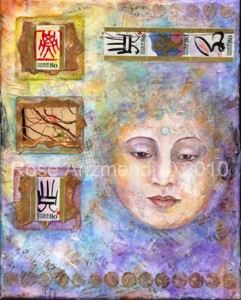 See You There – Mixed Media Collage -8 x 10 inches on canvas
thoughts for the day; "Nourish your eye and spirit with inspiring things. They will bloom with your tending." – SARK
"The point of art is not simply to express ourselves, but to create an external, concrete form in which the soul of our lives can be evoked and contained." – Clarissa Pinkola Estes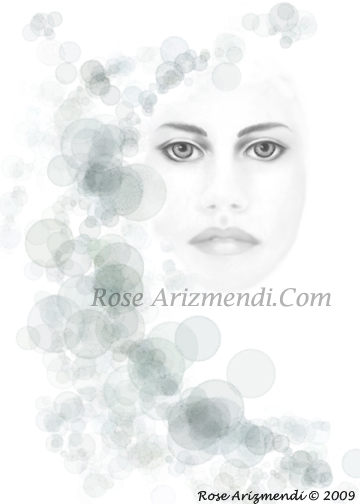 Star Of The Sea – Mixed Media – 5 x 7 inches – Work in progress
This morning I started working on an idea I had for a painting inspired by seashells I found in a box while rummaging through our garage.
There were tiny starfish no bigger than the tip of my little finger and seashells of every shape and color imaginable. I also found sea glass, tiny round stones, dried sea grass and a cornucopia of treasures I had gathered on one of our seaside visits.
I felt like a little girl who had found a magical treasure box!
Over the years I have found beautiful pieces of driftwood, and an odd assortment of sea shells, and sea onions for art projects, and as reference material for sketches.
I love the way sea onions look when dried and they are great for making rattles and little wizened magical creatures.
thoughts for the day;
"Every time we walk along a beach some ancient urge disturbs us so that we find ourselves shedding shoes and garments or scavenging among seaweed and whitened timbers like the homesick refugees of a long war." -Loren Eiseley
"Why do we love the sea?  It is because it has some potent power to make us think things we like to think." – Robert Henri
For the past week or so I have been busy working on this new painting.
Today I worked on the bodice area and next I will be adding another layer for some detail and dimension. Then I will start working on the rest of the dress.
I still have a long way to go, but I am happy with the way things are progressing.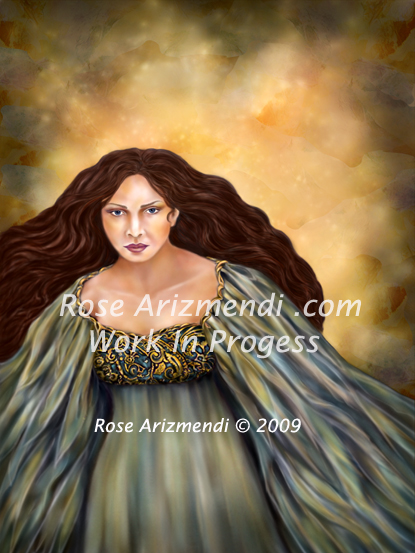 Awen – Welsh word for "(divine) inspiration." – Mixed Media – 12 x 16 inches
thought for the day;
"Wind comes from the spring star in the East,
Fire comes from the summer star in the South,
Water comes from the autumn star in the West,
Wisdom, silence, and death come from the winter
star in the North." – Fiona MacLeod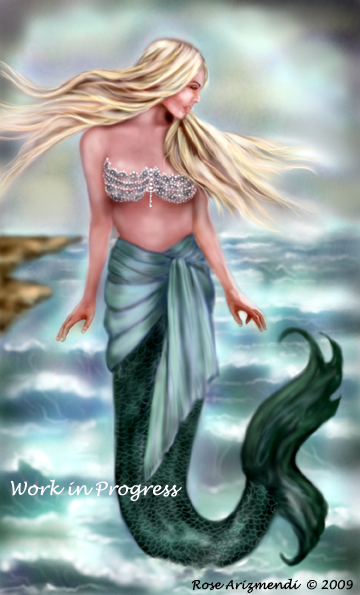 The Sea – Mixed Media – 8 X  II inches
I've been working on quite a few projects lately, and this painting is one of them. At this point, it's still a work in progress.
The preliminary sketch of the mermaid has been floating around in my studio for some time. Every time I came across it I meant to do something with it, but never did.
I finally started working on it yesterday and this is as far as I got. . . .
I still have a long way to go on this one and a lot of changes are likely going to happen.
"The creation of something new is not accomplished by the intellect but by the play instinct acting from inner necessity. The creative mind plays with the objects it loves." – C. G. Jung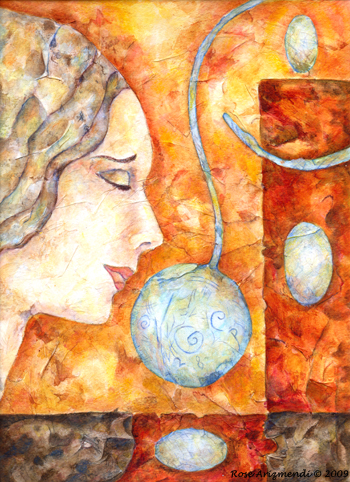 Nature Talking – Acrylic- Mixed media Collage – 9 x 12 inches on paper
"In every walk with nature one receives far more than he seeks."  -John Muir
"If you are seeking creative ideas, go out walking.
Angels whisper to a man when he goes for a walk."
–   Raymond Inmon
Happy St. Patrick's Day! I hope you are celebrating and having a fun day.  Don't forget to wear green so that you won't get pinched!
May the luck of the Irish be with you!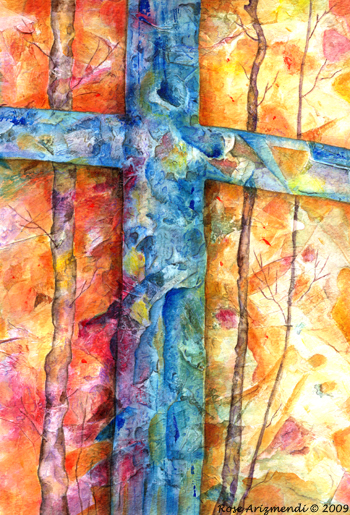 Ancient Symbols – Acrylic Art/Mixed Media Collage – 7.50 x 11 inches on paper
I painted this piece spontaneously from my imagination. Unfortunately not every painting I do in this way works out. Although it's really wonderful when they do…
"Spontaneity is the quality of being able to do something just because you feel like it at the moment, of trusting your instincts, of taking yourself by surprise and snatching from the clutches of your well-organized routine a bit of unscheduled pleasure." -Richard Iannelli
Today was another gorgeous, wonderful day here in northern California!
Today, I prepped a couple of sheets of watercolor paper for tomorrow and did this painting in the afternoon. It was one of those happy accidents.
I accidentally spilled some watercolor paint on the paper and as I was trying to clean it off, this winged figure started to appear. I then  began developing the painting with acrylics, colored pencils, inks, and pastel pencils.
This was way to much fun!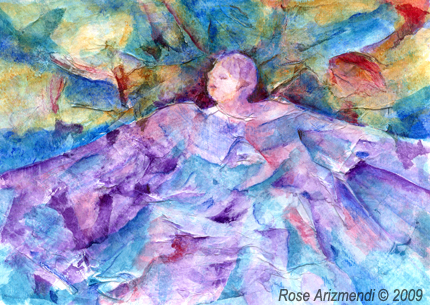 Threshold – Acrylic Art – Mixed Media Collage – 5 x 7 inches on paper
"Where the water whispers mid the shadowy rowan trees I have heard the Hidden People like the hum of swarming bees: And when the moon has risen and the brown burn glisters grey I have seen the Green Host marching in laughing disarray. – Fiona MacLeod
Here is a new painting that I finished today. It was inspired by all the rain storms we have been having over the past couple of weeks.
The view from my studio window has been very dramatic with sheets of rain pouring down and thunder rumbling overhead. It was all rather exciting to watch Mother Nature at work. I love it!
March certainly roared in like the proverbial lion!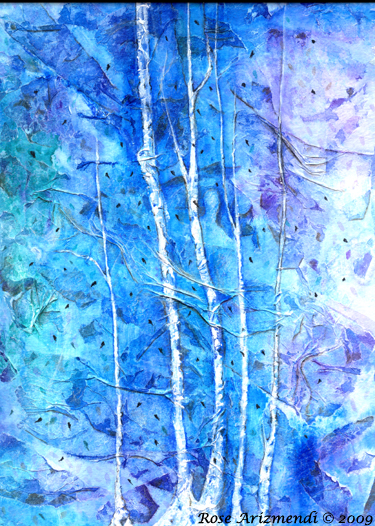 March Storm – Acrylic Art – Mixed Media Collage – 9 x 12 inches on paper.
"March bustles in on windy feet
And sweeps my doorstep and my street.
She washes and cleans with pounding rains,
Scrubbing the earth of winter stains.
She shakes the grime from carpet green
Till naught but fresh new blades are seen.
Then, house in order, all neat as a pin,
She ushers gentle springtime in."
–   Susan Reiner, Spring Cleaning