Posted by
Rose
on Sep 27th, 2010 in
Collage
,
Digital Art
|
0 comments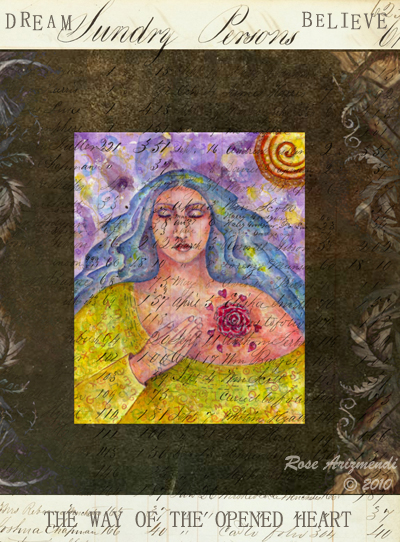 The Opened Heart – Mixed Media
The mixed media piece above is a combination of digital & Traditional painting. The center is a Mixed Medium/Acrylic/Watercolor/Ink  8 x 10 inch painting on canvas that I decided to play around with using Corel Painter 7 and Photoshop. For the background I used scanned papers, fabrics, vintage ledgers and anything else I could think of. Wow, did I have fun!
Later, when I went to the market they had pumpkins and gourds  stacked on bales of hay reminding us that change has come and sweet autumn is here. It all made me feel so grateful for being a part of the eternal dance of life from one season to the next.
thought for the day:
In the deep fall don't you imagine the leaves think how
comfortable it will be to touch
the earth instead of the
nothingness of air and the endless
freshets of wind? And don't you think
the trees themselves, especially those with mossy,
warm caves, begin to think
of the birds that will come…six, a dozen…to sleep
inside their bodies? And don't you hear
the goldenrod whispering goodbye,
the everlasting being crowned with the first
tuffets of snow? The pond vanishes, and the white field
over which the fox runs so quickly brings out
its blue shadows. And the wind pumps its
bellows. And at evening especially,
the piled firewood shifts a little,
longing to be on its way.
– Mary Oliver