"I dream of painting and then I paint my dream." ~ Vincent Van Gogh
Lately, I have been mesmerized by  crows and pomegranates. The painting below was inspired by the crows I see on my morning walk down by the creek . They are so very intelligent and I love their wickedly funny antics.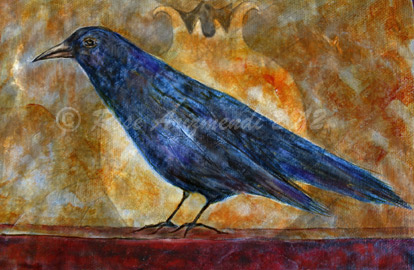 The Golden Pomegranate ~ Acrylic/ Mixed Media ~ 12 x 12 inches on canvas
Below is a sampling of the work currently on my easel. The first one is an experimental piece on 10 x20 canvas~Layers of texture built up with art tissue paper, plaster, fabric, mixed "Golden" gel mediums, Golden acrylics, charcoal, etc…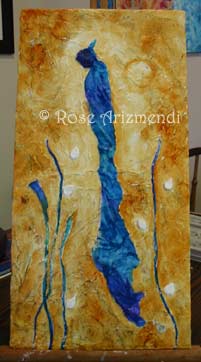 The Bone Mother Mask is another experimental piece on 24 x 36 inch canvas ~ Layers of plaster, gel mediums, sand, cheese cloth, pieces of tree bark, Golden acrylic washes, tea stains, etc…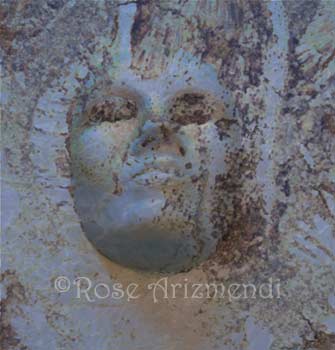 My goal for this year is to dive into some projects that I've kept on the back burner for awhile. You know those ideas that always begin with the words "someday, I'm going to begin . . .
I am so tired of pushing my sculpting tools further and further back into our storage unit, all the while thinking I really need to start working with clay again. There is this deep need inside of me to experience the alchemy of fire, earth and  water. The feel and texture of clay in my hands that feeds the soul in some way.  And yes, there is an open studio near our home. So excited!
Until the veil of the unknown yields
And something original begins
To stir toward your senses
And grow stronger in your heart.
~John O'Donohue
What I have been working on lately . . .
This . . .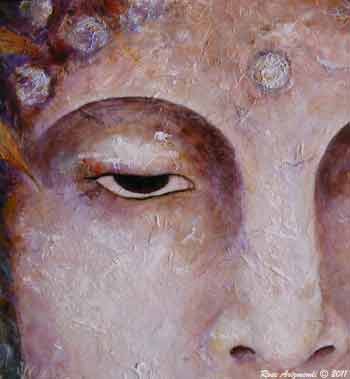 Golden Bamboo & Kwan Yin ~ 16 X 20 inches ~ Mixed Media on Canvas
and this . . .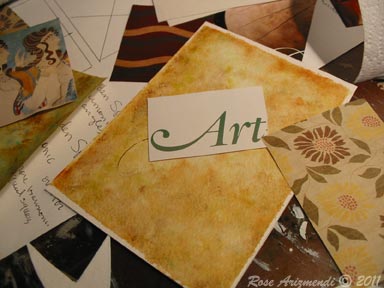 Gathering ideas for my next collage project ~
and this sketch of a dream I had  . . .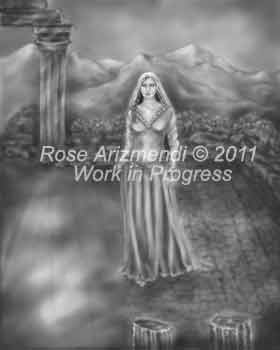 I am going to sit with this for a while, before deciding whether to create a painting or just leave it in my journal. The dream was strange and I want to process the imagery more fully.
The sun has returned for a couple of days along with warmer weather, and I'm feeling the sap rise ~ as the sun kisses my face. A perfect day for a walk by my beloved creek . . .  xo
thought for the day:
"Participating in the creation of art is like being one element in a process of improvisation, where a brushstroke responds to a color, and a shape evokes a texture." Eileen Ross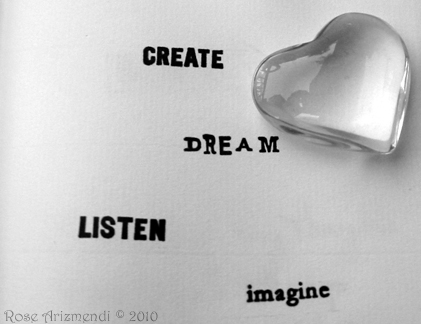 The days of summer are going by so fast and I have been taking lots of photographs to capture the precious moments to soothe and comfort me in the winter. I will post more later.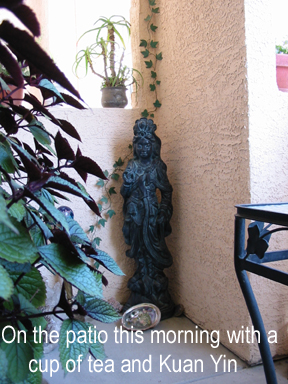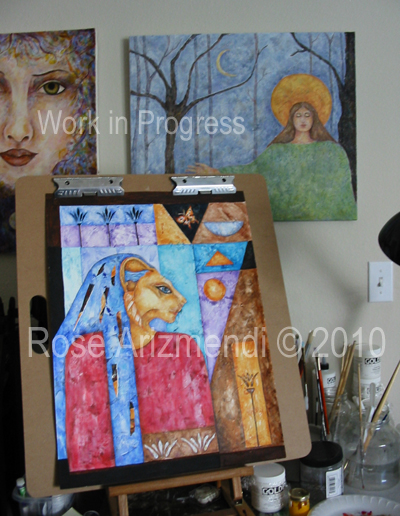 Thought you might like to take a peak at my work space.
I am painting more. . .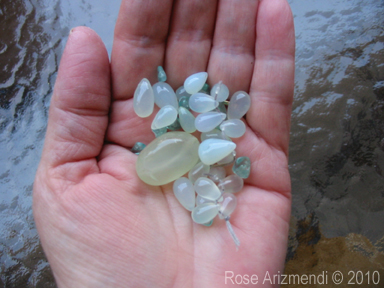 Playing with beads and creating more necklaces . . .  Enjoying myself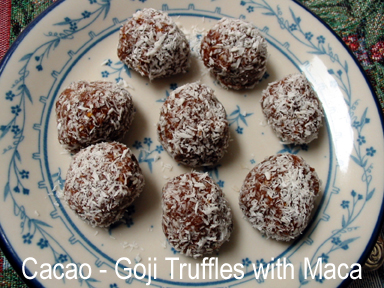 Making heavenly organic cacao truffles. Yummy! Many thanks to my friend Salina for this wonderful recipe.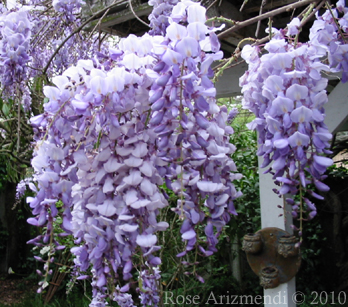 I love this time of the year and all the good things that come with warmer weather barbecues, unplanned adventures, gathering my thoughts, journaling, sipping tea, going for long walks, visiting friends and creating fearlessly.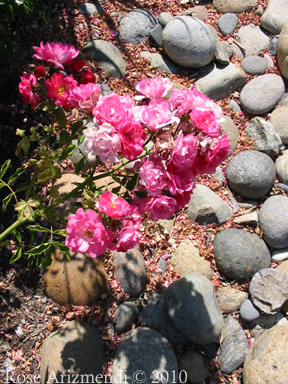 Finding refuge in the simple things – roses, stones and tree roots.
That's all for today folks. xo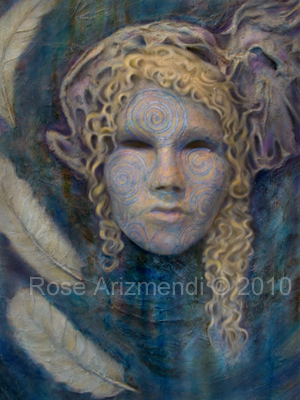 Lady of the Sacred Spirals – 4 x 5 inches – Mixed Media
I created this digital painting from an acrylic mixed medium painting of mine. First I made the mask and then attached it to a canvas.
After it had dried I applied a thick coat of  acrylic medium and then sculpted the feathers and the drape over the head, next I applied wool for the hair and various kinds of art paper to give the image more texture. It took almost two weeks for the piece to dry. lol
It was painted using golden acrylics, watercolor and inks. When it was finished I took a bunch of photos and selected one to scan into photo shop. I used Painter 7 to create the final painting you see now. The original canvas was 22 x 28 inches and has already found a home.
I really let my child out to play on this one and the whole process was way too much fun! I may have to do this again once the sun comes out again.
Yesterday was a cold, blustery rainy day. Imagine my surprise when I found a flier neatly tucked under our front door inviting us to an ice cream social. I don't know about you, but ice cream is the last thing on my mind when the weather is so dreary and cold.
The funny thing is, later on, we couldn't stop thinking about ice cream! lol Hopefully by the time the event takes place in two weeks, the sun will be shining and the weather much nicer than it has been.
However, for me, there is an upside to all the rain. It gives me more time to explore and let my creative wild woman out to play. The mixed media collage below is what happens when some Japanese stamps, gesso, newsprint and one rain crazed baby boomer woman with a glint in her eye meet on a blank canvas. I had such a great time I started two more collages.
Yes, for every season there is a time to play, to create and eat dessert first!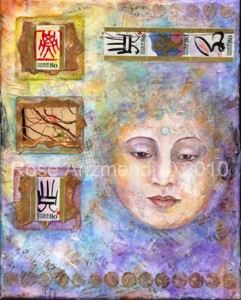 See You There – Mixed Media Collage -8 x 10 inches on canvas
thoughts for the day; "Nourish your eye and spirit with inspiring things. They will bloom with your tending." – SARK
"The point of art is not simply to express ourselves, but to create an external, concrete form in which the soul of our lives can be evoked and contained." – Clarissa Pinkola Estes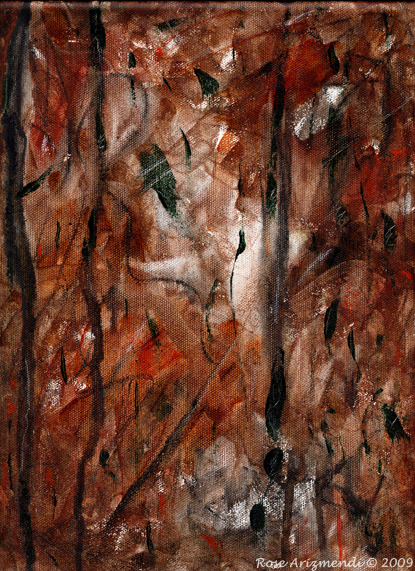 Abstract Trees #1 – Acrylic/Mixed Media – 9 x 12 inches on canvas
It's been a while since I've posted, but that doesn't mean I haven't been painting.
I 've actually been squirreled away in my studio, completeing several paintings that I started earlier this year.
My focus for the next few weeks will be on finishing works in progress. I will try to post a few as I go along.
thought for the day:
"Stand Tall and Proud
Sink your roots deeply into the Earth
Reflect the light of a greater source
Think long term
Go out on a limb
Remember your place among all living beings
Embrace with joy the changing seasons
For each yields its own abundance
The Energy and Birth of Spring
The Growth and Contentment of Summer
The Wisdom to let go of leaves in the Fall
The Rest and Quiet Renewal of Winter"
–  Ilan Shamir, Advice From a Tree
I have been a busy bee over the past week or so. Unfortunately, this means I have had less time for blogging.
I've been in the studio everyday from early morning to late afternoon working on two paintings for the Egyptian series. Yes, I have been hard at play and loving every moment of it!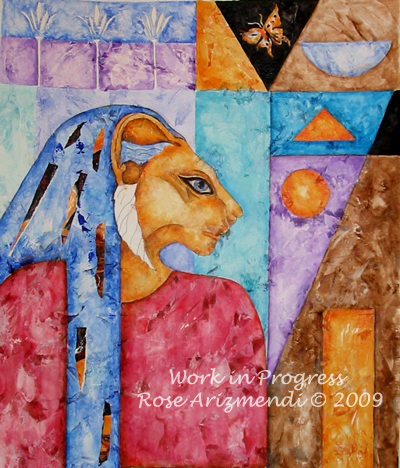 Sekmet -Acrylic Art – Mixed Media Collage – 17 x 21 inches on paper
thought for the day: "If you want to get better at painting or making art, then do it everyday (passionately/religiously) as if there is no tomorrow. Let go of the judge within, and be surrounded by positive, supportive people. Be gentle on yourself and others. Give. Never hold back. – Nancy Davies Bilbro
Over the last few days, I haven been working on this painting. I still have quite a bit left to do on this one, including adding gold leaf and finishing the hair.
Meanwhile, waiting in the wings is the next project that I will be working on "Sekmet".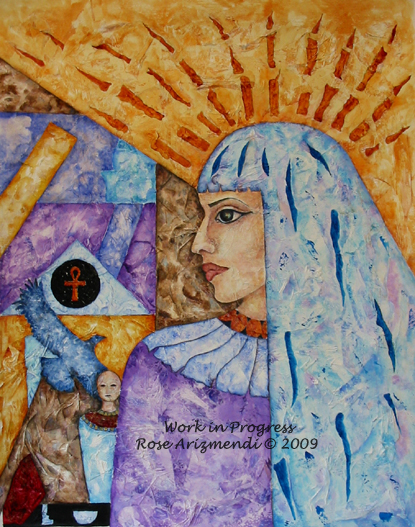 Egyptian Series in progress # 2 – Acrylic/Mixed Media Collage – 16 x 20 inches on paper
thought for the day:
"Don't ask what the world needs.
Rather ask – what makes you come alive?
Then go and do it!
Because what the world needs is people
who have come alive"
— Howard Thurman
After many days of very hot weather it finally cooled down today and that makes me a happy camper.
I've been playing around with this piece for a couple of days. The inspiration for it came partly from watching crows in our yard and partly from a dream I had about a crow reading aloud from a book about the history of Horus. I was told by someone standing next to me, that I was there only as an observer. About midway through the dream I woke up and couldn't remember a word the crow said. lol
Anyway, I had fun creating this painting. I will try to research the connection, if any, between Horus, the hawk-headed Egyptian god of the sky, and crows. That should be interesting . . .
The Observer – Acrylic Art – Mixed media Collage – 9 x 12 inches on paper
"Hear the voice of the Bard! / Who present, past, and future sees; / Whose ears have heard/ The Holy Word / That walked among the ancient trees." – William Blake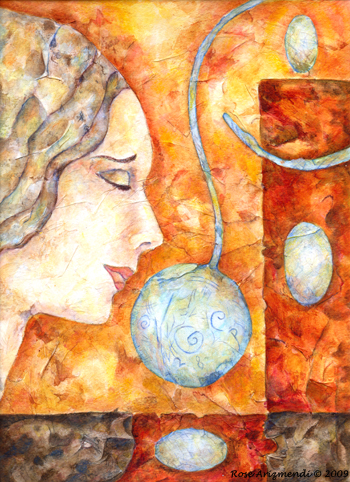 Nature Talking – Acrylic- Mixed media Collage – 9 x 12 inches on paper
"In every walk with nature one receives far more than he seeks."  -John Muir
"If you are seeking creative ideas, go out walking.
Angels whisper to a man when he goes for a walk."
–   Raymond Inmon