Posted by
Rose
on Oct 7th, 2010 in
Collage
,
Digital Art
|
0 comments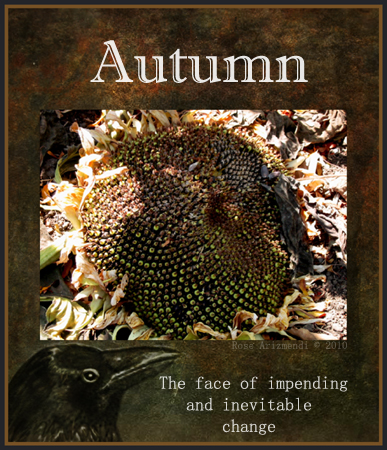 I spent the morning creating the collage above from photographs I have taken over the years.
I love this time of the year, the slant of light and the lengthening shadows  ~  such beauty ~ so delicious this golden light that spills through the tree branches just outside my window, turning the leaves into shimmering liquid gold.
During the fall, I find myself longing for the haystacks of my youth. The heavenly smell of  hay mixed with the dampness of the earth. The early morning mist kissing my face and the exuberance of youth.
Over the years I find that I have come to value the fall of the year more and more ~  the day by day changes.  The mellow richness and different textures that hone and shape us as we age. The laughter, the tears and everything else in between that makes each one of us unique and beautiful.
So I breathe in the ripeness of the world around me and embrace this inevitable change. The waxing and waning  of the year.
Lately, I've been hunting and gathering treasures to add to several necklaces I am currently working on. I found some beautiful clay beads which I collaged words onto and a  pendant that features two herons with their necks intertwined.The clay pendant has a Celtic motif with a gorgeous Raku finish. Love it!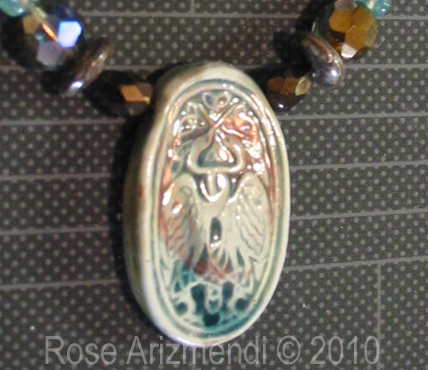 Below is the back of the pendant with words collaged on it. When the glue has dried I will add some color over the paper. The clay bead above the pendant is finished and ready to be added to the other necklace.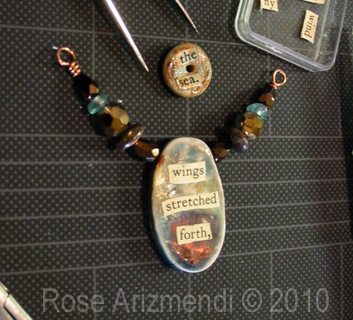 While I was waiting for my pieces to dry I was able to work on one of my acrylic paintings and feel pretty happy about the way it's going.
Today, I've been flitting back and forth from one art making project to the next and loving it! xox
Yesterday was a cold, blustery rainy day. Imagine my surprise when I found a flier neatly tucked under our front door inviting us to an ice cream social. I don't know about you, but ice cream is the last thing on my mind when the weather is so dreary and cold.
The funny thing is, later on, we couldn't stop thinking about ice cream! lol Hopefully by the time the event takes place in two weeks, the sun will be shining and the weather much nicer than it has been.
However, for me, there is an upside to all the rain. It gives me more time to explore and let my creative wild woman out to play. The mixed media collage below is what happens when some Japanese stamps, gesso, newsprint and one rain crazed baby boomer woman with a glint in her eye meet on a blank canvas. I had such a great time I started two more collages.
Yes, for every season there is a time to play, to create and eat dessert first!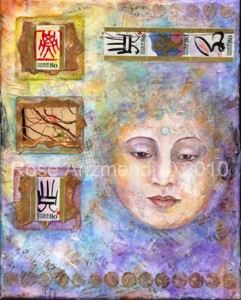 See You There – Mixed Media Collage -8 x 10 inches on canvas
thoughts for the day; "Nourish your eye and spirit with inspiring things. They will bloom with your tending." – SARK
"The point of art is not simply to express ourselves, but to create an external, concrete form in which the soul of our lives can be evoked and contained." – Clarissa Pinkola Estes
Here is a fabulous collage idea using thin rice paper and leaves. Wow!
I have to try this sometime.
thought for the day;

"If you create from the heart, nearly everything works;  if from the head, almost nothing." – Marc Chagall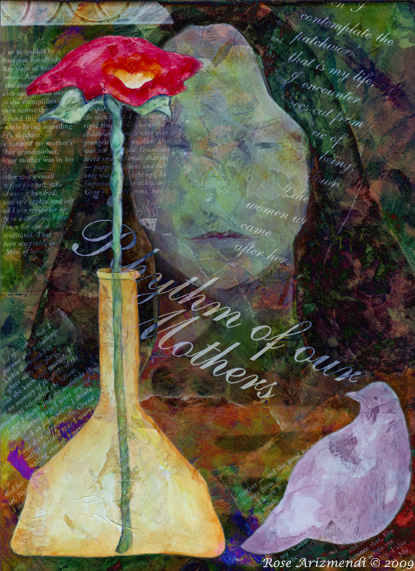 Yesterday as I was cleaning the studio, I came across a couple of watercolor and acrylic paintings, which were works in progress. They were my first attempt to break out of the cyclic creative block that I seemed unable to shake this past week.
One of them represented the different emotional and psychological imprints that can happen when one has a chronic illness. The woman figure symbolizes a medical practitioner, the flower in the vintage lab beaker is representative of our creative adaptability and  innate biological ability to heal. The bird symbolizes tapping into our own creative and healing energies.
I had covered the other canvas with sections of one of my favorite articles about a grandmother who used plant medicine to heal her granddaughter, and her ability to blend her will with the energies of the earth to nourish and sustain her family.
As I looked at these two separate paintings, I suddenly felt inspired to scan both images and thought why not combine both of them together, so I did.
I had to cut, rearrange and then merge all the different images to make them fit together. The whole process took me a couple of hours and it really helped me to break out of my creative slump. I used Photoshop & Painter IX to create the image above  from my original paintings.
So  here's a very heartfelt thank you to all the women, mothers and grandmothers who inspire, nurture and sustain us throughout our lives.
Here is a video demonstration of contemplative sketch booking with Sumi ink, watercolor and collage.
A very creative and interesting video. Beautiful!
Over the last few days, I haven been working on this painting. I still have quite a bit left to do on this one, including adding gold leaf and finishing the hair.
Meanwhile, waiting in the wings is the next project that I will be working on "Sekmet".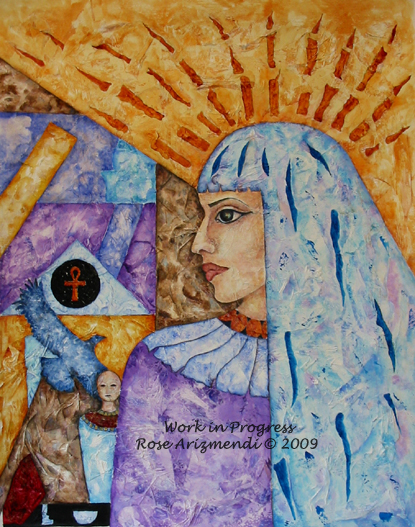 Egyptian Series in progress # 2 – Acrylic/Mixed Media Collage – 16 x 20 inches on paper
thought for the day:
"Don't ask what the world needs.
Rather ask – what makes you come alive?
Then go and do it!
Because what the world needs is people
who have come alive"
— Howard Thurman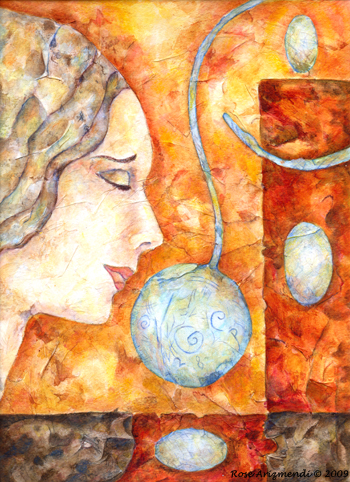 Nature Talking – Acrylic- Mixed media Collage – 9 x 12 inches on paper
"In every walk with nature one receives far more than he seeks."  -John Muir
"If you are seeking creative ideas, go out walking.
Angels whisper to a man when he goes for a walk."
–   Raymond Inmon
Here's a little something to brighten everyone's day …
Collage Fashion Illustrations
Altered Tin – Wisdom
Happy St. Patrick's Day! I hope you are celebrating and having a fun day.  Don't forget to wear green so that you won't get pinched!
May the luck of the Irish be with you!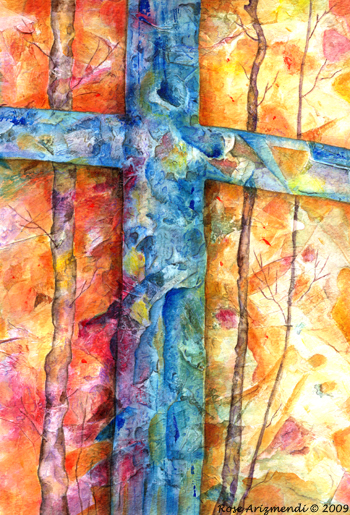 Ancient Symbols – Acrylic Art/Mixed Media Collage – 7.50 x 11 inches on paper
I painted this piece spontaneously from my imagination. Unfortunately not every painting I do in this way works out. Although it's really wonderful when they do…
"Spontaneity is the quality of being able to do something just because you feel like it at the moment, of trusting your instincts, of taking yourself by surprise and snatching from the clutches of your well-organized routine a bit of unscheduled pleasure." -Richard Iannelli