Lately,  I have been obsessed with all things related to Puzzlewood, in the Forest Dean. Forest Dean  is located in the western part of the county of Gloucestershire, England. I watched a video awhile back and was inspired by it's beauty, magic and mystery.
I would love to spend a few months living there, sketching, painting and mostly drinking in the sheer beauty of this forest, but for now I am satisfied with the inspiration and burst of creativity the video stirred up in me.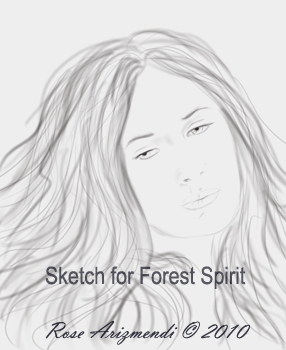 From a dream;  A young woman walking in the forest with a crescent moon suspended in the sky where trees dream and owls fly overhead. She loved the play of moonlight on the leaves ~ shadow and light. The wind playing with her hair ~ the sweet smell of the damp earth beneath her feet, Mother Earth whispered "Child of the forest reach out and touch your wild nature for therein lies your power." To be continued….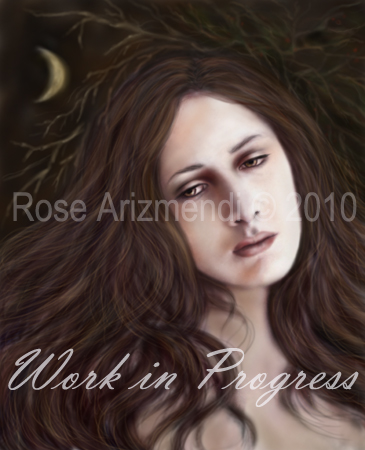 Forest Spirit ~ Digital Painting ~ 11 x 15 inches
This is as far as I got on the painting today. I'm not sure about the background. The crescent moon will stay but the rest may change. The forest floor in my dream sparkled with shades of purple, muted greens and browns with silver moonbeams thrown in. The forest  bejeweled in moonlight.
I was able to capture the forest floor part of the dream in a necklace that I created last week. I have only three of these ceramic goddesses left ~ one of a kind ~ each one different from the other.
I chose this Goddess pendant because it reminds me of  an ancient goddess relic with the soft muted moss colored glaze and rich earth colors sprinkled about. The piece is signed and will soon be available at http://www.rosearizmendi.com/shop/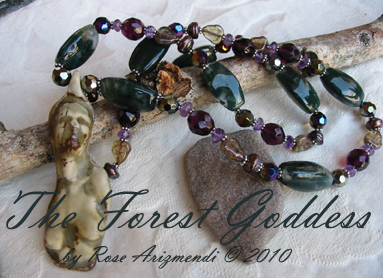 To learn more about Puzzlewood located  in the Forest Dean click here
If you love owls ~ You will love this beautiful Video!
Here is a video demonstration of contemplative sketch booking with Sumi ink, watercolor and collage.
A very creative and interesting video. Beautiful!
I spent most of the day cleaning our mud room. I put away all the umbrellas and raincoats, and removed all the little odds and ends that seemed to have made their way there.  It felt really good to get rid of all the clutter!
Here are a couple of preliminary sketches for an illustration I am working on. I will share more of the story behind this project later on. Right now, all I want to do is eat dinner, watch a movie and then go to bed.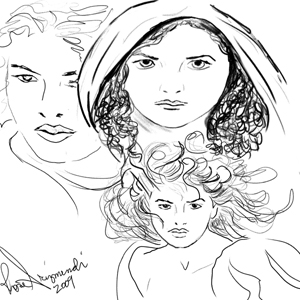 "This is a work of fiction.  All the characters in it, human and otherwise, are imaginary, excepting only certain of the fairy folk, whom it might be unwise to offend by casting doubts on their existence.  Or lack thereof."  – Neil Gaiman
Started the day with sketching a few rabbits, an owl and a bird. I always had an affinity with rabbits since my childhood. As a child growing up in Texas, we had cottontails and jackrabbits as pets.
Spring plowing always resulted in grandpa bringing baby rabbits home which mom fed and nurtured until they could be released back into the wild. However many of these furry friends decided to stay around for awhile, so our dad and grandfather built nice wood rabbit hutches with screened-in sides for all of them.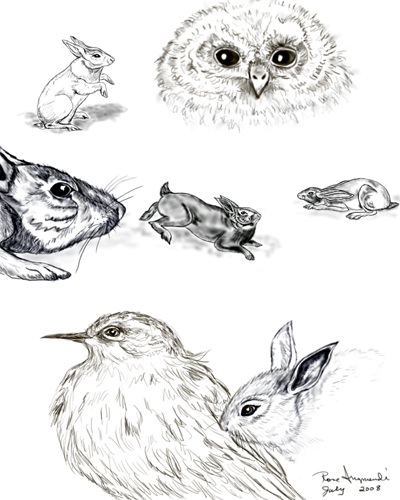 Sketches – Charcoal & 2B pencil – 8 X 10 inches
This morning I awoke to the sound of the soft cooing of the mourning dove. Such a sweet, yet mournful voice, a sound to stir one's soul. I finally got up and grabbed a cup of coffee and began my day.
I started painting and sketching, and after much deliberation of which of the swan sketches to use in my painting "The Swan Maiden," I finally made my choice and began adding them to the canvas. All and all it was a good day!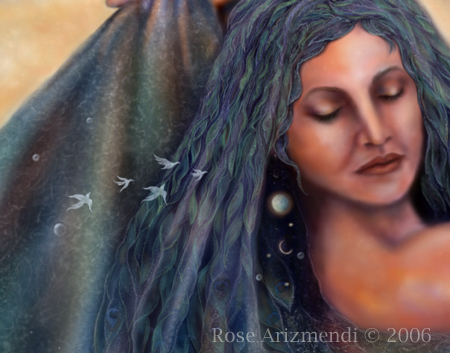 Daybreak– Combined Media on Canvas – 11 X 14 inches