Lately,  I have been obsessed with all things related to Puzzlewood, in the Forest Dean. Forest Dean  is located in the western part of the county of Gloucestershire, England. I watched a video awhile back and was inspired by it's beauty, magic and mystery.
I would love to spend a few months living there, sketching, painting and mostly drinking in the sheer beauty of this forest, but for now I am satisfied with the inspiration and burst of creativity the video stirred up in me.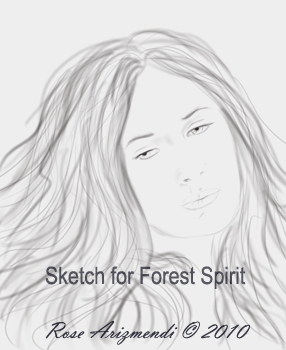 From a dream;  A young woman walking in the forest with a crescent moon suspended in the sky where trees dream and owls fly overhead. She loved the play of moonlight on the leaves ~ shadow and light. The wind playing with her hair ~ the sweet smell of the damp earth beneath her feet, Mother Earth whispered "Child of the forest reach out and touch your wild nature for therein lies your power." To be continued….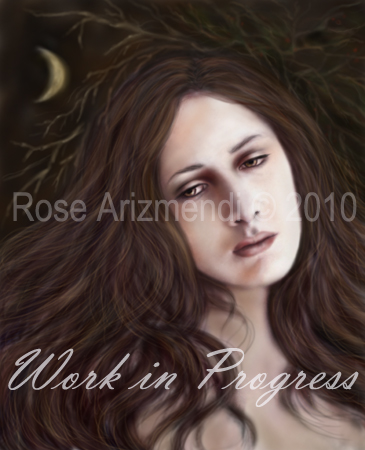 Forest Spirit ~ Digital Painting ~ 11 x 15 inches
This is as far as I got on the painting today. I'm not sure about the background. The crescent moon will stay but the rest may change. The forest floor in my dream sparkled with shades of purple, muted greens and browns with silver moonbeams thrown in. The forest  bejeweled in moonlight.
I was able to capture the forest floor part of the dream in a necklace that I created last week. I have only three of these ceramic goddesses left ~ one of a kind ~ each one different from the other.
I chose this Goddess pendant because it reminds me of  an ancient goddess relic with the soft muted moss colored glaze and rich earth colors sprinkled about. The piece is signed and will soon be available at http://www.rosearizmendi.com/shop/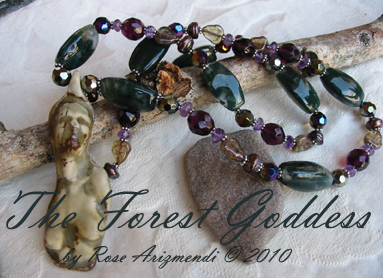 To learn more about Puzzlewood located  in the Forest Dean click here
If you love owls ~ You will love this beautiful Video!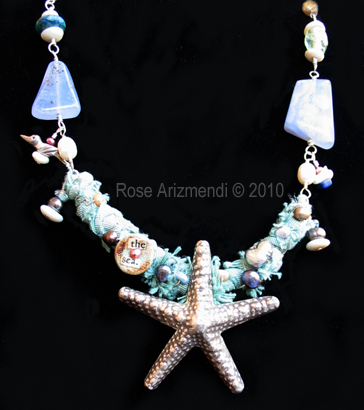 Copyright Jewelry by Rose Arizmendi
I finished the starfish necklace.
Using sterling silver, I created a wire wrapped bar of vintage fabric, fresh water pearls to show off the silver starfish pendant, then I added a vintage clay bead with the words "the sea" collaged onto it. Next I  attached wire-wrapped gemstones to the main bar and added freshwater pearls, sea shell beads and gemstone dangles. Lastly, I added a silver bird charm.
The necklace is approx. 18 inches long featuring two lovely blue lace agate nuggets along with blue topaz, lapis and chrysocolla beads. Unfortunately, the photograph doesn't catch the beautiful swirl patterns on one of the nuggets. They look like ocean waves!
As I was finishing this piece I felt the need to visit Bodega Bay, it's been awhile since my last visit and I long to feel the sand between my toes and listen to the waves crashing along the  shore line. The ocean calls me with her siren voice and my heart longs to listen to her song and of course the chance to find some treasures to bring home to remind me of my visit.
My soul is full of longing
For the secret of the sea,
And the heart of the great ocean
Sends a thrilling pulse through me.
– Henry Wadsworth Longfellow
If you are interested in purchasing "Star of the Sea" necklace, please contact me.
Lately, I've been hunting and gathering treasures to add to several necklaces I am currently working on. I found some beautiful clay beads which I collaged words onto and a  pendant that features two herons with their necks intertwined.The clay pendant has a Celtic motif with a gorgeous Raku finish. Love it!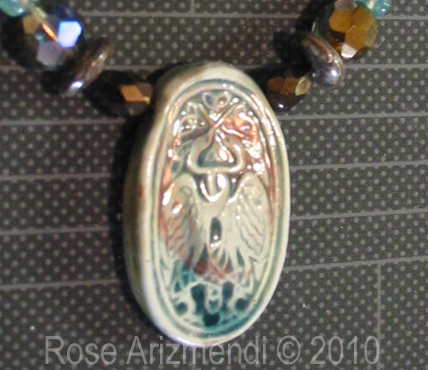 Below is the back of the pendant with words collaged on it. When the glue has dried I will add some color over the paper. The clay bead above the pendant is finished and ready to be added to the other necklace.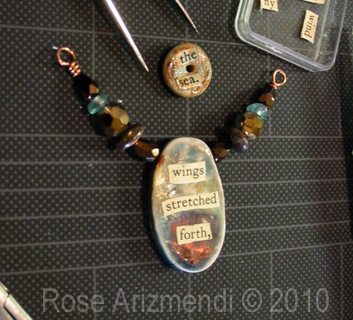 While I was waiting for my pieces to dry I was able to work on one of my acrylic paintings and feel pretty happy about the way it's going.
Today, I've been flitting back and forth from one art making project to the next and loving it! xox
Please Stand by . . . Creative Jewelry Muse on Board!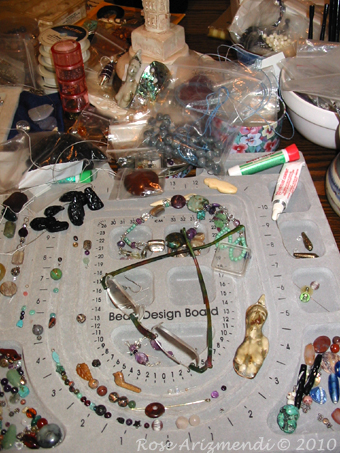 For the past week I have been in the process of designing a couple of beaded necklaces and unfortunately because of space constraints I'm using our dining room table as a temporary beading area.
The good news is I unpacked all my beading supplies and found all kinds of goodies I had forgotten about. I had purchased some beads for a pair of earrings about four years ago and stashed them away for safe keeping and completely forgot about them.
I got so excited about finding the beads I just had to sit down and make the earrings. They are made with Poppy & Maple Jasper, Carnelian, Botswana agates, turquoise beads with sterling silver spacers.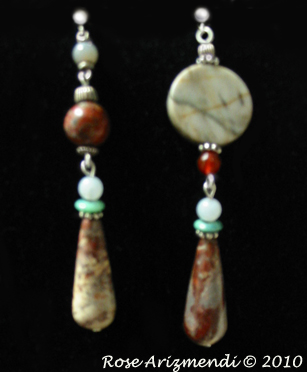 Sacred Source – Earrings by Rose
thought for the day; "Imagination is the beginning of creation. You imagine what you desire, you will what you imagine and at last you create what you will." – George Bernard Shaw
Today, I got my beading supplies out and made another Chakra Meditation Bracelet. This one has both an amethyst bear and a lapis bead for the third eye. Reason being that the bear represents the person's favorite animal spirit. I also added pink quartz dangles  to symbolize  love & the compassionate heart.
I used a hematite heart for the first chakra, carnelian for the second chakra, and amber for the third chakra. For the fourth chakra I chose a beautiful hand carved rose quartz bead, and an aquamarine bead for the fifth chakra, for the crown chakra I selected a rainbow quartz bead.
Each bead is individually wire wrapped by hand.
Chakra Meditation Bracelet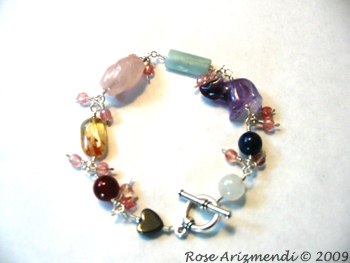 Made with 925  Sterling Silver Wire & finished by a  Bali Sterling Silver Toggle.
I love making sacred jewelry and it was a perfect way to spend my afternoon. Happiness for me is being surrounded by a sea of beads, drinking in all their vibrant colors and energy.