"I dream of painting and then I paint my dream." ~ Vincent Van Gogh
Lately, I have been mesmerized by  crows and pomegranates. The painting below was inspired by the crows I see on my morning walk down by the creek . They are so very intelligent and I love their wickedly funny antics.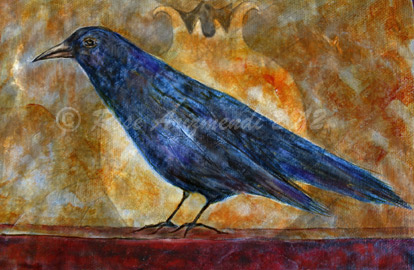 The Golden Pomegranate ~ Acrylic/ Mixed Media ~ 12 x 12 inches on canvas
Below is a sampling of the work currently on my easel. The first one is an experimental piece on 10 x20 canvas~Layers of texture built up with art tissue paper, plaster, fabric, mixed "Golden" gel mediums, Golden acrylics, charcoal, etc…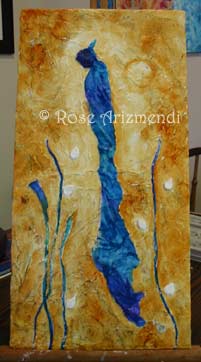 The Bone Mother Mask is another experimental piece on 24 x 36 inch canvas ~ Layers of plaster, gel mediums, sand, cheese cloth, pieces of tree bark, Golden acrylic washes, tea stains, etc…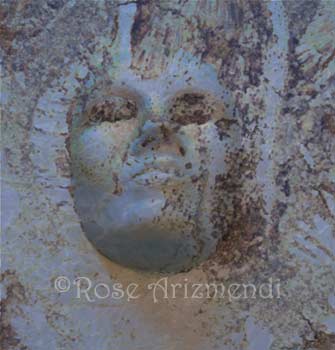 My goal for this year is to dive into some projects that I've kept on the back burner for awhile. You know those ideas that always begin with the words "someday, I'm going to begin . . .
I am so tired of pushing my sculpting tools further and further back into our storage unit, all the while thinking I really need to start working with clay again. There is this deep need inside of me to experience the alchemy of fire, earth and  water. The feel and texture of clay in my hands that feeds the soul in some way.  And yes, there is an open studio near our home. So excited!
Until the veil of the unknown yields
And something original begins
To stir toward your senses
And grow stronger in your heart.
~John O'Donohue
After many days of very hot weather it finally cooled down today and that makes me a happy camper.
I've been playing around with this piece for a couple of days. The inspiration for it came partly from watching crows in our yard and partly from a dream I had about a crow reading aloud from a book about the history of Horus. I was told by someone standing next to me, that I was there only as an observer. About midway through the dream I woke up and couldn't remember a word the crow said. lol
Anyway, I had fun creating this painting. I will try to research the connection, if any, between Horus, the hawk-headed Egyptian god of the sky, and crows. That should be interesting . . .
The Observer – Acrylic Art – Mixed media Collage – 9 x 12 inches on paper
"Hear the voice of the Bard! / Who present, past, and future sees; / Whose ears have heard/ The Holy Word / That walked among the ancient trees." – William Blake
While I was in the garden this morning I noticed that some of the shiny baubles I had placed in a container were missing. It's not the first time this has happened and the culprit is usually a crow.
Later when I went to take the garbage out, there was a crow with his "beak in the cookie jar" so to speak. I laughed as he hastily made off with his stolen prize.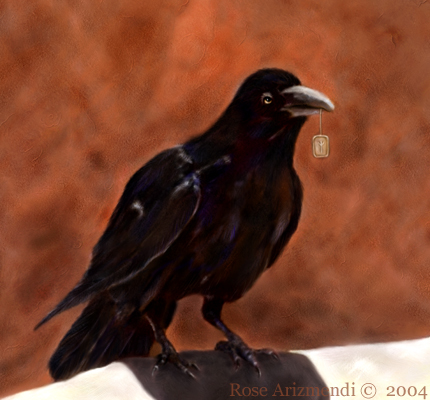 Rune Master – Combined Media – 11 X 14 inches
Crows everywhere this morning! A group of crows descended on our oak tree this morning, squawking and making such a ruckus they woke me up.
As I peaked out our kitchen window I saw two squirrels making a run for it over our neighbors rooftop. I didn't see anything else out of the ordinary, so I went back to bed.
Later I met a friend for coffee and we spent some time catching up on whats going on.
"Each friend represents a world in us, a world possibly not born until they arrive, and it is only by this meeting that a new world is born." – Anais Nin
"We are all travelers in the wilderness of this world, and the best that we find in our travels is an honest friend."
–Robert Louis Stevenson