"I dream of painting and then I paint my dream." ~ Vincent Van Gogh
Lately, I have been mesmerized by  crows and pomegranates. The painting below was inspired by the crows I see on my morning walk down by the creek . They are so very intelligent and I love their wickedly funny antics.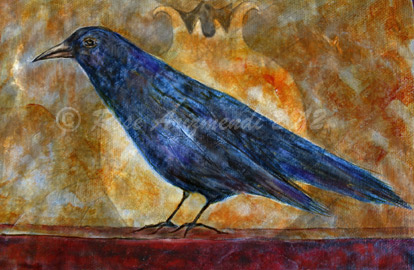 The Golden Pomegranate ~ Acrylic/ Mixed Media ~ 12 x 12 inches on canvas
Below is a sampling of the work currently on my easel. The first one is an experimental piece on 10 x20 canvas~Layers of texture built up with art tissue paper, plaster, fabric, mixed "Golden" gel mediums, Golden acrylics, charcoal, etc…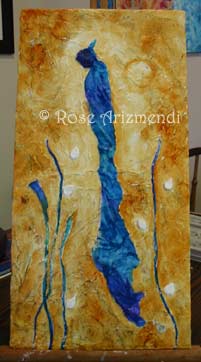 The Bone Mother Mask is another experimental piece on 24 x 36 inch canvas ~ Layers of plaster, gel mediums, sand, cheese cloth, pieces of tree bark, Golden acrylic washes, tea stains, etc…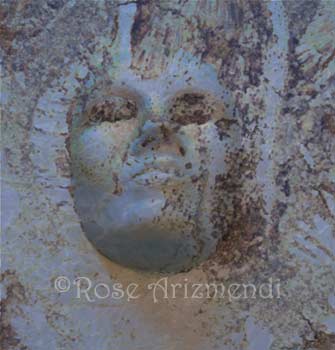 My goal for this year is to dive into some projects that I've kept on the back burner for awhile. You know those ideas that always begin with the words "someday, I'm going to begin . . .
I am so tired of pushing my sculpting tools further and further back into our storage unit, all the while thinking I really need to start working with clay again. There is this deep need inside of me to experience the alchemy of fire, earth and  water. The feel and texture of clay in my hands that feeds the soul in some way.  And yes, there is an open studio near our home. So excited!
Until the veil of the unknown yields
And something original begins
To stir toward your senses
And grow stronger in your heart.
~John O'Donohue