"I dream of painting and then I paint my dream." ~ Vincent Van Gogh
Lately, I have been mesmerized by  crows and pomegranates. The painting below was inspired by the crows I see on my morning walk down by the creek . They are so very intelligent and I love their wickedly funny antics.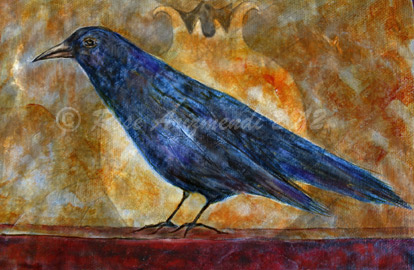 The Golden Pomegranate ~ Acrylic/ Mixed Media ~ 12 x 12 inches on canvas
Below is a sampling of the work currently on my easel. The first one is an experimental piece on 10 x20 canvas~Layers of texture built up with art tissue paper, plaster, fabric, mixed "Golden" gel mediums, Golden acrylics, charcoal, etc…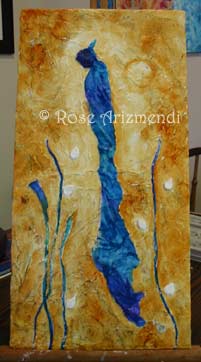 The Bone Mother Mask is another experimental piece on 24 x 36 inch canvas ~ Layers of plaster, gel mediums, sand, cheese cloth, pieces of tree bark, Golden acrylic washes, tea stains, etc…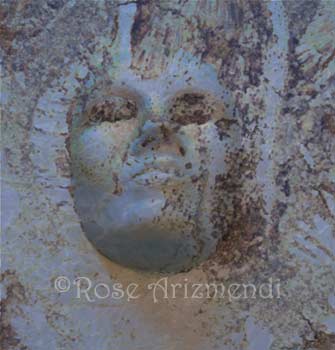 My goal for this year is to dive into some projects that I've kept on the back burner for awhile. You know those ideas that always begin with the words "someday, I'm going to begin . . .
I am so tired of pushing my sculpting tools further and further back into our storage unit, all the while thinking I really need to start working with clay again. There is this deep need inside of me to experience the alchemy of fire, earth and  water. The feel and texture of clay in my hands that feeds the soul in some way.  And yes, there is an open studio near our home. So excited!
Until the veil of the unknown yields
And something original begins
To stir toward your senses
And grow stronger in your heart.
~John O'Donohue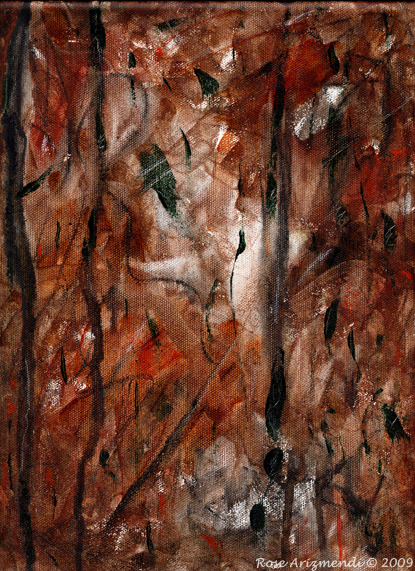 Abstract Trees #1 – Acrylic/Mixed Media – 9 x 12 inches on canvas
It's been a while since I've posted, but that doesn't mean I haven't been painting.
I 've actually been squirreled away in my studio, completeing several paintings that I started earlier this year.
My focus for the next few weeks will be on finishing works in progress. I will try to post a few as I go along.
thought for the day:
"Stand Tall and Proud
Sink your roots deeply into the Earth
Reflect the light of a greater source
Think long term
Go out on a limb
Remember your place among all living beings
Embrace with joy the changing seasons
For each yields its own abundance
The Energy and Birth of Spring
The Growth and Contentment of Summer
The Wisdom to let go of leaves in the Fall
The Rest and Quiet Renewal of Winter"
–  Ilan Shamir, Advice From a Tree
Over the last few days, I haven been working on this painting. I still have quite a bit left to do on this one, including adding gold leaf and finishing the hair.
Meanwhile, waiting in the wings is the next project that I will be working on "Sekmet".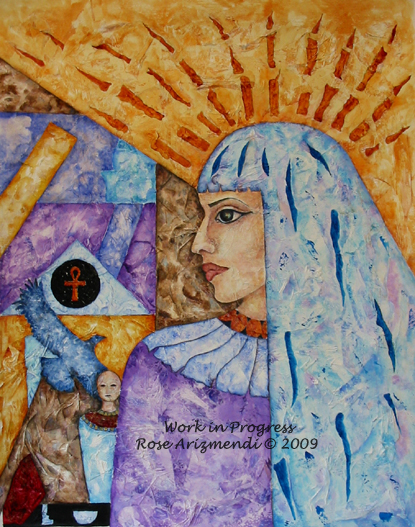 Egyptian Series in progress # 2 – Acrylic/Mixed Media Collage – 16 x 20 inches on paper
thought for the day:
"Don't ask what the world needs.
Rather ask – what makes you come alive?
Then go and do it!
Because what the world needs is people
who have come alive"
— Howard Thurman
I have always enjoyed making masks and over the years I have made them out of clay, plaster, paper mache, porcelain, and leather. Lately I have been using rigid wrap over a mold. The rigid wrap is durable, light weight and easy to attach to a canvas.
On this piece I wanted a very organic looking finish and tried several products, but golden's crackle medium turned out to be just what I was looking for. I had to do several masks and push the medium as far as I could before I got what I wanted. I love this stuff!
I have also used the crackle medium with acrylic and watercolors and I really like the way it adds a bit of interest and texture to my paintings.
This is the third mask in a series I have been working on, and  I am now beginning to attach bark and natural fibers for the hair etc …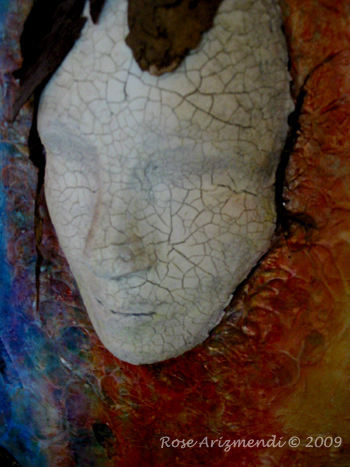 Metamorphosis #2 – Acrylic/Mixed Media/Collage – 15 x 30 inches on canvas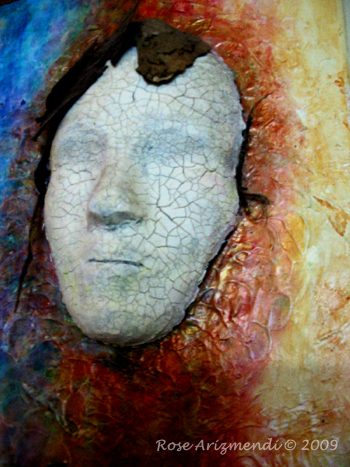 Metamorphosis # 1 – Acrylic/Mixed Media/Collage – 15 x 30 inches on canvas
"For if in any manner we can stimulate this instinct, new passages are opened for us into nature, the mind flows into and through things hardest and highest, and the metamorphosis is possible." – Ralph Waldo Emerson
"What the caterpillar calls the end of the world, the master calls a butterfly," – Richard Bach."
The Phoenix is a mythical bird which upon it's death, burst into flames and rises again from it's own ashes, so it's a perfect metaphor for how I have been feeling over the past few days.
I started another canvas today …  splashing, scraping, pouring and ripping paper to collage onto the painting as I thought about why I have been procrastinating about starting a new piece of work.
Lately, I have been spending much of my time reading, taking photographs and working in the yard, which I guess is another way of gathering ideas and stimulating creativity.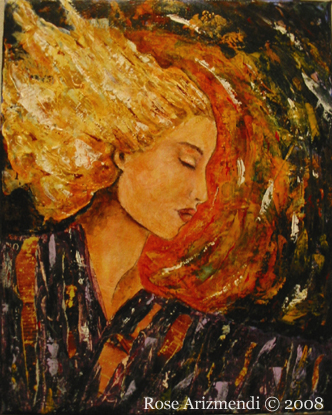 Phoenix Rising – Acrylic/Mixed Media – 8 X 10 inches on canvas
Learning to paint with acrylics has been an interesting journey, and certainly very challenging for someone used to working with oils. I painted with oils for many years and stopped because of allergies.
The acrylic/ mixed medium painting I am currently working on right now is a work in progress.
I sometimes like to alternate between paintings and other projects, because it gives me a chance to process the work, and if I feel stuck for any reason then I take some time off. When I return, I'm refreshed and ready to go!
Below is the latest acrylic painting I am working on. All images are copyrighted.