Here is another digital morning warm up exercise.
This time I used digital liquid ink on hot press paper. I did several 4 x 5  inch paintings, and each one turned out a little different.
I sometimes use these as a point of reference for traditional paintings. This way I can experiment with new ideas without the expense of purchasing new canvases, and if I don't like what I 've created I can hit the delete button.
This also allows me to  play around with several different compositions before choosing one, and helps me to figure out what medium would work best for each new painting.
As an example, lets say I wanted to turn this one into a traditional painting. I would probably use acrylics, collage elements, gesso, crackle paste, and light modeling paste on canvas.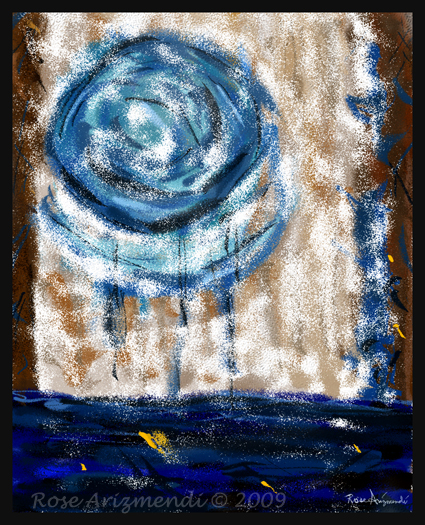 Raining Blue – Digital Painting – 4 x 5 inches – Digital Liquid ink on hot press paper.
thought for the day;
"if you want to get better at painting or making art, then do it everyday (passionately/religiously) as if there is no tomorrow. Let go of the judge within, and be surrounded by positive, supportive people. Be gentle on yourself and others. Give. Never hold back. " – Nancy Davis Bilbro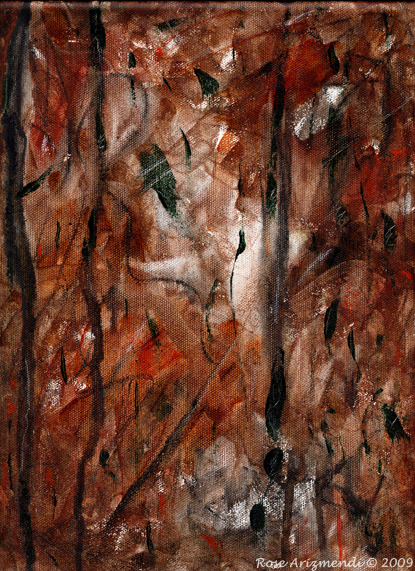 Abstract Trees #1 – Acrylic/Mixed Media – 9 x 12 inches on canvas
It's been a while since I've posted, but that doesn't mean I haven't been painting.
I 've actually been squirreled away in my studio, completeing several paintings that I started earlier this year.
My focus for the next few weeks will be on finishing works in progress. I will try to post a few as I go along.
thought for the day:
"Stand Tall and Proud
Sink your roots deeply into the Earth
Reflect the light of a greater source
Think long term
Go out on a limb
Remember your place among all living beings
Embrace with joy the changing seasons
For each yields its own abundance
The Energy and Birth of Spring
The Growth and Contentment of Summer
The Wisdom to let go of leaves in the Fall
The Rest and Quiet Renewal of Winter"
–  Ilan Shamir, Advice From a Tree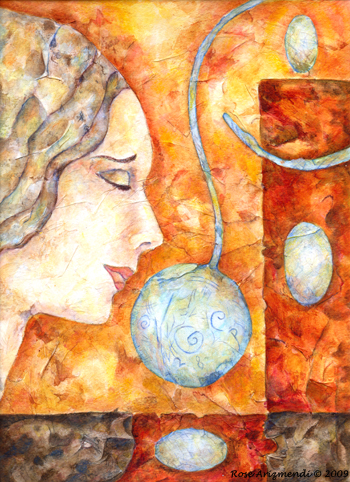 Nature Talking – Acrylic- Mixed media Collage – 9 x 12 inches on paper
"In every walk with nature one receives far more than he seeks."  -John Muir
"If you are seeking creative ideas, go out walking.
Angels whisper to a man when he goes for a walk."
–   Raymond Inmon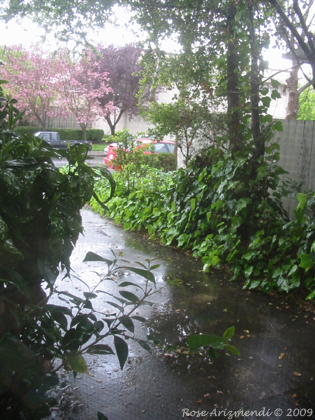 Well it has been a rainy day today in the bay area and it came down hard at times. I snapped this photo as the rain water gushed down our driveway.
I spent the day finishing up an acrylic painting I have been working on, and later I'm going to finish reading my book "The Artist's Quest for Inspiration" by Peggy Hadden. This book is absolutely wonderful and very helpful!
thought for the day: The spirit, like the body, can be strengthened and developed by frequent use. And  for this reason it is necessary for the artist to know the starting point for the exercise of his spirit." – Wassily Kandinsky
Happy St. Patrick's Day! I hope you are celebrating and having a fun day.  Don't forget to wear green so that you won't get pinched!
May the luck of the Irish be with you!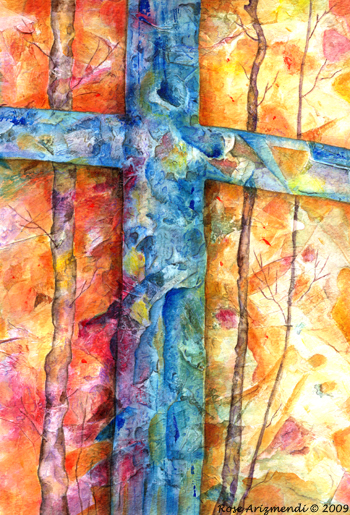 Ancient Symbols – Acrylic Art/Mixed Media Collage – 7.50 x 11 inches on paper
I painted this piece spontaneously from my imagination. Unfortunately not every painting I do in this way works out. Although it's really wonderful when they do…
"Spontaneity is the quality of being able to do something just because you feel like it at the moment, of trusting your instincts, of taking yourself by surprise and snatching from the clutches of your well-organized routine a bit of unscheduled pleasure." -Richard Iannelli
Today was another gorgeous, wonderful day here in northern California!
Today, I prepped a couple of sheets of watercolor paper for tomorrow and did this painting in the afternoon. It was one of those happy accidents.
I accidentally spilled some watercolor paint on the paper and as I was trying to clean it off, this winged figure started to appear. I then  began developing the painting with acrylics, colored pencils, inks, and pastel pencils.
This was way to much fun!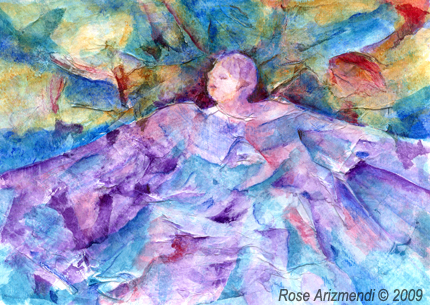 Threshold – Acrylic Art – Mixed Media Collage – 5 x 7 inches on paper
"Where the water whispers mid the shadowy rowan trees I have heard the Hidden People like the hum of swarming bees: And when the moon has risen and the brown burn glisters grey I have seen the Green Host marching in laughing disarray. – Fiona MacLeod
Here is a new painting that I finished today. It was inspired by all the rain storms we have been having over the past couple of weeks.
The view from my studio window has been very dramatic with sheets of rain pouring down and thunder rumbling overhead. It was all rather exciting to watch Mother Nature at work. I love it!
March certainly roared in like the proverbial lion!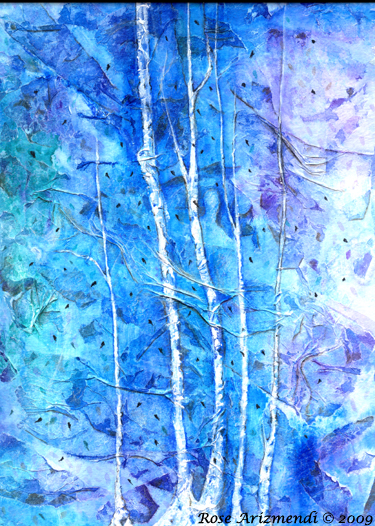 March Storm – Acrylic Art – Mixed Media Collage – 9 x 12 inches on paper.
"March bustles in on windy feet
And sweeps my doorstep and my street.
She washes and cleans with pounding rains,
Scrubbing the earth of winter stains.
She shakes the grime from carpet green
Till naught but fresh new blades are seen.
Then, house in order, all neat as a pin,
She ushers gentle springtime in."
–   Susan Reiner, Spring Cleaning
I started out this beautiful sunny morning with some warm up exercises using acrylic alcohol resist techniques and metallic watercolor paint.
The beauty of these is that they can be used as a start for a painting or you can tear them up into interesting shapes and use them as collage material for other paintings. You can also leave them as is and frame them.
Sorry, the photo is a little crooked (not the painting).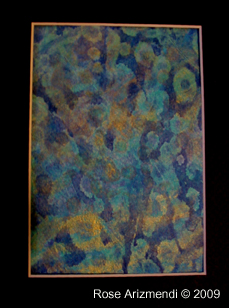 Acrylic/Watercolor – 11 x14 inches on Watercolor Paper
"A painting is never finished – it simply stops in interesting places." – Paul Gardner
I spent the afternoon playing around in the studio making a couple of spirit pouches. I make these with watercolor paper, acrylic paint and ink.
When I have finished painting I place feathers, white sage, natural fibers, crystals, etc… into the pouch area. I then add turquoise beads and other natural gemstones to finish the piece.
Below is my personal Spirit Pouch which hangs in my studio.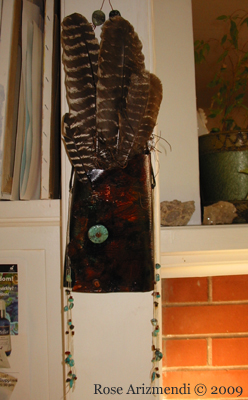 Spirit Pouch – Mixed Media – 5 x 8 inches.
Hang the Spirit Pouch on your wall  somewhere in your house where you can see it as a reminder of your connection to spirit.
Over the weekend I purchased two 30 x 40 inch canvases and after I got them home I realized that they were quite large and felt a little intimidated.
All sorts of thoughts went through my mind like " do I have enough gesso, tissue paper and acrylic paint?" What will I paint on it?
Then I watched this video and and it helped to put everything into perspective.
For those who feel intimidated by large canvases here is a video that shows an artist painting on a really large canvas. Wow!
Time Lapse Large Oil Painting
Artist Quote for the Day
" A lot of it's experimental, spontaneous. It's about knocking about in the studio and bumping into things." – Richard Prince