I started out this beautiful sunny morning with some warm up exercises using acrylic alcohol resist techniques and metallic watercolor paint.
The beauty of these is that they can be used as a start for a painting or you can tear them up into interesting shapes and use them as collage material for other paintings. You can also leave them as is and frame them.
Sorry, the photo is a little crooked (not the painting).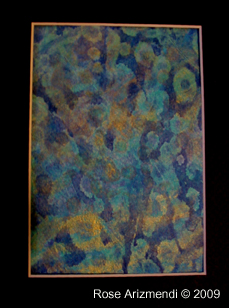 Acrylic/Watercolor – 11 x14 inches on Watercolor Paper
"A painting is never finished – it simply stops in interesting places." – Paul Gardner