Posted by
Rose
on Mar 30th, 2009 in
Video
|
0 comments
Creating a gestural, anatomical and structural life drawing with Gary Geraths.
"Living is a form of not being sure, not knowing what next or how. The moment you know how, you begin to die a little. The artist never entirely knows. We guess. We may be wrong, but we take leap after leap in the dark." – Agnes De Mille
Below is one of the images from my daily warm up exercises this morning.
I started by spreading  a layer of heavy gel medium on watercolor paper and drew patterns into the gel with old plastic cards, rubber stamps, and various sizes of old margarine lids.
I then used my sculpture tools to define certain areas by scooping out the excess gel medium. When the gel had dried, I floated acrylic washes over the surface and let that dry.
Next I added another layer of acrylic over the first layer and used plastic wrap in certain areas to create more texture.
When the pieces had all dried I started to define and bring out the organic patterns that I began to see develop before my eyes. What fun!
The image here is the one that I decided to work on first. I will let it sit for a couple of days and come back to it with fresh eyes.
For right now,  I see all kinds of images dancing in the medium and my imagination is in overdrive! Time to take a break. lol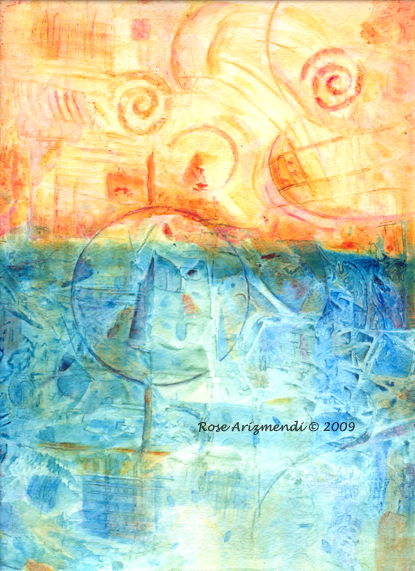 Acrylic Art – Mixed Media Collage – Friday warm up exercise #3 – 9 x 12 inches on paper
"An artist's early work is inevitably made up of a mixture of tendencies and interests, some of which are compatible and some of which are in conflict. As the artist picks his way along, rejecting and accepting as he goes, certain patterns of enquiry emerge. His failures are as valuable as his successes: by misjudging one thing he conforms something else, even if at the time he does not know what that something else is." — Bridget Riley.
The weather was so fantastic I just had to be out in the garden!
I grabbed my Fabriano Journal and watercolors and created the first image with a micron pen and watercolor. The second image was made with a micron #03 pen.
The journal has a variety of colored pages so the page color of the first image  is beige  and the second image is on light brown paper.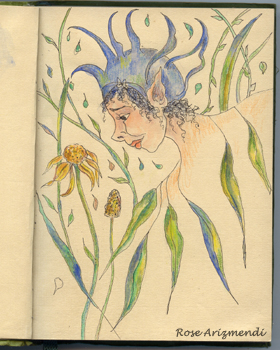 Fairy – Garden Doodles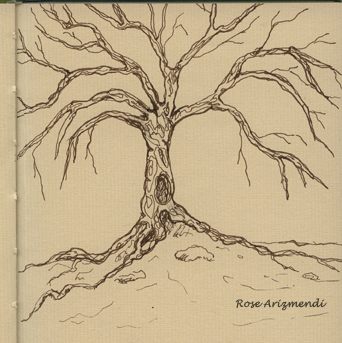 Tree doodle
I didn't get much done in the studio yesterday, but was I ever busy with Spring cleaning!
I spent most of  the day raking and cleaning up the backyard, and I was one tired puppy when I finished. I had planned on getting some work done in the studio, but that never happened.
My plan for tomorrow is to get back in the studio and work some more on the painting below.
The imagery came from two dreams I had recently. One dream was about a beautiful portal floating over water, the other was of a large winged bird creature surrounded by fire.
The creature was so beautiful, and I could feel the wind from his wings brush against my face as he flew across the sky.
There was a full moon riding high across the sky and I was dancing below as the bird flew overhead as if we were participating in some ancient tribal ritual from the distant past.
In my dream, I somehow knew the creature was a messenger and guardian.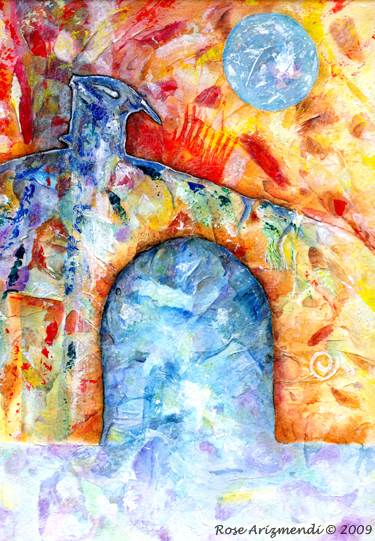 Water, Wind & Fire – Acrylic Art – Mixed Media Collage – 8 x 11 inches on paper
Glenn Trotter is truly a gifted artist. Beautiful!
One of a kind Pottery by Arizona Raku Artist  Glenn Trotter
Here's a little something to brighten everyone's day …
Collage Fashion Illustrations
Altered Tin – Wisdom
Happy Vernal Equinox!
I have been out and about enjoying the nice weather, taking lots of photos. I love the sense of renewal that comes with Spring!
I have also been hard at work in my studio painting a new piece which features a portal and an abstract bird. I will post it in a couple of days or so.
This video shows spectacular images of Gaia, our Mother Earth . . .  So beautiful and so fragile . . .
"Evolution is a tightly coupled dance, with life and the material environment as partners. From the dance emerges the entity Gaia". -James Lovelock
Happy St. Patrick's Day! I hope you are celebrating and having a fun day.  Don't forget to wear green so that you won't get pinched!
May the luck of the Irish be with you!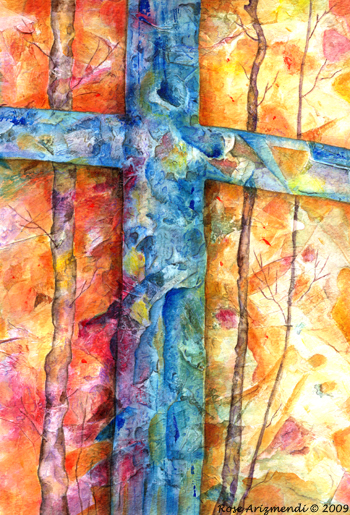 Ancient Symbols – Acrylic Art/Mixed Media Collage – 7.50 x 11 inches on paper
I painted this piece spontaneously from my imagination. Unfortunately not every painting I do in this way works out. Although it's really wonderful when they do…
"Spontaneity is the quality of being able to do something just because you feel like it at the moment, of trusting your instincts, of taking yourself by surprise and snatching from the clutches of your well-organized routine a bit of unscheduled pleasure." -Richard Iannelli
The first video shows how to make an altered trinket box.
Awesome! What a great idea for gift giving.
I love this video! A friend of mine taught me how to make these paper flowers years ago, and I had a ball making them for a spring tea party we were giving.
They added such a festive atmosphere to the occasion and everyone got to take one home as a party favor. They were especially a big hit with the kids!
Lots of fun to make, and a great party decoration idea for other events like the Spring Equinox or Easter.
Have a great weekend!
Today was another gorgeous, wonderful day here in northern California!
Today, I prepped a couple of sheets of watercolor paper for tomorrow and did this painting in the afternoon. It was one of those happy accidents.
I accidentally spilled some watercolor paint on the paper and as I was trying to clean it off, this winged figure started to appear. I then  began developing the painting with acrylics, colored pencils, inks, and pastel pencils.
This was way to much fun!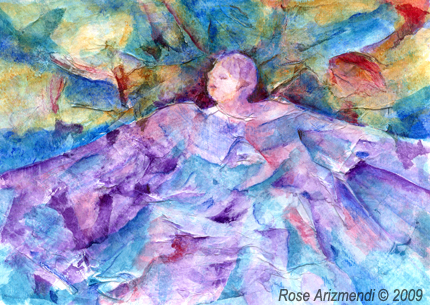 Threshold – Acrylic Art – Mixed Media Collage – 5 x 7 inches on paper
"Where the water whispers mid the shadowy rowan trees I have heard the Hidden People like the hum of swarming bees: And when the moon has risen and the brown burn glisters grey I have seen the Green Host marching in laughing disarray. – Fiona MacLeod