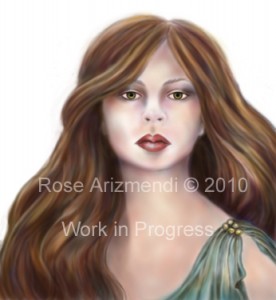 A peak at a new digital painting I am working on.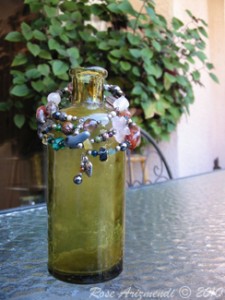 Taking a break on the patio. It's been a rather stressful week and I just needed to relax for awhile, so as I sat down, I noticed the antique bottle I had left out on the table yesterday.
I love these old bottles, the way the light reflects off of them, the soft muted colors and the way they make me feel nostalgic. Like dear old friends!
This bottle belonged to Aunt Margie and I know she would love the fact that I found such an unusual use for it.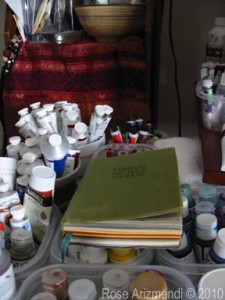 Cleaned up my messy studio. Whew! Organized my acrylics, brushes and art journals.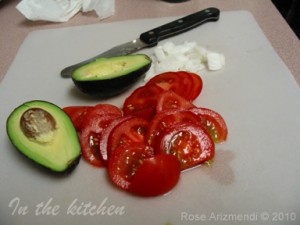 Organic lettuce, homemade balsamic honey dressing, add some wine and good company and you have the makings for a perfect meal.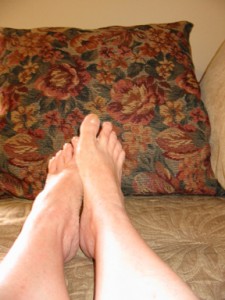 At the end of the day …
Nothing left to say …
Watching the sun go down over the hill … xo
Posted by
Rose
on Jan 7th, 2009 in
Acrylic/Mixed Media
|
0 comments
Today I played around with creating a painting with the  acrylic/alcohol resist technique on Bristol Board. It was a trial and error process until I got the look I wanted.
I used Golden's fluid acrylics and 91% Isopropyl Alcohol. The first photo shows three separate layers of this technique and the second one shows the iridescent bright gold (fine) fluid acrylic paint, I used to add highlights and detail.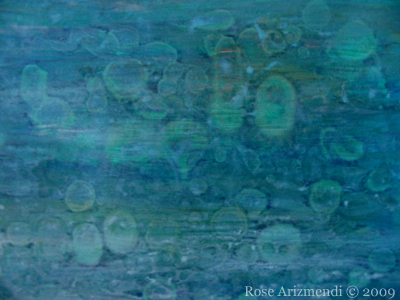 Harmony # 1 – Acrylic/Mixed Medium – 8 x 11 inches on Bristol Board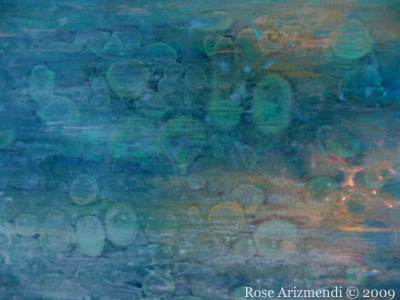 Harmony # 2 – Acrylic/Mixed Medium – 8 x 11 inches on Bristol Board
"I didn't want to get into something which is played out and narrow. I want to do as I like, invent my own interests." – Wassily Kandinsky
Posted by
Rose
on Mar 18th, 2008 in
Acrylic/Mixed Media
|
0 comments
I spent most of the day working on my painting of Kuan Yin , layering in watercolor, golden fluid acrylics, acrylic inks, and also used Golden's Iridescent Bright Gold (fine) on the bamboo leaves.
The picture below is a closeup of Kuan Yin's face so you can see how tissue and rice paper have added texture to the canvas.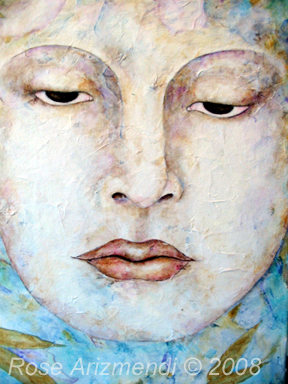 Kuan Yin
"Hope is the dream of a soul awake".
-French Proverb