Posted by
Rose
on Mar 26th, 2009 in
Watercolor
|
0 comments
The weather was so fantastic I just had to be out in the garden!
I grabbed my Fabriano Journal and watercolors and created the first image with a micron pen and watercolor. The second image was made with a micron #03 pen.
The journal has a variety of colored pages so the page color of the first image  is beige  and the second image is on light brown paper.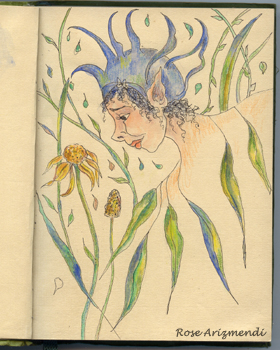 Fairy – Garden Doodles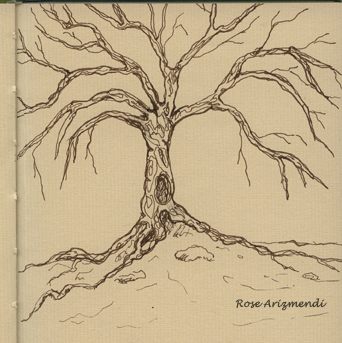 Tree doodle
Here is a new painting that I finished today. It was inspired by all the rain storms we have been having over the past couple of weeks.
The view from my studio window has been very dramatic with sheets of rain pouring down and thunder rumbling overhead. It was all rather exciting to watch Mother Nature at work. I love it!
March certainly roared in like the proverbial lion!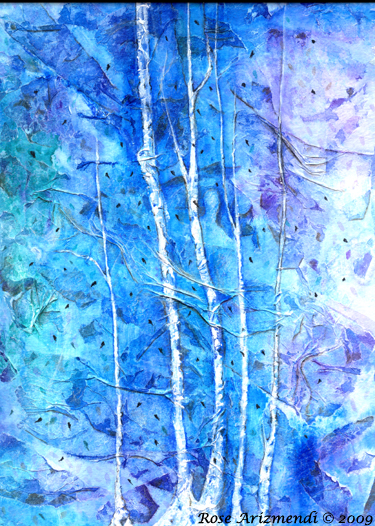 March Storm – Acrylic Art – Mixed Media Collage – 9 x 12 inches on paper.
"March bustles in on windy feet
And sweeps my doorstep and my street.
She washes and cleans with pounding rains,
Scrubbing the earth of winter stains.
She shakes the grime from carpet green
Till naught but fresh new blades are seen.
Then, house in order, all neat as a pin,
She ushers gentle springtime in."
–   Susan Reiner, Spring Cleaning
I started out this beautiful sunny morning with some warm up exercises using acrylic alcohol resist techniques and metallic watercolor paint.
The beauty of these is that they can be used as a start for a painting or you can tear them up into interesting shapes and use them as collage material for other paintings. You can also leave them as is and frame them.
Sorry, the photo is a little crooked (not the painting).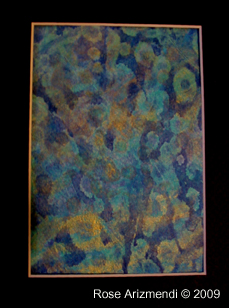 Acrylic/Watercolor – 11 x14 inches on Watercolor Paper
"A painting is never finished – it simply stops in interesting places." – Paul Gardner
There are many myths about stones and one of my favorites comes from the Seneca Indian Tribe. It's about the origin of stories.
A few years ago, our neighbors created a dry stream bed that mimics a natural watercourse and I have often admired these stones on my daily walk.
I love the colors and texture of the stones and I thought I would try to capture this in a painting.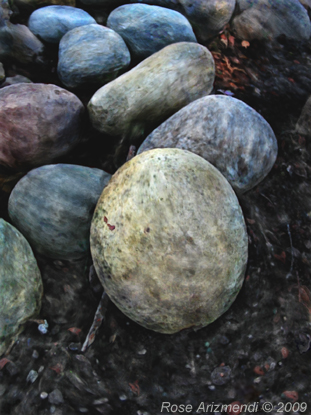 Stones Tell Stories
"I will lift the stone as Mary lifted it for her son, for substance, virtue, and strength; May this stone be in my hand till I reach my journey's end." – John Gregorson Campbell

"Have not all nations had their first unity from a mythology that marries them to rock and hill." W. B Yeats
Today I woke up to another gray, rainy day and I really didn't feel much like doing anything so I grabbed a cup of good strong Irish tea and began my day.
Later  in the afternoon, I was able to work in the studio and started laying in the background colors on this painting. I also did some touch ups and added more details to the hair section.
I did not get as much done as I had planned on because daylight was fading fast and it was already time to start dinner. I turned off the studio lights and said goodnight to the Tree Guardian.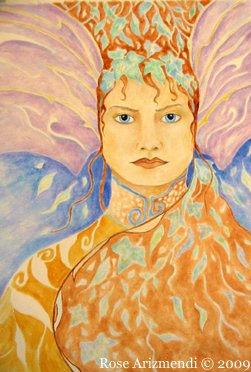 Tree Guardian – Acrylic/Watercolor Mixed Medium – 16 x 20 on watercolor paper
"A rainy day is the perfect time for a walk in the woods."  – Rachel Carson
During this time of the year, the focus is on new beginnings, new projects, manifesting dreams, and I was thinking about what the future holds for us and future generations.
Well, after reading the news this morning I decided it was time to stop and smell the roses so I turned off the computer and headed out to the studio.
I pulled out a sheet of watercolor paper and began to sketch a portrait of my sister which then morphed into something completely different. I began to hear my muse whispering in my ear of ancient forests, beautiful winged beings, swirling colors of blues, russet and subtle shades of green sprinkled with lavender.
What's a woman to do? Go with the flow, of course!
Below is a photo of the painting in it's first stages.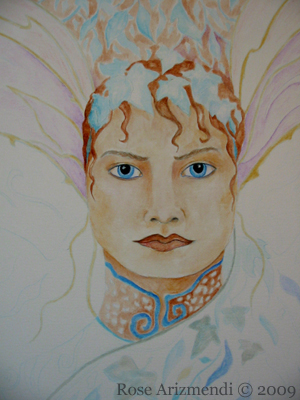 Tree Guardian – Acrylic/Watercolor Mixed Medium – 16 x 20 inches on watercolor paper
Merlyn in Calydon
"If you sit still long enough on the forest floor, the universe will approach you like a shy animal.
Breathe softly and don't move:  If encouraged it will nuzzle your open hand.
Open more! Open your heart … your head … your soul … all doors … all bars
that catch and trap and bind the wild and dreaming beast that sleeps in you."  – Mara Freeman

This weekend I started working on the "healing labyrinth mandala" painting below. It was inspired by the mandala exercises I've been doing from "The Mandala Healing Kit",  by Judith Cornell, Ph.D.
After doing the exercises in the workbook, I decided to make a mandala on watercolor paper  using acrylics, watercolor and ink. This is a work in progress so I will keep you updated.
For me, the mandala is a symbol for healing, growth and transformation.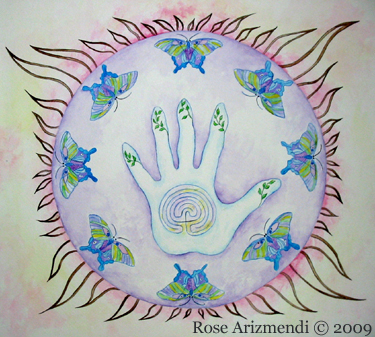 The Healing Labyrinth Mandala – Acrylic/Mixed Medium – 16 x 20 inches on watercolor paper
"Your sacred space is where you can find yourself again and again." – Joseph Campbell
I felt creative today and experimented with making some watercolor Christmas cards. I already have prismacolor watercolor pencils, but would like to try Cretacolor pencils in the near future. Tomorrow is my birthday so maybe I will treat myself to a trip to the art store.
Watercolor Pencils: Cretacolor
I spent most of the day working in the studio trying to clean up the mess from yesterday. Whew! Here is a great video about using Ph Martin's Liquid transparent watercolor.
I've been working on a mixed media piece for a while and have played around with different versions of the original work which is still in progress. Here is a watercolor version.
I was inspired to create this painting after a trip to Mendocino located in Northern California. On the way there we drove through Montgomery Woods, a coastal redwood grove, and decided to take a break from driving and check out the area.
It was so beautiful as we stood there in silent communion beneath the ancient redwood trees, drinking in the splendor of Mother Natures living cathedral.
I felt enlivened and peaceful in the presence of these old trees, feeling reconnected with my deep ancestral roots in the forest.  They are the elders on this planet and for centuries were considered sacred, alive, and ensouled.
In the painting below the woman represents a ban-drui, ( a female druid).  She is a healer, priestess, storyteller and teacher who listens and learns from trees. She records and preserves their teachings which are passed down from one generation to the next. She teaches "balance in all things".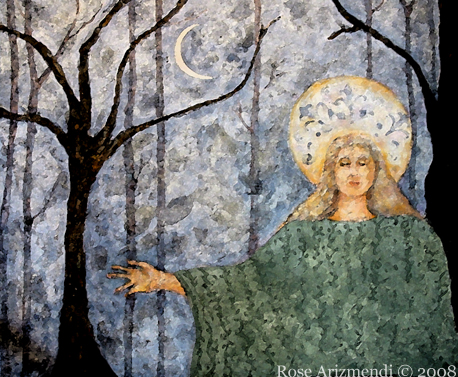 A Reverence for Trees – Watercolor – 4 X 4 inches
"They are beautiful in their peace, they are wise in their silence. They will stand after we are dust. They teach us, and we tend them. – G. MacDunelmor