Posted by
Rose
on Oct 7th, 2008 in
Watercolor
|
0 comments
I've been working on a mixed media piece for a while and have played around with different versions of the original work which is still in progress. Here is a watercolor version.
I was inspired to create this painting after a trip to Mendocino located in Northern California. On the way there we drove through Montgomery Woods, a coastal redwood grove, and decided to take a break from driving and check out the area.
It was so beautiful as we stood there in silent communion beneath the ancient redwood trees, drinking in the splendor of Mother Natures living cathedral.
I felt enlivened and peaceful in the presence of these old trees, feeling reconnected with my deep ancestral roots in the forest.  They are the elders on this planet and for centuries were considered sacred, alive, and ensouled.
In the painting below the woman represents a ban-drui, ( a female druid).  She is a healer, priestess, storyteller and teacher who listens and learns from trees. She records and preserves their teachings which are passed down from one generation to the next. She teaches "balance in all things".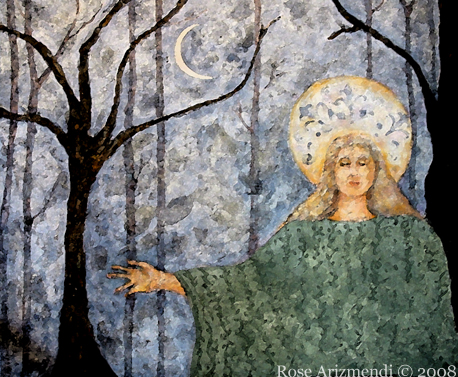 A Reverence for Trees – Watercolor – 4 X 4 inches
"They are beautiful in their peace, they are wise in their silence. They will stand after we are dust. They teach us, and we tend them. – G. MacDunelmor