Posted by
Rose
on Jan 1st, 2010 in
Sketches & Doodles
|
0 comments
1st January. Early in the morning, the sky is gloomy and gray with rain. As  I drink my tea, I find myself trying to ignore the chaos of boxes stacked behind my chair as I write this post.
Over the holidays, I finally unpacked most of my art supplies. I'm still in the process of organizing everything and trying to figure out where some of my brushes disappeared to? … lol
Our new place is smaller so I carved out a little niche  for myself  in our bedroom for my art table & supplies. It's nice and cozy!
I'm sketching and painting for the first time in ages, and feeling better for getting back into the swing of things.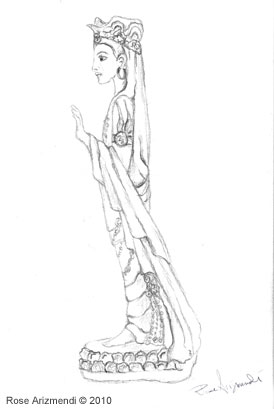 Sketch of Kuan Yin Lamp – Tombow Mono 100 # 2B & #3B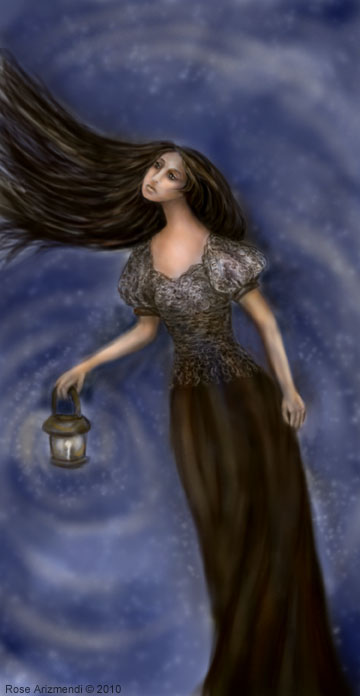 Morning Warm Up – Digital using Painter 7
Today I received a new Fabriano Art Journal from my husband. I had filled up my other sketch books and needed a new one. What a wonderful gift!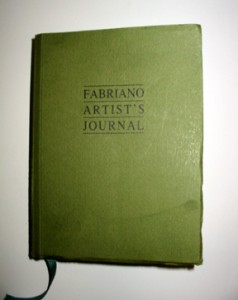 Here is a sketch of a Fairy l did this morning and I should be able to finish it over the next couple of days.  Maybe I can add some small animals, like  foxes or rabbits trailing behind the elf.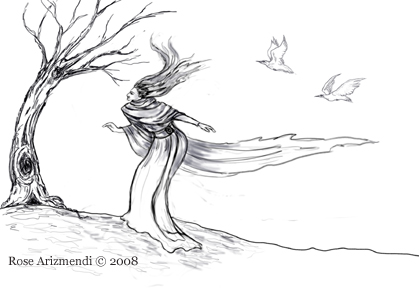 Sketch – Pencil, Charcoal & Ink – 4 1/2 X 6 1/2 inches
I have been working on this painting since February of this year. The inspiration for this piece came from reading the novel "Daughter of the Forest" by Juliet Marillier. She is a very gifted writer and folklorist. This beautiful retelling of the traditional seven swans fairy tale set in ancient Ireland, sent me on a quest of inquiry into a myriad of myths surrounding swans.
During this research, I was drawn to the Irish legend of a beautiful swan maiden "Caer Ibormeth". Daughter of Prince Ethal Anbuai of Sid Uamuin in Connacht. Legend has it that every other Samhain she would change into a swan and would remain in this form for a year before becoming human again the following Samhain. This romantic Irish myth has become the main focus of my painting.
I have done several preliminary sketches of flying swans and will be adding these later when I have finished painting the maiden and the background. Sometimes when I am working on a painting, it becomes necessary for me to plan, to mull, and let some of my ideas percolate for awhile before I can proceed.
I will post this painting again when I am finished.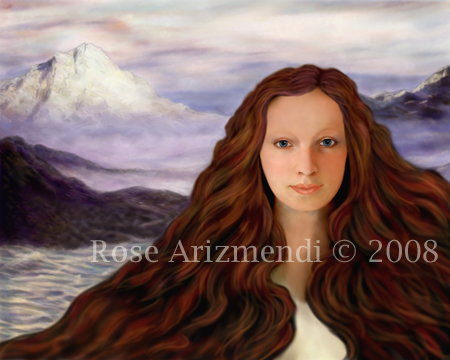 The Swan Maiden – Combined Media – 16 X 20 inches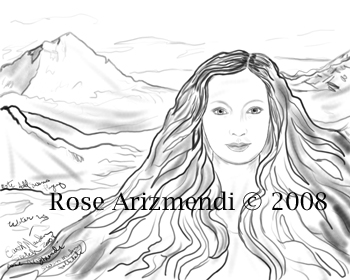 The Swan Maiden – Sketch Charcoal & 2B pencil – 16 X 20
The rain has arrived and thank goodness, it has been such a dry season for us. When I stepped outside this morning everything smelled so fresh and clean. What a wonderful way to start your day!
I grabbed a cup of hot tea and decided to do some sketching. I wanted to play around with some ideas which had been bouncing around in my head lately.
I have always been fascinated by archetypal images, and today I was primarily focused on The Divine Child archetype when I did the sketch below.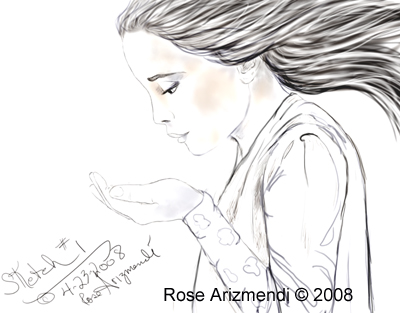 The Awakening – Sketch 2B Pencil – 5 X 7 inches
"Myths are the world's dreams. They are archetypal dreams and deal with great human problems. Myths and dreams come from the same place. They come from realizations of some kind that then have to find expression in symbolic form." – Joseph Campbell
"You cannot predict what the next step is; you just have to do it. It's so mysterious." – Hui Lin Liu
"I am inspired when the elements and forces of nature combine to form strange and transcendental appearances… sometimes subtle, sometimes dynamic, they act as portals to a mystical realm." – Diana Lehr