Posted by
Rose
on Jul 20th, 2009 in
Digital Art
|
0 comments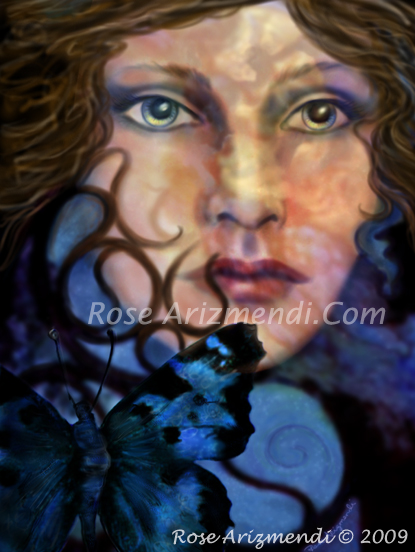 The Blue Butterfly – Mixed Media – 10 x 13 inches
This painting/collage was inspired by an encounter with a white butterfly yesterday.
While I was weeding in the garden I saw a white butterfly come  into the garden and  land on a nearby plant. I took a minute to admire it  and then continued on with my weeding.
Suddenly I noticed a fluttering next to my cheek. It was the butterfly! I remained perfectly still, completely surprised that it had landed on my hair. Several minutes passed before it flew away.
Butterflies are powerful symbols for transformation and change.
It is believed that when we encounter butterflies in our daily life they are a reminder to embrace change, joy and love, within the dance of life.
The dance of the butterfly teaches us not to take things too seriously. If we look closely at what the butterfly is trying to teach, we will discover it is that all change is good. It may not seem like it at the time but change is the never ending cycle of self transformation and is necessary for growth and accomplishment.
When we believe that change is too difficult, we invite stagnation and soul loss. We lose our courage to embrace life and transform into the beautiful, loving, powerful beings we are meant to become.
Drink deeply of the magic that the butterfly has to offer and taste the sweetness of life. – Rose Arizmendi
quote for the day;
"May the wings of the butterfly kiss the sun, and find your shoulder to light on  To bring you luck, happiness and riches today, tomorrow and beyond." – Irish Blessing
The Hopi perform a sacred ceremonial butterfly dance in August and early September which they perform to petition for rain, good health, and a long life for all living things.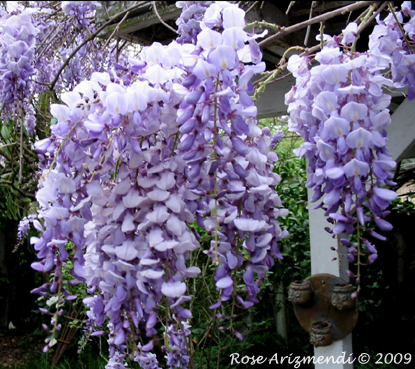 I spent the day wandering between the studio and the garden trying to decide on where to squeeze in another few plants.
What to do next . . . will it be herbs or flowers?
Being in the garden relaxes me completely. I love it! I feel  myself becoming unstuck, more energized . . . open . . . cleaner . . . and inspired to get back to painting.
Take care and have a great Memorial weekend!
thought for the day:
"I don't know what I'm doing  most of the time, but that's okay because I have a lot of fun. And, isn't that the great gift of art? Always seeking, always growing and always having the time of my life." – Tom Jensen
Everywhere I look I see signs of spring! The earth is awakening and everything is so vibrant and alive and full of energy.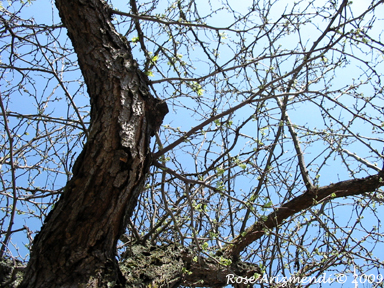 It is hard to believe April is here. The flowers are blooming and the trees are unfurling their leaves. When I took my walk today, I came across a novel way to inject some vibrant color into your garden. I noticed our neighbor had hung three large Christmas  balls from her tree. They appear to be made of crackled glass. My photo doesn't do them justice . . . so beautiful & surprising.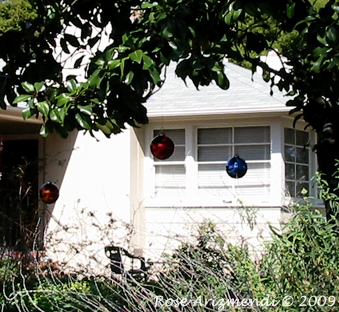 "The first of April, some do say,
Is set apart for All Fools' Day.
But why the people call it so,
Nor I, nor they themselves do know.
But on this day are people sent
On purpose for pure merriment."
–   Poor Robin's Almanac, 1790
Today, the birds were singing and the sun warmed my body, mind, and soul.
I found this patch of clover blooming in our garden. They are welcome reminders that spring is on its way.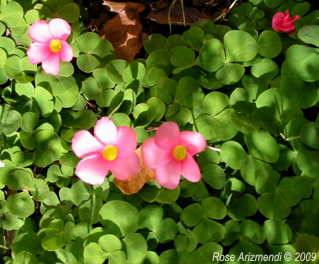 "The afternoon is bright,
with spring in the air,
a mild March afternoon,
with the breath of April stirring,
I am alone in the quiet patio
looking for some old untried illusion –
some shadow on the whiteness of the wall
some memory asleep
on the stone rim of the fountain,
perhaps in the air
the light swish of some trailing gown."
–   Antonio Machado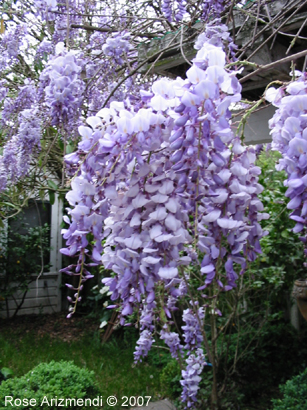 I love the month of May! Everywhere you look, everything is turning green and blooming. I also enjoy how the days are warming up, yet the nights are still cool.
Today, I took our garden furniture cushions out of storage, and worked on creating a comfy area for us to enjoy our garden. I'm happy with how it turned out.
Afterwards I relaxed and sipped my cup of Earl Grey tea, as I watched the birds play in the water fountain.
"Gardening is the art that uses flowers and plants as paint, and the soil and sky as canvas." – Elizabeth Murray
All through the long winter, I dream of my garden. On the first day of spring, I dig my fingers deep into the soft earth. I can feel its energy, and my spirits soar." – Helen Hayes
"May our heart's garden of awakening bloom with hundreds of flowers." – Thich Nhat Hanh
I spent the day in the garden raking, clipping back the hedges, and clearing out more tree limbs. Whew! What a job that turned out to be!
All I want to do right now is take a shower, fall into bed and sleep. I had planned on catching up on some reading, but its nighty- nite for me.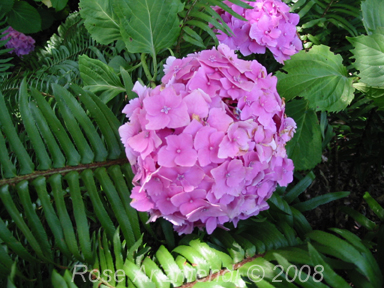 In The Garden
"In my garden there is a large place for sentiment. My garden of flowers is also my garden of thoughts and dreams. The thoughts grow as freely as the flowers, and the dreams are as beautiful". ~Abram L. Urban
While going through some of my old digital painting files this morning, I came across this angel painting I made for a slate sign that hangs by our garden gate.
It was one of those creative moments where I did a quick draft, printed and glued it to the sign, thinking I would someday go back and finish this painting, of course I moved on and forgot about it.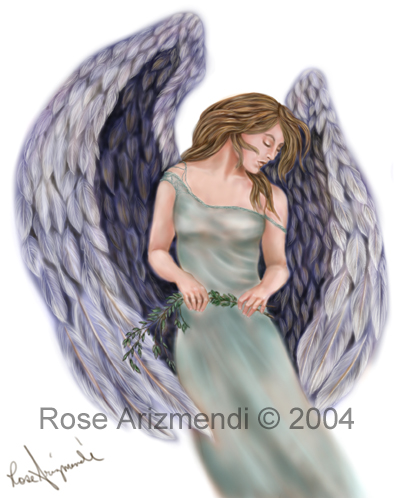 Angel In The Garden Rose Arizmendi 2004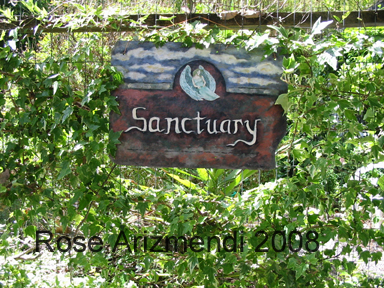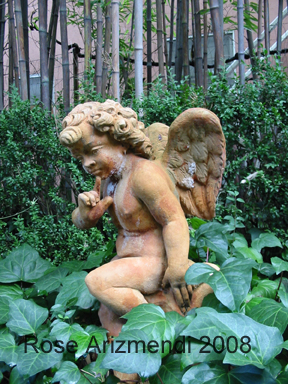 Our Garden Angel