Posted by
Rose
on Oct 9th, 2008 in
Digital Art
|
0 comments
While I was in the garden this morning I noticed that some of the shiny baubles I had placed in a container were missing. It's not the first time this has happened and the culprit is usually a crow.
Later when I went to take the garbage out, there was a crow with his "beak in the cookie jar" so to speak. I laughed as he hastily made off with his stolen prize.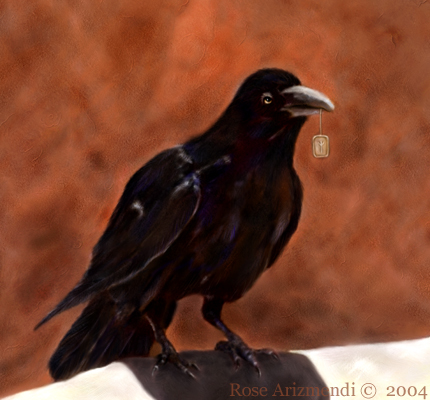 Rune Master – Combined Media – 11 X 14 inches
It's been one of those days where there's so many ideas buzzing around in my head and just too many other distractions going on to really focus on them.
Hopefully I will have a chance to work on some of these tomorrow.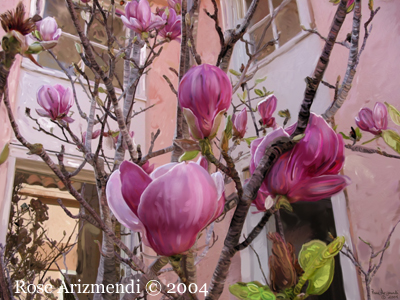 Sonoma – Combined Media – 8 X 10
"Color is the keyboard, the eyes are the harmonies, the soul is the piano with many strings. The artist is the hand that plays, touching one key or the another, to cause vibrations in the soul." – Kandinsky
Spent the morning working on a painting and I'm almost finished! Hallelujah!
Later I played around with a couple of new ideas I wanted to try.  As with all things, especially related to art, there are no guarantees.
After a couple of hours I finally had one painting which kind of worked for me. I'm not sure how I feel about it, but I had fun creating it
"Change is the constant, the signal for rebirth, the egg of the Phoenix." – Christina Baldwin
"It's best to have failure happen early in life. It wakes up the Phoenix Bird in you so you can rise from the ashes." – Anne Baxter
Today I finished the painting I've been working on for awhile and it was nice to finally be done. The limited edition prints will be available soon on rosearizmendi.com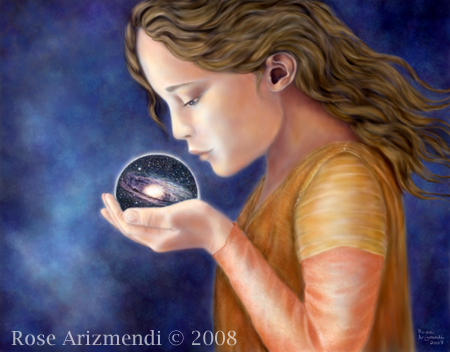 The Awakening – Combined Media – 11 X 14 inches
I can hardly believe August is already here! During this time of the year the local farmer's offer a plethora of fresh vegetables and sun ripened fruit, and who can resist the sweet and succulent taste of ripe strawberries and plums. Yum!
September is right around the corner, and soon enough the leaves will begin to turn and fall. Until then enjoy the wonderful bounty that the last month of summer has to offer.
Happy Lughnasadh everyone!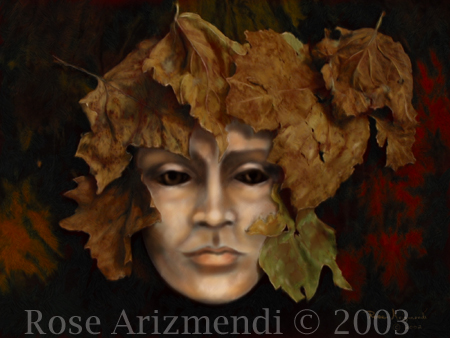 Autumn Spirit – Combined Medium – 4 X 5 inches
"August creates as she slumbers, replete and satisfied." – Joseph Wood Krutch
"Then let us toast John Barleycorn
Each man a glass in hand;
And may his great posterity
Ne'er fail in old Scotland!" – Traditional Scottish poem
This little sketch/painting started as an idea for an ATC card which quickly turned into a much bigger project than expected. I ran into problems when giving the book a title.
It suddenly dawned on me that the artist trading cards are so small you would never be able to read the title of the book. Time for me to put this aside for awhile so I can decide where I am going with this.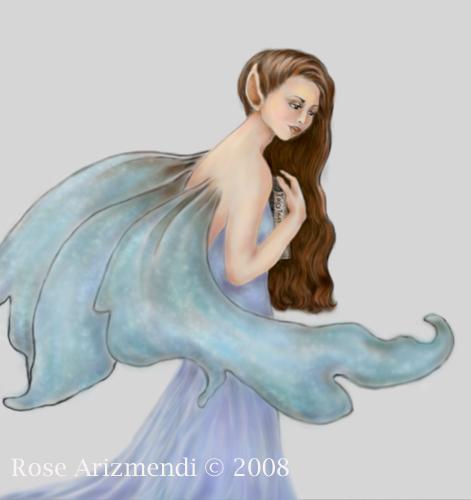 Treasures – Combined Media – 7 X 8 inches
"There is more treasure in books than in all the pirate's loot on Treasure Island." – Walt Disney
It promises to be a very hot day, but it's still cool enough to get some work done in the studio. Have a great weekend!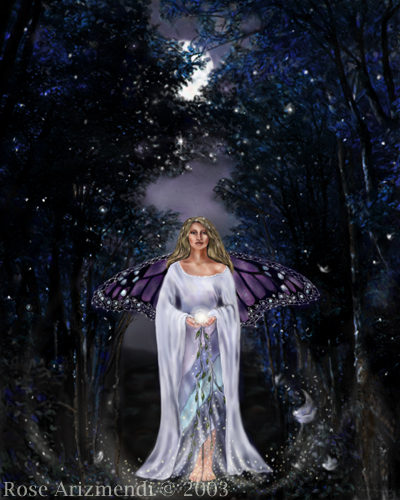 Faerie Forest – Combined Media – 11 X 14 inches
"When the quiet ring of pearl shall wed the earth, and the scarlet berries burn dark by the stars in the pool; Oh, it's lost and deep I'll be amid the Danaan mirth, while the heart of the earth is full." – George Russell
"We all need to have a creative outlet, a window or space,
so we don't lose track of ourselves." -Norman Fischer
"Imagination will often carry us to worlds that never were.
But without it we go nowhere. " -Carl Sagan
I have been working on this painting since February of this year. The inspiration for this piece came from reading the novel "Daughter of the Forest" by Juliet Marillier. She is a very gifted writer and folklorist. This beautiful retelling of the traditional seven swans fairy tale set in ancient Ireland, sent me on a quest of inquiry into a myriad of myths surrounding swans.
During this research, I was drawn to the Irish legend of a beautiful swan maiden "Caer Ibormeth". Daughter of Prince Ethal Anbuai of Sid Uamuin in Connacht. Legend has it that every other Samhain she would change into a swan and would remain in this form for a year before becoming human again the following Samhain. This romantic Irish myth has become the main focus of my painting.
I have done several preliminary sketches of flying swans and will be adding these later when I have finished painting the maiden and the background. Sometimes when I am working on a painting, it becomes necessary for me to plan, to mull, and let some of my ideas percolate for awhile before I can proceed.
I will post this painting again when I am finished.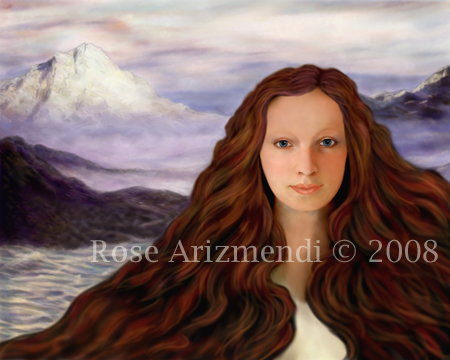 The Swan Maiden – Combined Media – 16 X 20 inches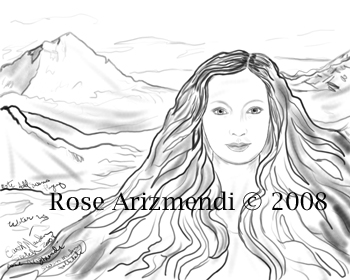 The Swan Maiden – Sketch Charcoal & 2B pencil – 16 X 20
Life is a Journey, and the experience of being immobile for a few days, really makes one appreciate the little things we take for granted everyday. It taught me patience with my own body, something that can be very difficult to do these days, with everything needing to be done yesterday.
I feel so much better today and looking forward to getting back in the studio, and I can hardly wait to work some more on my new painting. I have miles to go before it is finished.
I did have some extraordinary dreams while recuperating and hope to develop sketches of the ones I wrote down in my journal. My dreams have always been a source of inspiration for many of my paintings.
The Lady of the Lake painting is finally finished. I used Painter IX, the only program on the market that can simulate what traditional painting mediums can do.
First I used a customized pencil to draw the woman and sword with scabbard. Then I created a new layer and began laying in color, working on this layer allowed me to preserve my original sketch. Once I liked what I saw, I then flattened the image and began painting directly onto the original canvas.
At this point using customized soft charcoal, pastel, and oil brushes, I painted the woman and background. Then I finished the piece by adding detail and highlights
This painting took me somewhere between 20 to 35 hours to complete.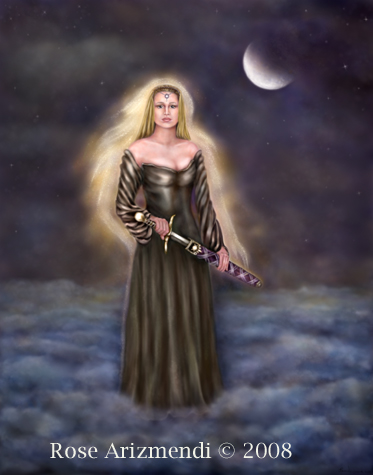 Lady of the Lake – Combined Media – 11 X 14 inches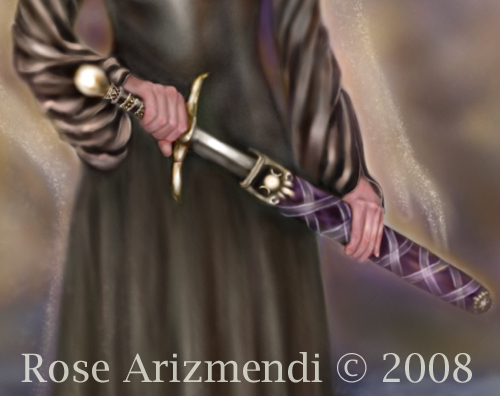 Lady of the Lake's Sword with Scabbard
The lady of the lake is an archetypal figure in the Arthurian legend, and known as Vivian, Nimue, Niniane, and sometimes as Morgan le Fay. She was also Merlin's lover and rival and was credited with bewitching him.
The lady of the lake is best known for gifting the sword Excalibur to Arthur. Excalibur's scabbard was said to have magical powers of it's own, and was stolen by Morgan le Fay and thrown into a lake, never to be found again.
Alfred, Lord Tennyson, described the sword in his poem "Morte d'Arthur", later written as "The Passing of Arthur", one of the Idylls of the king.