What I have been working on lately . . .
This . . .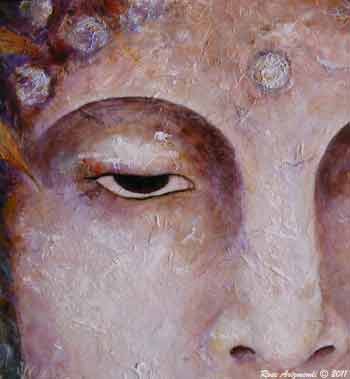 Golden Bamboo & Kwan Yin ~ 16 X 20 inches ~ Mixed Media on Canvas
and this . . .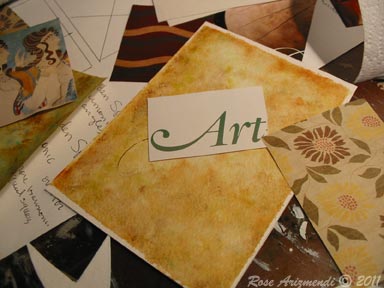 Gathering ideas for my next collage project ~
and this sketch of a dream I had  . . .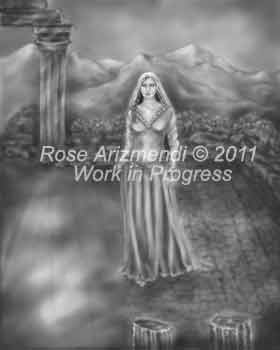 I am going to sit with this for a while, before deciding whether to create a painting or just leave it in my journal. The dream was strange and I want to process the imagery more fully.
The sun has returned for a couple of days along with warmer weather, and I'm feeling the sap rise ~ as the sun kisses my face. A perfect day for a walk by my beloved creek . . .  xo
thought for the day:
"Participating in the creation of art is like being one element in a process of improvisation, where a brushstroke responds to a color, and a shape evokes a texture." Eileen Ross
A great video  of a live painting session by Tali Farch to the music of one of Brubeck's jazz standards.
It's not so much the painting that attracted me as it was the idea of painting to music.
The total experience of getting lost in the rhythm, brush strokes, colors, mood and the energy expressed as the two paint brushes danced across the canvas. Wow!
I would love to try this process as one of my daily morning warm-up exercises.
thoughts for the day;
"Nourish your eye and spirit with inspiring things. They will bloom with your tending." – Sark
"Art is the only proof we have of the existence of the soul." – Author Unknown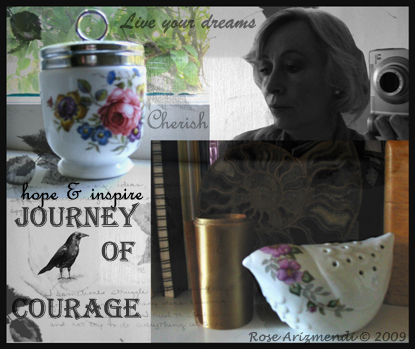 It takes courage to try new things and explore uncharted waters. Especially when our inner critic keeps whispering in our ear  . . . I wouldn't do that if I were you!  You really don't have time for this! Remember how frustrated you can get with Photoshop!
Today, I played around with some photographs taken over the past couple of months, and tried my hand at creating a photomontage/collage using Photoshop & Painter 7.
I tried several different techniques I had read about, and ended up merging them all together in this one image. Some of the techniques worked and some didn't, but I sure had fun!
Photoshop and I have an uneasy relationship, and one of these days I am going to take a class. I know it would make my life so much easier!
thought for the day;
"Another word for creativity is courage." – George Prince
"Creativity is inventing, experimenting, growing, taking risks, breaking rules, making mistakes, and having fun." – Mary Lou Cook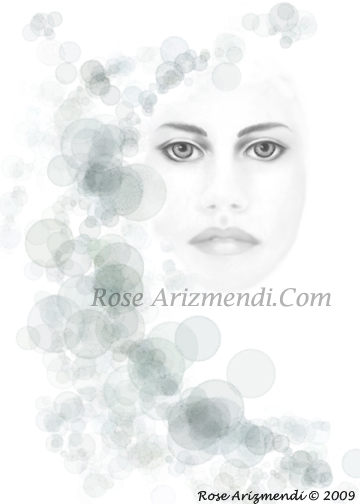 Star Of The Sea – Mixed Media – 5 x 7 inches – Work in progress
This morning I started working on an idea I had for a painting inspired by seashells I found in a box while rummaging through our garage.
There were tiny starfish no bigger than the tip of my little finger and seashells of every shape and color imaginable. I also found sea glass, tiny round stones, dried sea grass and a cornucopia of treasures I had gathered on one of our seaside visits.
I felt like a little girl who had found a magical treasure box!
Over the years I have found beautiful pieces of driftwood, and an odd assortment of sea shells, and sea onions for art projects, and as reference material for sketches.
I love the way sea onions look when dried and they are great for making rattles and little wizened magical creatures.
thoughts for the day;
"Every time we walk along a beach some ancient urge disturbs us so that we find ourselves shedding shoes and garments or scavenging among seaweed and whitened timbers like the homesick refugees of a long war." -Loren Eiseley
"Why do we love the sea?  It is because it has some potent power to make us think things we like to think." – Robert Henri
I love this guy! Great energy!
Artist Robert Bosler
thought for the day;
"Perhaps painting is a dance in even the smallest way.. that is, the brush dances if nothing else" …  – artbytv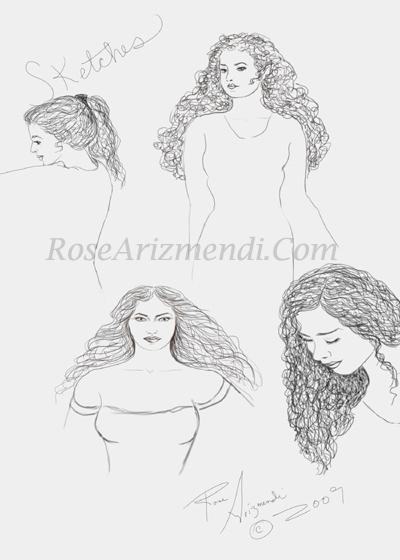 We went to the Downtown Farmer's Market last night and purchased some yummy peaches and nectarines. It was fun walking through the market admiring all the artwork, jewelry, plants and fresh produce for sale.
There was a sea of people that stretched as far as the eyes could see. We listened to musicians playing on the sidewalk, children laughing, and saw a belly dancer balance a sword on her head as she danced. . . Quite a feast for the eyes & ears!
thought for the day;
"Many organic practices simply make sense, regardless of what overall agricultural system is used. Far from being a quaint throwback to an earlier time, organic agriculture is proving to be a serious contender in modern farming and a more environmentally sustainable system over the long term." – David Suzuki
Summer is always a very busy time of the year for me, and there seems to be no end to the various projects that need to be done.
So far I've managed to slowly whittle down a rather large to do list, but when it is so beautiful outside, it's hard not to be distracted by Mother Nature.
Of course, I also have a stack of books next to my bedside table, patiently waiting to be read. I plan to start one real soon (like tonight) . . .  Mainly because I just can't stand them staring at me any longer.  lol
This video is an introduction to Ashville abstract artist, Jonas Gerald. Wow! I love his energy.
thought for the day;
"No matter how busy you may think you are, you must find time for reading, or surrender yourself to self-chosen ignorance." – Confucius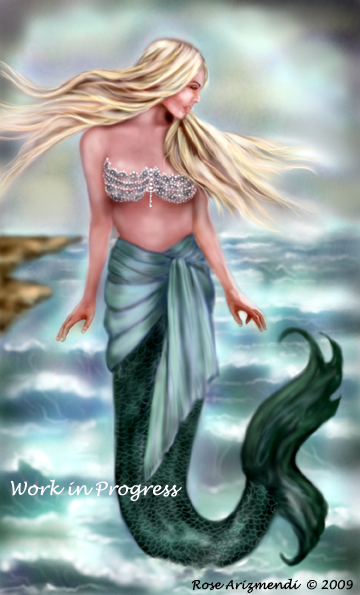 The Sea – Mixed Media – 8 X  II inches
I've been working on quite a few projects lately, and this painting is one of them. At this point, it's still a work in progress.
The preliminary sketch of the mermaid has been floating around in my studio for some time. Every time I came across it I meant to do something with it, but never did.
I finally started working on it yesterday and this is as far as I got. . . .
I still have a long way to go on this one and a lot of changes are likely going to happen.
"The creation of something new is not accomplished by the intellect but by the play instinct acting from inner necessity. The creative mind plays with the objects it loves." – C. G. Jung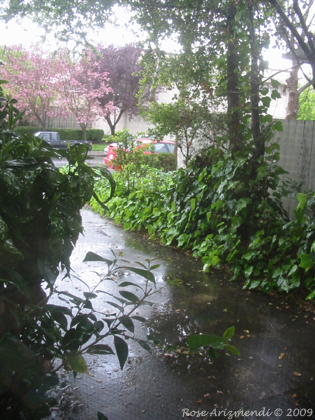 Well it has been a rainy day today in the bay area and it came down hard at times. I snapped this photo as the rain water gushed down our driveway.
I spent the day finishing up an acrylic painting I have been working on, and later I'm going to finish reading my book "The Artist's Quest for Inspiration" by Peggy Hadden. This book is absolutely wonderful and very helpful!
thought for the day: The spirit, like the body, can be strengthened and developed by frequent use. And  for this reason it is necessary for the artist to know the starting point for the exercise of his spirit." – Wassily Kandinsky
Here is a new painting that I finished today. It was inspired by all the rain storms we have been having over the past couple of weeks.
The view from my studio window has been very dramatic with sheets of rain pouring down and thunder rumbling overhead. It was all rather exciting to watch Mother Nature at work. I love it!
March certainly roared in like the proverbial lion!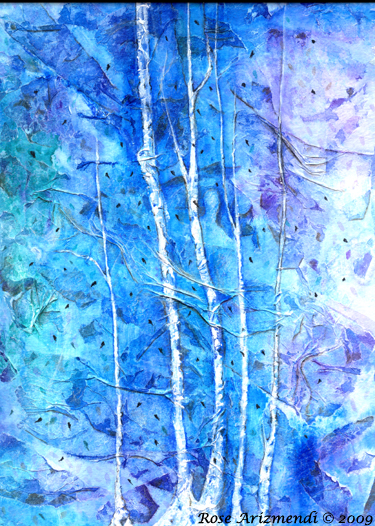 March Storm – Acrylic Art – Mixed Media Collage – 9 x 12 inches on paper.
"March bustles in on windy feet
And sweeps my doorstep and my street.
She washes and cleans with pounding rains,
Scrubbing the earth of winter stains.
She shakes the grime from carpet green
Till naught but fresh new blades are seen.
Then, house in order, all neat as a pin,
She ushers gentle springtime in."
–   Susan Reiner, Spring Cleaning