Here is a new painting that I finished today. It was inspired by all the rain storms we have been having over the past couple of weeks.
The view from my studio window has been very dramatic with sheets of rain pouring down and thunder rumbling overhead. It was all rather exciting to watch Mother Nature at work. I love it!
March certainly roared in like the proverbial lion!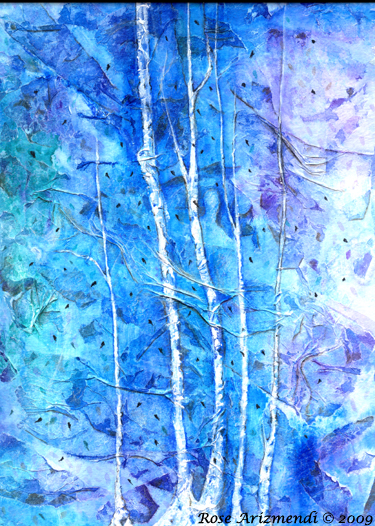 March Storm – Acrylic Art – Mixed Media Collage – 9 x 12 inches on paper.
"March bustles in on windy feet
And sweeps my doorstep and my street.
She washes and cleans with pounding rains,
Scrubbing the earth of winter stains.
She shakes the grime from carpet green
Till naught but fresh new blades are seen.
Then, house in order, all neat as a pin,
She ushers gentle springtime in."
–   Susan Reiner, Spring Cleaning