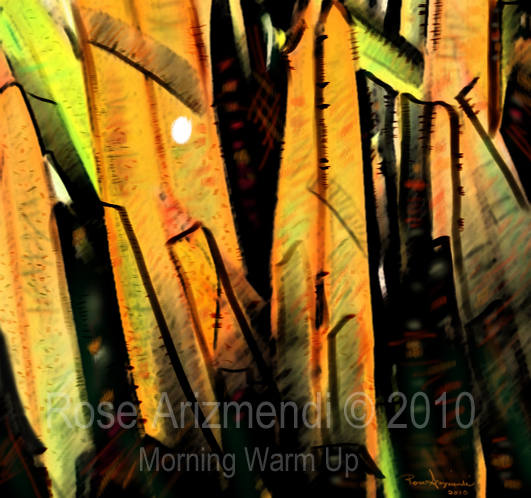 Cityscape – Digital Painting – Soft Charcoal, Soft Pastel, Dirty Marker Pen & Gritty Charcoal Variant of Charcoal -5 x 5 inches
This morning I grabbed a cup of tea and sat down at my computer and began painting. I used  Painter 7 along with my walcom tablet and pen.
The inspiration for this painting was a cityscape. I started with the dirty pen variant of felt pens, then I applied rich layers of color using the soft charcoal variant of charcoal and the gritty charcoal variant, lastly I added more texture with the dirty pen variant.
My daily morning warm ups  gives me the opportunity to play, explore and try new techniques, mediums and ideas with wild abandon. No worries about wasted paint or canvasses. If I decide I don't like what I've done,  I just hit the delete button. No fuss, no mess!
The abstract painting above is my interpretation of  what a city looks and feels like.
"All that a city will ever allow you is an angle on it — an oblique, indirect sample of what it contains, or what passes through it; a point of view."
– Peter Conrad
Here is another digital morning warm up exercise.
This time I used digital liquid ink on hot press paper. I did several 4 x 5  inch paintings, and each one turned out a little different.
I sometimes use these as a point of reference for traditional paintings. This way I can experiment with new ideas without the expense of purchasing new canvases, and if I don't like what I 've created I can hit the delete button.
This also allows me to  play around with several different compositions before choosing one, and helps me to figure out what medium would work best for each new painting.
As an example, lets say I wanted to turn this one into a traditional painting. I would probably use acrylics, collage elements, gesso, crackle paste, and light modeling paste on canvas.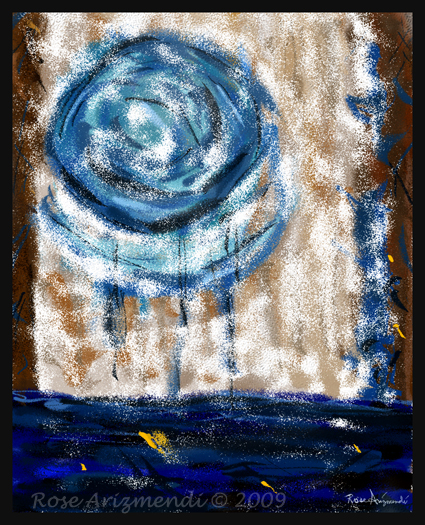 Raining Blue – Digital Painting – 4 x 5 inches – Digital Liquid ink on hot press paper.
thought for the day;
"if you want to get better at painting or making art, then do it everyday (passionately/religiously) as if there is no tomorrow. Let go of the judge within, and be surrounded by positive, supportive people. Be gentle on yourself and others. Give. Never hold back. " – Nancy Davis Bilbro

I started out my morning with my usual daily warm up exercises. Instead of working with traditional mediums today, I did my morning warm ups using Corel Painter IX. 5.
My inspiration for the day came from the word "Lughnasa," which is one of the four main festivals of the Medieval Irish Calendar, celebrating the beginning of the Harvest season.
It's that time of the year when blackberry bushes are heavy with ripened fruit, and there are subtle changes in the light, a golden haze that seems to wrap itself around everything.
I love this time of the year even though there is a lingering sadness as summer comes to an end.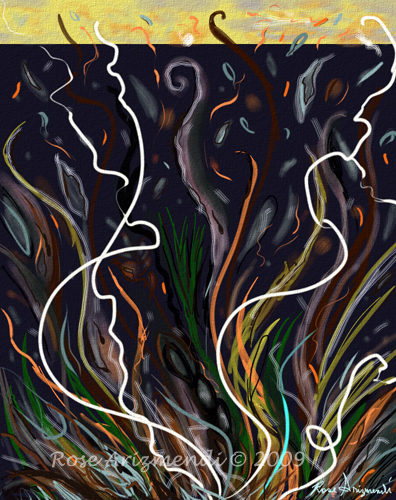 Lughnasa – Digital Painting – Oils – 4 x 5 – on heavy hand made paper
quote for the day;
"Whilst August yet wears her golden crown,
Ripening fields lush- bright with promise;
Summer waxes long, then wanes, quietly passing
Her fading green glory on to riotous Autumn."
–  Michelle L. Thieme, August's Crown