Posted by
Rose
on Jul 12th, 2010 in
Jewelry
|
0 comments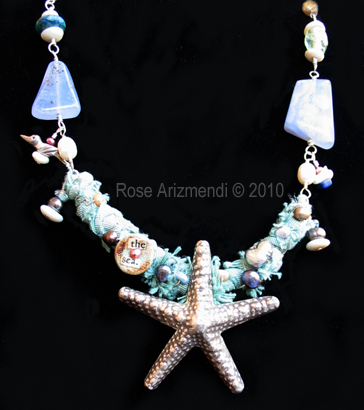 Copyright Jewelry by Rose Arizmendi
I finished the starfish necklace.
Using sterling silver, I created a wire wrapped bar of vintage fabric, fresh water pearls to show off the silver starfish pendant, then I added a vintage clay bead with the words "the sea" collaged onto it. Next I  attached wire-wrapped gemstones to the main bar and added freshwater pearls, sea shell beads and gemstone dangles. Lastly, I added a silver bird charm.
The necklace is approx. 18 inches long featuring two lovely blue lace agate nuggets along with blue topaz, lapis and chrysocolla beads. Unfortunately, the photograph doesn't catch the beautiful swirl patterns on one of the nuggets. They look like ocean waves!
As I was finishing this piece I felt the need to visit Bodega Bay, it's been awhile since my last visit and I long to feel the sand between my toes and listen to the waves crashing along the  shore line. The ocean calls me with her siren voice and my heart longs to listen to her song and of course the chance to find some treasures to bring home to remind me of my visit.
My soul is full of longing
For the secret of the sea,
And the heart of the great ocean
Sends a thrilling pulse through me.
– Henry Wadsworth Longfellow
If you are interested in purchasing "Star of the Sea" necklace, please contact me.