Lately,  I have been obsessed with all things related to Puzzlewood, in the Forest Dean. Forest Dean  is located in the western part of the county of Gloucestershire, England. I watched a video awhile back and was inspired by it's beauty, magic and mystery.
I would love to spend a few months living there, sketching, painting and mostly drinking in the sheer beauty of this forest, but for now I am satisfied with the inspiration and burst of creativity the video stirred up in me.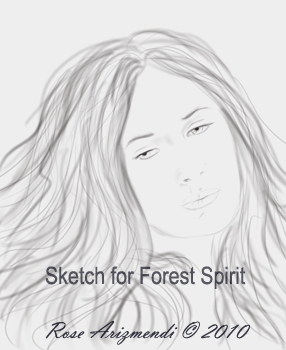 From a dream;  A young woman walking in the forest with a crescent moon suspended in the sky where trees dream and owls fly overhead. She loved the play of moonlight on the leaves ~ shadow and light. The wind playing with her hair ~ the sweet smell of the damp earth beneath her feet, Mother Earth whispered "Child of the forest reach out and touch your wild nature for therein lies your power." To be continued….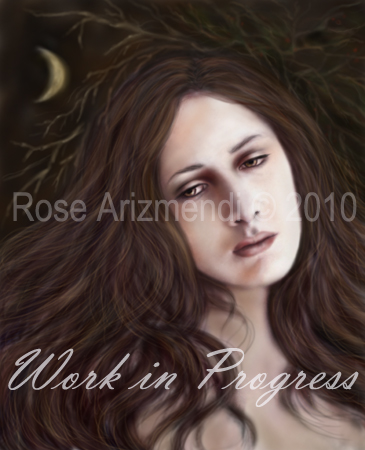 Forest Spirit ~ Digital Painting ~ 11 x 15 inches
This is as far as I got on the painting today. I'm not sure about the background. The crescent moon will stay but the rest may change. The forest floor in my dream sparkled with shades of purple, muted greens and browns with silver moonbeams thrown in. The forest  bejeweled in moonlight.
I was able to capture the forest floor part of the dream in a necklace that I created last week. I have only three of these ceramic goddesses left ~ one of a kind ~ each one different from the other.
I chose this Goddess pendant because it reminds me of  an ancient goddess relic with the soft muted moss colored glaze and rich earth colors sprinkled about. The piece is signed and will soon be available at http://www.rosearizmendi.com/shop/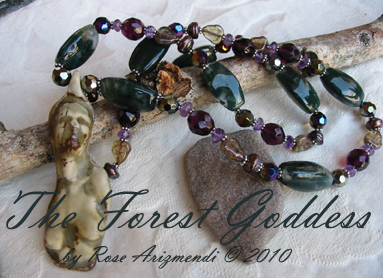 To learn more about Puzzlewood located  in the Forest Dean click here
If you love owls ~ You will love this beautiful Video!