Posted by
Rose
on Oct 7th, 2010 in
Collage
,
Digital Art
|
0 comments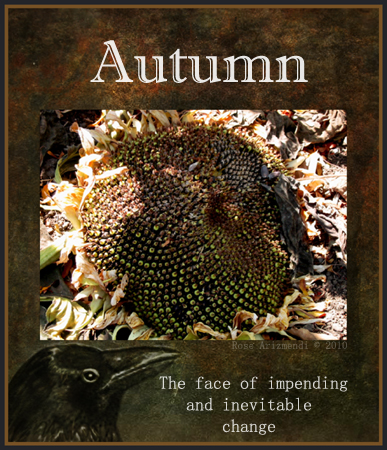 I spent the morning creating the collage above from photographs I have taken over the years.
I love this time of the year, the slant of light and the lengthening shadows  ~  such beauty ~ so delicious this golden light that spills through the tree branches just outside my window, turning the leaves into shimmering liquid gold.
During the fall, I find myself longing for the haystacks of my youth. The heavenly smell of  hay mixed with the dampness of the earth. The early morning mist kissing my face and the exuberance of youth.
Over the years I find that I have come to value the fall of the year more and more ~  the day by day changes.  The mellow richness and different textures that hone and shape us as we age. The laughter, the tears and everything else in between that makes each one of us unique and beautiful.
So I breathe in the ripeness of the world around me and embrace this inevitable change. The waxing and waning  of the year.