Yesterday was a cold, blustery rainy day. Imagine my surprise when I found a flier neatly tucked under our front door inviting us to an ice cream social. I don't know about you, but ice cream is the last thing on my mind when the weather is so dreary and cold.
The funny thing is, later on, we couldn't stop thinking about ice cream! lol Hopefully by the time the event takes place in two weeks, the sun will be shining and the weather much nicer than it has been.
However, for me, there is an upside to all the rain. It gives me more time to explore and let my creative wild woman out to play. The mixed media collage below is what happens when some Japanese stamps, gesso, newsprint and one rain crazed baby boomer woman with a glint in her eye meet on a blank canvas. I had such a great time I started two more collages.
Yes, for every season there is a time to play, to create and eat dessert first!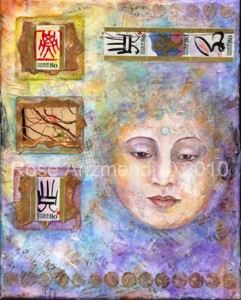 See You There – Mixed Media Collage -8 x 10 inches on canvas
thoughts for the day; "Nourish your eye and spirit with inspiring things. They will bloom with your tending." – SARK
"The point of art is not simply to express ourselves, but to create an external, concrete form in which the soul of our lives can be evoked and contained." – Clarissa Pinkola Estes