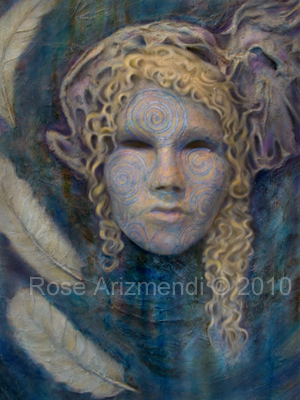 Lady of the Sacred Spirals – 4 x 5 inches – Mixed Media
I created this digital painting from an acrylic mixed medium painting of mine. First I made the mask and then attached it to a canvas.
After it had dried I applied a thick coat of  acrylic medium and then sculpted the feathers and the drape over the head, next I applied wool for the hair and various kinds of art paper to give the image more texture. It took almost two weeks for the piece to dry. lol
It was painted using golden acrylics, watercolor and inks. When it was finished I took a bunch of photos and selected one to scan into photo shop. I used Painter 7 to create the final painting you see now. The original canvas was 22 x 28 inches and has already found a home.
I really let my child out to play on this one and the whole process was way too much fun! I may have to do this again once the sun comes out again.