Posted by
Rose
on May 27th, 2010 in
Digital Art
|
0 comments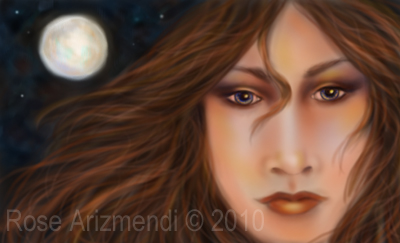 The full moon in May is known as Milk Moon, Corn Planting Moon, Flower Moon and Hare's Moon.  Best of all the full moon is  in my sun sign Sagittarius!
All day I had to keep reminding myself to slow down and breathe. When the moon is in Sagittarius I usually have so much energy I can hardly stand still. lol
I think I was driving my husband a little crazy!
The image above was painted with Painter 7.  I usually begin with a sketch but today I decided to just start adding paint to the canvas. My goal was to create a painting  in an hour without over thinking the whole process. It actually  helped me to loosen up and get back into the flow. No expectations except to have a good time.
I used the Soft Charcoal variant of Dry Media to paint the face, hair and background and then added the Artist Pastel Charcoal variant to the background.