Posted by
Rose
on Apr 2nd, 2008 in
Work in Progress
|
0 comments
I really enjoyed the gorgeous sunshine this morning when Rupert and I took our walk. He sniffed every bush and flower along the way and had a great time barking at two very large dogs we happened to run into.
Afterwards I made a pot of Earl Grey tea, poured myself a cup, pulled my chair up to the easel and began working on the Kuan Yin painting.
Several hours later I noticed people walking their dogs and heard children's laughter from next door. I suddenly realized it was time for me to stop and begin preparing dinner. Where did the time go?
Without a doubt, time flies when you are having fun!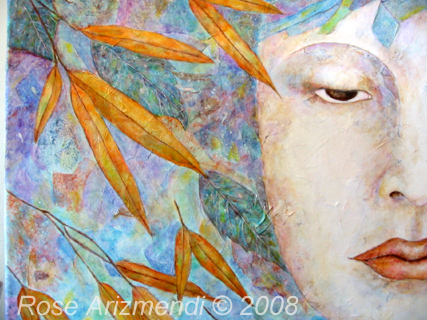 Kuan Yin – 16 x 20 Acrylic & Mixed Media on Canvas

"Time is the most undefinable yet paradoxical of things; the past is gone, the future is not come, and the present becomes the past even while we attempt to define it, and, like the flash of lightning, at once exists and expires". ~Charles Caleb Colton