Posted by
Rose
on May 26th, 2010 in
Digital Art
|
0 comments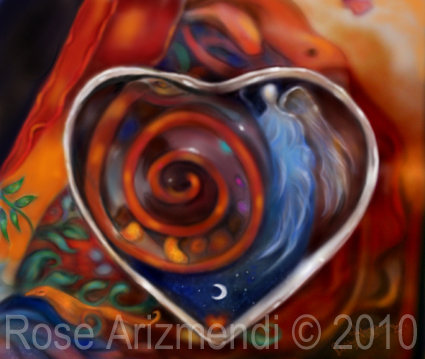 Dream Heart – Digital Painting – Soft pastel variant of pastels & Soft charcoal variant of charcoal – 6 x 7 inches
I had no other desire or plan for this painting except for creating a heart with a spiral inside it. All the rest came from somewhere within my subconscious mind, where half glimpsed worlds of strange beings flitted past the corner of my eye and brilliant bold colors begged to be splashed onto the canvas.
I worked for two straight days on this piece and all I want to do right now is sleep.
For the past couple of nights I've had strange dreams, the one dream image which stands out from the others, is where I find myself standing on a hillside overlooking a valley where hundreds of women and children are gathered together, carrying buckets and rags.
Everywhere I looked,  I saw oil seeping up out of the earth.
I used Painter 7 and Painter IX to paint Dream Heart.