Posted by
Rose
on May 14th, 2010 in
Featured Articles
|
0 comments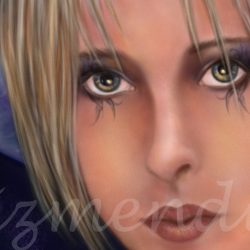 The Lady of the lake from the Arthurian legend has always fascinated me, and the moment I laid eyes on a photograph sent to me of my niece Tessa, I knew I had found my inspiration for the painting of Nimue.
It was a photo of Tessa, dripping wet from being caught out in a rainstorm. What caught my attention was the look in her eyes. I loved it and began the  painting  of Nimue that very day.
While most interpretations of Nimue's role in the stories of  Camelot present her in a negative light, I much prefer the more positive take on her role as a gifted  student of Merlin's and a Priestess of Avalon.