Posted by
Rose
on Feb 17th, 2009 in
Collage
|
0 comments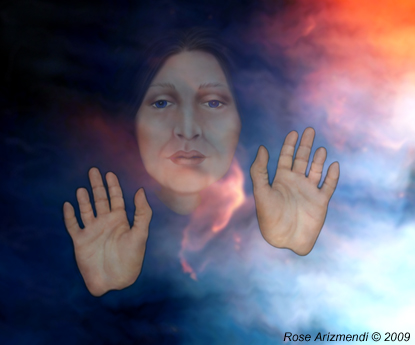 Visions – Mixed Media/Collage – 10 x 12 inches
I spent most of the day working on the collage/painting above, and I will post my progress in the coming weeks.
The woman represents the visionary, the healer, the medicine woman, the shaman…
She is the one who interacts directly with helping spirits to address the spiritual aspects of illness, perform soul retrievals, help the spirits of the deceased cross over and performs a variety of ceremonies for her community.
Hieroglyph of the Human Soul : The art of Leigh J. McCloskey
"Leigh is a visionary painter and philosopher who has transformed his home into an evolving canvas. His environmental painting, Hieroglyph of the Human Soul, crawls up bookshelves, across the floor, ceiling, and furniture of his studio. Filled with archetypal symbolism and alchemical imagery, Leigh's work is unlike anything the modern art world has to offer. It is an honor to know him, for In my opinion, he is simply one of the great painters of all time; I have no doubt that in years to come his work will be discussed in the same breath as any of the great masters."
-David Wexler, founder Natural Media Research Laboratories
The Last Elk
As each Elk dies so too does the instrument it is attached to till all is quiet.
I am still working on the Lady of the Forest painting. Below is a photo of my progress so far. It's been a slow go, but only because there has been so many other things needing my attention. "C'est la vie"
I am looking forward to this weekend because we don't have anything important planned and we can spend some quality time together, and maybe do a bit of sketching around town or stay home and play with paint.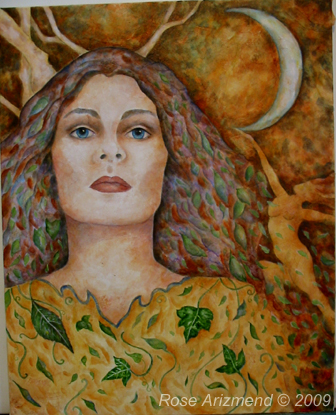 Lady of the Forest #3 Acrylic/ Watercolor/Mixed Medium – 16 x 20 inches -on  Canvas

"The artist is a receptacle for emotions that come from all over the place: from the sky, from the earth, from a scrap of paper, from a passing shape, from a spider's web." -Picasso.
"And here the sunflower of the spring
Burns bright in morning's beam."
– Ebenezer Elliott ("The Corn Law Rhymer")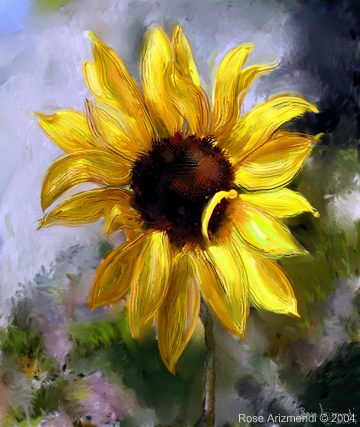 Sunflower – Mixed Media – 8 x 10 inches
It rained all day and very hard at times. At one point the rain came down so hard our dog started barking.
I managed to get some painting done in the afternoon and made some significant progress on a painting I have been working on for awhile. I will try to  post it later.
Afterwards I cleaned up and I had some free time to relax and enjoy a good strong cup of hot tea.
"The best kind of rain, of course, is a cozy rain.  This is the kind the anonymous medieval poet makes me remember, the rain that falls on a day when you'd just as soon stay in bed a little longer, write letters or read a good book by the fire, take early tea with hot scones and jam and look out the streaked window with complacency."  – Susan Allen Toth, England For All Seasons