Posted by
Rose
on Sep 19th, 2008 in
Photography
|
0 comments
The pregnant dark clouds rolling in, the soft sound of rain hitting my studio window and our dog lying next to me create feelings of warmth and gratitude for just being alive.
I believe it is so important to wake up, stop doing whatever we are doing, just step back and take a deep breath.  Life is a gift!
It's Friday, the end of another work week and we are both looking forward to a nice relaxing weekend.
My husband's idea of a perfect rainy day is a white chocolate mocha with a mini chocolate cake. These cakes are so tiny and so delicious. Yum!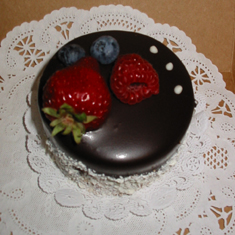 Mini Cake for One
He decided to eat only half and save the rest for later.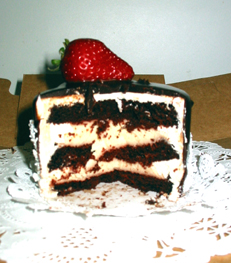 Mini Cake Filling
"Let the rain kiss you.  Let the rain beat upon your head with silver liquid drops.  Let the rain sing you a lullaby."  -Langston Hughes
"Rain showers my spirit
and waters my soul."
-Emily Logan Decens