Posted by
Rose
on Sep 10th, 2008 in
Work in Progress
|
0 comments
It's another day in the studio and I am working on a new collage/painting. For the theme of this painting I chose the I Ching hexagram Tui which represents happiness, joy, success, and good fortune.
The trigram Tui also denotes the youngest daughter and is symbolized by the smiling lake which is associated with freshwater in low areas: rivers, lakes, and marshes.
I began by prepping the canvas and then sketched the face below to represent the young daughter then glued the face, Tui symbol and the moon to the canvas.
I decided on a palette of cobalt blue, turquoise, primary cyan, and burnt umber, mostly trying to stay with yin colors which are said to bring about healing and relaxation.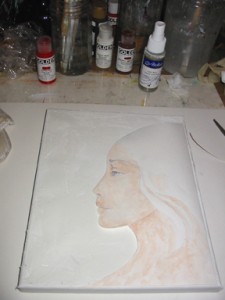 Tui #1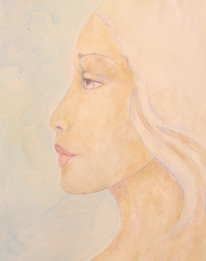 Tui #2
Whew! This is what I have done so far. Tomorrow I will take a fresh look at what I've done so far and begin fine tuning it.