Posted by
Rose
on Oct 31st, 2008 in
Collage
,
Photography
|
0 comments
There are a number of amazing Halloween events happening tonight and I hope everyone has a great time.
Celebrate …  laugh … Dance … Sing … Make Merry … and stay safe.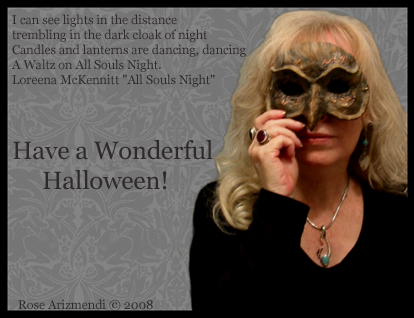 Halloween – Digital Collage – 3 x 4 inches
The mask I am wearing is made of paper mache, acrylics, metallic ink, and lined with soft leather.
Posted by
Rose
on Oct 30th, 2008 in
Digital Art
|
0 comments
I am sitting here at my computer looking out the window watching the wind scatter dead leaves across our yard as I wrap my cold hands around my tea cup. Brr!
The dark gloominess of the day has really affected my work output. I started the morning out with sketching a few designs for a new project and found myself staring off into space. Needless to say I was getting nowhere fast.
October is drawing to a close and it seems the earth is exhaling it's last breath before winter. Maybe I am also releasing, exhaling, turning inward in preparation for winter as my thoughts stray towards warm fuzzy slippers, hot apple cider, flannel sheets and all those books I've collected and set aside for the cold wintry nights ahead.
I've decided the only thing that can set things right is to take a walk and let the wind sweep the cobwebs from my brain.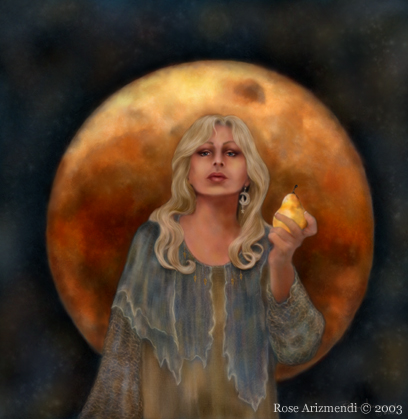 Harvest Moon – Combined Media – 8 X8 inches
Jack – o – Lantern
"Jack-o-lantern, Jack-o-lantern,
You are such a funny sight.
As you sit there by the window,
Looking out into the night.
You were once a sturdy pumpkin,
growing on a curly vine.
Now you are a Jack-o-lantern,
See your night lights shine." – Unknown
Posted by
Rose
on Oct 29th, 2008 in
Collage
|
0 comments
For the past few days I have been working on my new blog site at Gaia's Garden and I'm having a lot of fun updating and writing new content for the blog and the original website.
Today I am working on ideas for new images for the website and came up with the image below for Gaia's herbal section. I still have a long ways to go before it's finished.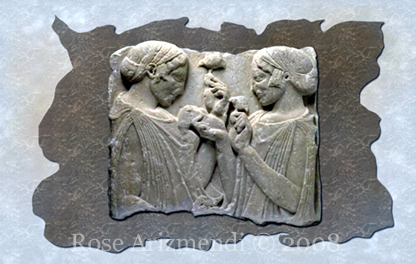 Demeter & Persephone – Digital Collage
"O hushed October morning mild,
Thy leaves have ripened to the fall;
Tomorrow's wind, if it be wild,
Should waste them all.
The crows above the forest call;
Tomorrow they may form and go.
O hushed October morning mild,
Begin the hours of this day slow.
Make the day seem to us less brief.
Hearts not averse to being beguiled,
Beguile us in the way you know.
Release one leaf at break of day;
At noon release another leaf;
One from our trees, one far away."
–   Robert Frost, October
Posted by
Rose
on Oct 27th, 2008 in
Photography
|
0 comments
I took a walk this afternoon and came across this beautiful mosaic memory wall located at a local hospital which has been creating a healing garden on their property.
Over the years they have planted herbs and flowers along winding walk ways and added lovely statues, bird feeders and a water fountain. Most recently they have also begun building a labyrinth and  I can hardly wait for it to be finished.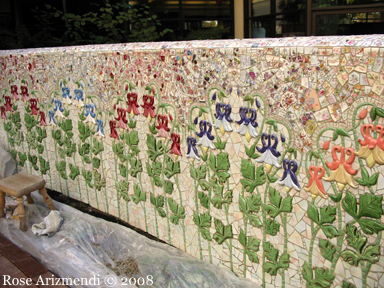 Mosaic Memory Wall – Artist unknown
Posted by
Rose
on Oct 24th, 2008 in
Digital Art
|
0 comments
I spent this evening working on this digital collage. For the background I used an image that I created a while back and added some detail with ink and pastels.
Next I digitally enhanced the image of an angel statue and layered pastel and ink details over three separate images and then merged them together. This collage was created with Painter IX and Photoshop.
Later on I may add some distressed text and numbers, but first I will need to create them. I guess there is no rest for the weary!…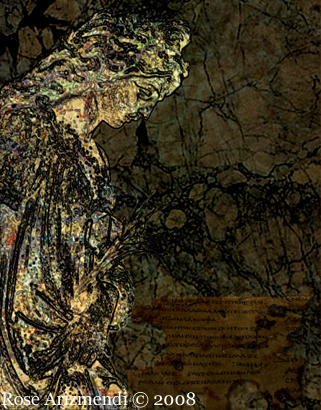 Passage to Heaven – Digital Collage – 8 X 10 inches
"Perhaps they are not stars, but rather openings in heaven where the love of our lost ones pours through and shines down upon us to let us know they are happy." – Eskimo Proverb
Posted by
Rose
on Oct 22nd, 2008 in
Acrylic/Mixed Media
|
0 comments
This afternoon I worked on a mixed media piece which has been hanging around for awhile waiting for me to finish it. The inspiration for this work came to me while listening to a CD by Sophia. I was listening to her sing 'Gaia Shekhinah Nama Om' at the time.
I kept playing the CD over and over again and as the music flowed over and through me, I created this painting. I sculpted the mask  and the feathers out of paper mache,  plaster and heavy acrylic medium.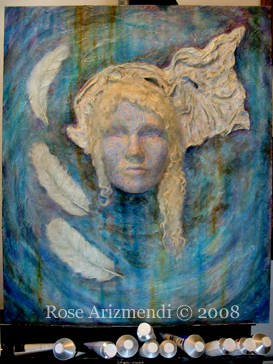 Lady of the Sacred Spirals – Mixed Media – 22 X 28 inches on canvas
In Judaism, Chokhmah appears alongside the Shekhinah, 'the glory of God', a figure who plays a key role in the cosmology of the Kabbalists as an expression of the feminine aspect of God.
Posted by
Rose
on Oct 21st, 2008 in
Collage
,
Digital Art
|
0 comments
I found this old digital collage I did in the fall of 2005 when I was in the process of learning how to make my own digital backgrounds etc…
I had forgotten how much fun these were to make. I created the background by layering rice  paper, golden acrylics with mica chips and then scanned the end product into Photoshop.
Next, I used Painter 7 to create the Goddess image and the background spirals. I finished by adding text around the border.
The text reads: "Earthly Offerings: a stone, a feather, a flower, a sea shell, a rainbow, a butterfly's kiss. Sisters of my heart, I weave a cloak for you, for we are on a journey to remember that we are spirit in body.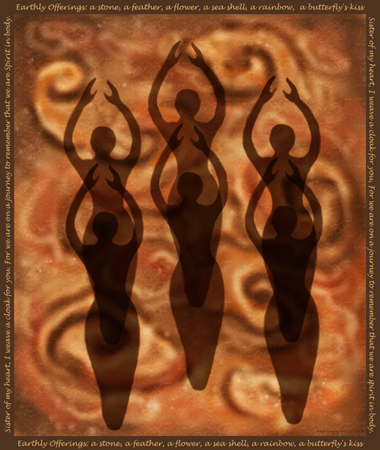 Autumn Offerings – Digital Collage – 9 X 10 inches
Posted by
Rose
on Oct 20th, 2008 in
Photography
|
0 comments
Today I am grateful for all the special people who have touched my life, especially my family and friends. We laugh and cry together and with them I feel I belong and am loved.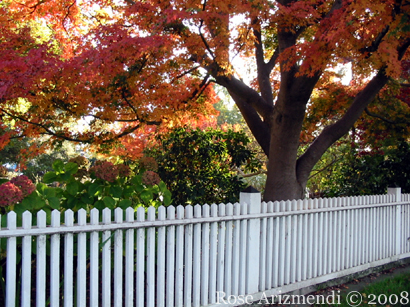 Gratitude unlocks the fullness of life.
It turns what we have into enough,
and more.
It turns denial into acceptance,
chaos to order,
confusion to clarity.
It can turn a meal into a feast,
a house into a home,
a stranger into a friend.
Gratitude makes sense of our past,
brings peace for today,
and creates a vision for tomorrow.-
-Melody Beattie
Posted by
Rose
on Oct 16th, 2008 in
Photography
|
0 comments
Yesterday was our first visit to the new de Young museum since one about a year or two before the closing of the old one. We had lunch and ended our visit with a trip to the tower with it's incredible panoramic view of San Francisco.
We loved the New Guinea collection! There are over 400 examples of New Guinea art to feast your eyes upon.
Below are some photos of the Art of the Americas collection which included examples of Mesoamerican and Andean cultures.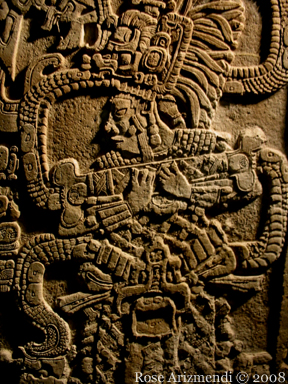 Maya Stela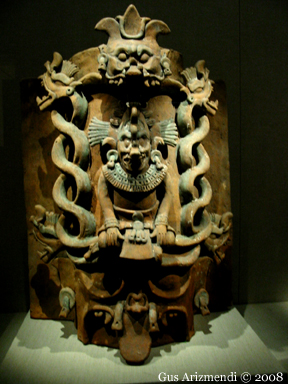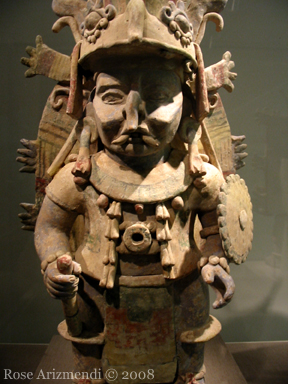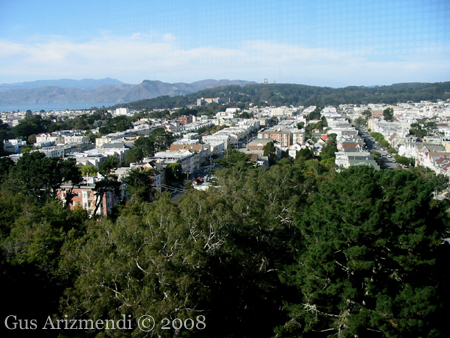 View from the tower
Posted by
Rose
on Oct 15th, 2008 in
Announcements
|
0 comments
It was a beautiful sunshiny day in San Francisco as we headed out early this morning to visit The de Young Museum. It took us several hours to see all the exhibits and we were exhausted by the time we got home.
We took lots of photographs and I will post some of them tomorrow. It's late and with all the days excitement I am very tired so off to bed I go!