Posted by
Rose
on Oct 7th, 2008 in
Watercolor
|
0 comments
I've been working on a mixed media piece for a while and have played around with different versions of the original work which is still in progress. Here is a watercolor version.
I was inspired to create this painting after a trip to Mendocino located in Northern California. On the way there we drove through Montgomery Woods, a coastal redwood grove, and decided to take a break from driving and check out the area.
It was so beautiful as we stood there in silent communion beneath the ancient redwood trees, drinking in the splendor of Mother Natures living cathedral.
I felt enlivened and peaceful in the presence of these old trees, feeling reconnected with my deep ancestral roots in the forest.  They are the elders on this planet and for centuries were considered sacred, alive, and ensouled.
In the painting below the woman represents a ban-drui, ( a female druid).  She is a healer, priestess, storyteller and teacher who listens and learns from trees. She records and preserves their teachings which are passed down from one generation to the next. She teaches "balance in all things".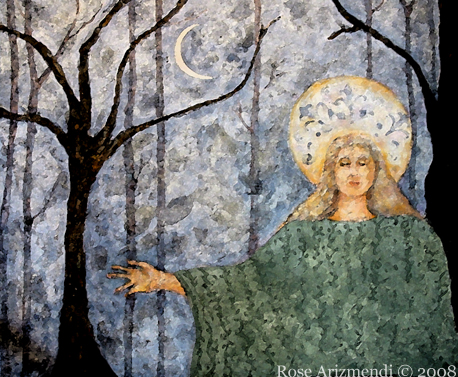 A Reverence for Trees – Watercolor – 4 X 4 inches
"They are beautiful in their peace, they are wise in their silence. They will stand after we are dust. They teach us, and we tend them. – G. MacDunelmor
It's another day in the studio and I am working on a new collage/painting. For the theme of this painting I chose the I Ching hexagram Tui which represents happiness, joy, success, and good fortune.
The trigram Tui also denotes the youngest daughter and is symbolized by the smiling lake which is associated with freshwater in low areas: rivers, lakes, and marshes.
I began by prepping the canvas and then sketched the face below to represent the young daughter then glued the face, Tui symbol and the moon to the canvas.
I decided on a palette of cobalt blue, turquoise, primary cyan, and burnt umber, mostly trying to stay with yin colors which are said to bring about healing and relaxation.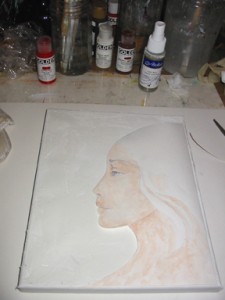 Tui #1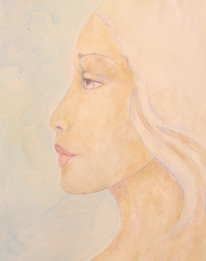 Tui #2
Whew! This is what I have done so far. Tomorrow I will take a fresh look at what I've done so far and begin fine tuning it.
What a beautiful morning! The sun is out … the air is crisp, and from my studio window I watch people hurrying along the sidewalk,  listening to the sound of  fallen leaves crunching beneath their feet.
With coffee cup in hand I begin prepping canvases by laying down a coat of gesso.
While the canvases dry I make some preliminary sketches then choose the ones I want to use and transfer these to watercolor paper. I cut out the selected images and apply a light coat of gesso to the back of the watercolor paper and leave it to dry.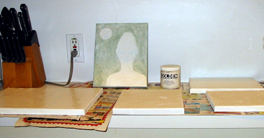 When the canvases have dried completely I apply either Golden ( soft or hard) molding paste with a large painting knife and put these aside to dry. This gives the canvas the look of aged plaster.
At this stage I may choose to apply the individual watercolor collage components using the molding paste or wait and use gel medium to glue them down after the molding paste has dried. The above picture shows the images applied with molding paste.
Now I am ready to apply acrylic paint to the background. First I lay in a light wash of color and let it dry before I begin adding additional layers of color, making sure  not to completely cover the first layer because I want each layer to show through.
While each background layer is drying I usually begin painting the collage elements using watercolor, acrylic, and inks.
Below is a photo of the under painting and it is at this point I can make any necessary adjustments to Kuan Yin's face and begin adding stamping, text and more collage elements. In this painting/collage I have added the I Ching hexagram Tai which means harmony, great powers, and the flow of good things.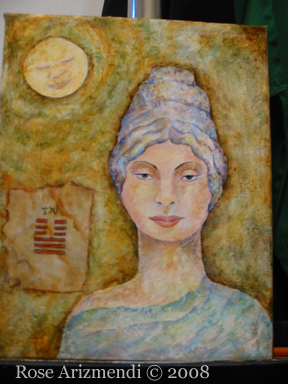 I Ching – Collage/Mixed Media – 8 X 10 inches on canvas
Creative playtime is often one of the most important activities we can engage in as artists. I believe taking the time to play with new ideas, new mediums and color palettes, keeps us in touch with our creative child. After all, our child just wants to have some fun. Taking risks and experimenting is key to our growth and makes us feel alive, and rejuvenated.
We all know that it's fun to create and make things, and yet we tend to go straight from the idea to the finished painting, without giving ourselves some precious creative goofing around time in the studio.
You know what I mean, maybe your a water-colorist or oil painter, and those pastels you bought way back when, has never been opened . The time for trying something new is now, for later seems to never come.
Go ahead, give yourself permission to goof around with something you have always wanted to try, but never did.
Just Breathe, let go, and flow!
I was a busy little bee today. I started the morning with the ATC project I've been working on lately, then I moved on to an acrylic painting that has been waiting in the wings.
Afterwards I finished up a watercolor painting and then cleaned up the mess I'd made in the studio. Whew!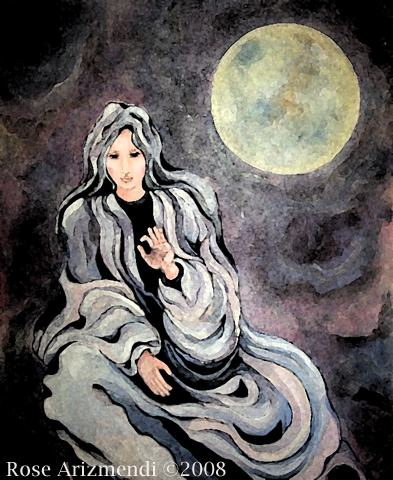 Kuan Yin – Watercolor – 16 X 20 inch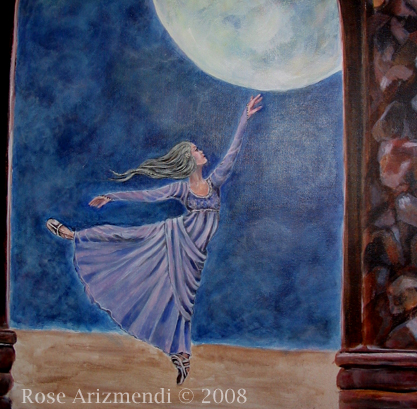 Touch The Moon – Acrylic – 16 X 20 inches on canvas – Work in Pogress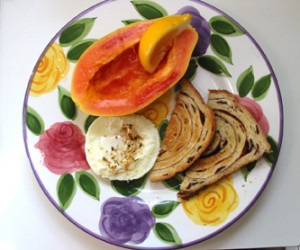 …papaya with a poached egg & raisin bread toast.
Have a beautiful, wonderful day! ~rose
Today I experimented with burnishing the painting below. I used a stainless steel spoon and applied it in a circular motion to the dried surface of the painting. This process makes the pigment shine, giving the painting a lacquered effect, which creates a rich luster and warm glow.
The paint must be completely dry before burnishing, I used this process on the plant pot, the womans eye, and the darker background areas. It gave the dark area of the eye a mysterious glow, which my camera did not capture. However, you can see the effect on the plant pot.
Tomorrow I plan on adding more layers of color and detail to the background, etc.
The image below is a close up photo of a portion of the painting.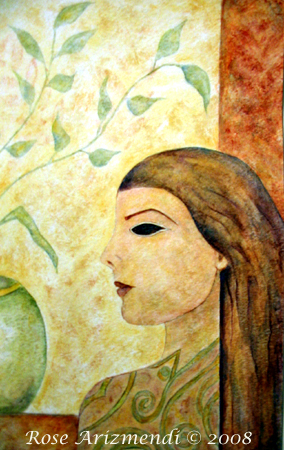 Lady & Nature – Acrylic & Watercolor – 9 X 12 inches
"There is a way that nature speaks, that land speaks. Most of the time we are simply not patient enough, quiet enough, to pay attention to the story." – Linda Hogan
"Everything in nature contains all the power of nature. Everything is made of one hidden stuff." – Ralph Waldo Emerson
"Study nature, love nature, stay close to nature. It will never fail you." – Frank Lloyd Wright
When the weather is as beautiful as it was today, I wanted to be anywhere but in the studio. Then I reminded myself what Woody Allen once said, "80% of success is just showing up." With that in mind, I grabbed a cup of coffee and headed towards the studio.
Once I got started, I couldn't stop. I put in at least 6 hours of work today, and loved every minute of it. Later on, I did manage to get out in the fresh air and enjoy some sunshine on my lunch break. Afterwards, I worked on the painting below.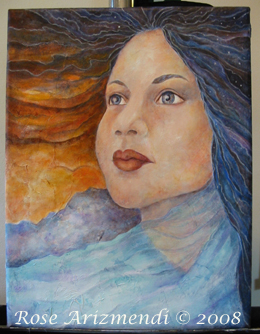 Hope Springs Eternal – Acrylic, Mixed Media on canvas – 11 X 14 inches
Over the weekend I did a few more sketches, using the heart theme from my previous post. There was one sketch I kept coming back to, where I had drawn wings inside and around the heart.
After scanning the drawing into photoshop and then moving it into Painter IX, I began the painting by adding color and more detail to each area.
I have no idea where I am going with the blue area on the left hand side of the painting, but I'm sure I'll figure it out tomorrow.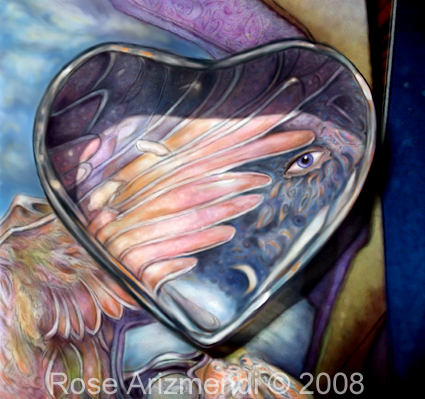 Winged Heart – Combined Media – 9 X 9 inches
I really enjoyed the gorgeous sunshine this morning when Rupert and I took our walk. He sniffed every bush and flower along the way and had a great time barking at two very large dogs we happened to run into.
Afterwards I made a pot of Earl Grey tea, poured myself a cup, pulled my chair up to the easel and began working on the Kuan Yin painting.
Several hours later I noticed people walking their dogs and heard children's laughter from next door. I suddenly realized it was time for me to stop and begin preparing dinner. Where did the time go?
Without a doubt, time flies when you are having fun!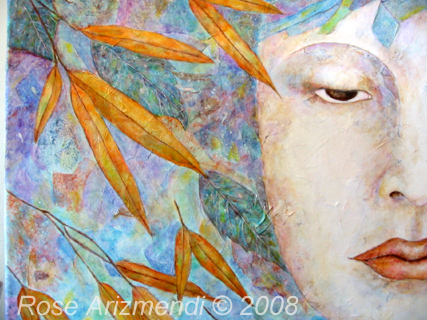 Kuan Yin – 16 x 20 Acrylic & Mixed Media on Canvas

"Time is the most undefinable yet paradoxical of things; the past is gone, the future is not come, and the present becomes the past even while we attempt to define it, and, like the flash of lightning, at once exists and expires". ~Charles Caleb Colton