Posted by
Rose
on Mar 18th, 2008 in
Acrylic/Mixed Media
|
0 comments
I spent most of the day working on my painting of Kuan Yin , layering in watercolor, golden fluid acrylics, acrylic inks, and also used Golden's Iridescent Bright Gold (fine) on the bamboo leaves.
The picture below is a closeup of Kuan Yin's face so you can see how tissue and rice paper have added texture to the canvas.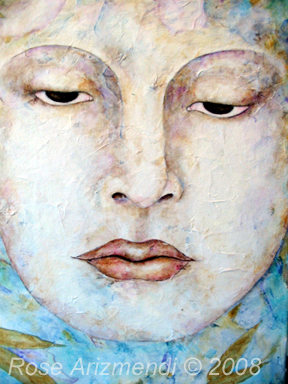 Kuan Yin
"Hope is the dream of a soul awake".
-French Proverb
We had a beautiful sunshine filled day and I took advantage of the great weather by going for a walk.
Our dog Rupert really enjoyed himself as he sniffed every plant on the block, and I noticed everyone we encountered on our walk seemed to have a little spring in their step, including us.
I spent most of the afternoon working on the painting below, and wanted to share it with you. It's almost ready to be posted on the gallery site, I just need to tweak it a little more .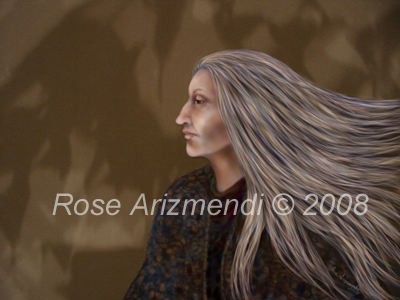 Reflection (C) 2008 – Digital Painting


"Women need real moments of solitude and self-reflection to balance out how much of ourselves we give away". – Barbara De Angelis


Creating paintings of masks has been a life long passion for me. I also like making masks out of paper mache, plaster, ceramics, etc…
I have a series of mask paintings I have been working on for several months. Below is one that is almost finished.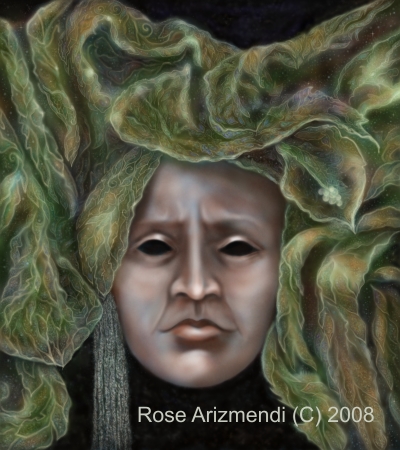 The Mask Of Gaia (C) 2008
"The hypothesis of Gaia is the idea that we may have discovered a living being bigger, more ancient, and more complex than anything from our wildest dreams. That being, called Gaia, is the earth." James Lovelock
Today I decided to play around with some gesso, tissue and rice paper on watercolor paper. The first thing I did was crumble up some of the tissue and rice paper, then tore some of it into smaller pieces.
After I selected the size of watercolor paper I wanted, I spooned some gesso out onto it, spreading it out with a spreader. It took only a few hours to dry this morning.
Next I sketched out the angel, spiral, etc. Then started painting with watercolor and fluid acrylics, laying in some color. The painting needs a lot more work before I develop the angel and spiral, but I was tired and decided to finish later.
v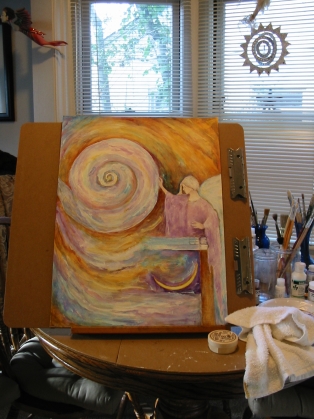 Angel at Play (c) 2008
Watercolor, Acrylic/Mixed Media
"In order for my work to evolve, I become involved in playfulness and take the opportunity to look at the 'what- ifs.' Whatever the result, it expands my vision by letting go of who I think I am and discovering the spirit within." Jean Deemer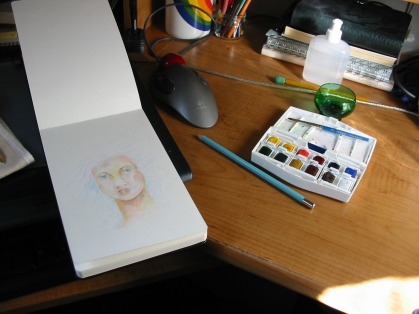 Saturday's around here are always busy and this one was no exception. Today was world wide "sketch crawl" day and my husband sponsored one in our area. It's always great fun but due to still recovering from the flu, I stayed home.
Instead I cleaned off my computer work area. It really needed it! Of course, a nice clean area just begs for some kind of creative activity. Resistance is futile! I just had to sit down and do a quick sketch in my new clean area.
Above is my moleskin journal and watercolor travel set. I also used watercolor pencils as well.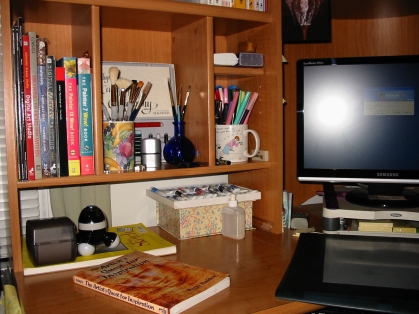 My computer work space clean and ready to go!