Posted by
Rose
on May 27th, 2010 in
Digital Art
|
0 comments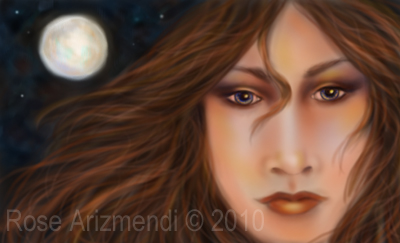 The full moon in May is known as Milk Moon, Corn Planting Moon, Flower Moon and Hare's Moon.  Best of all the full moon is  in my sun sign Sagittarius!
All day I had to keep reminding myself to slow down and breathe. When the moon is in Sagittarius I usually have so much energy I can hardly stand still. lol
I think I was driving my husband a little crazy!
The image above was painted with Painter 7.  I usually begin with a sketch but today I decided to just start adding paint to the canvas. My goal was to create a painting  in an hour without over thinking the whole process. It actually  helped me to loosen up and get back into the flow. No expectations except to have a good time.
I used the Soft Charcoal variant of Dry Media to paint the face, hair and background and then added the Artist Pastel Charcoal variant to the background.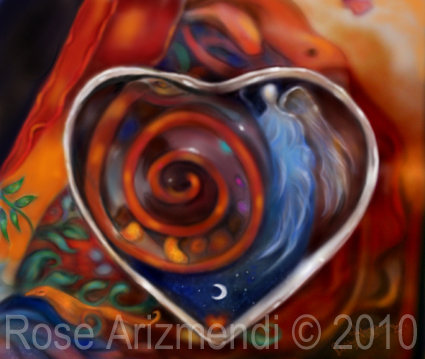 Dream Heart – Digital Painting – Soft pastel variant of pastels & Soft charcoal variant of charcoal – 6 x 7 inches
I had no other desire or plan for this painting except for creating a heart with a spiral inside it. All the rest came from somewhere within my subconscious mind, where half glimpsed worlds of strange beings flitted past the corner of my eye and brilliant bold colors begged to be splashed onto the canvas.
I worked for two straight days on this piece and all I want to do right now is sleep.
For the past couple of nights I've had strange dreams, the one dream image which stands out from the others, is where I find myself standing on a hillside overlooking a valley where hundreds of women and children are gathered together, carrying buckets and rags.
Everywhere I looked,  I saw oil seeping up out of the earth.
I used Painter 7 and Painter IX to paint Dream Heart.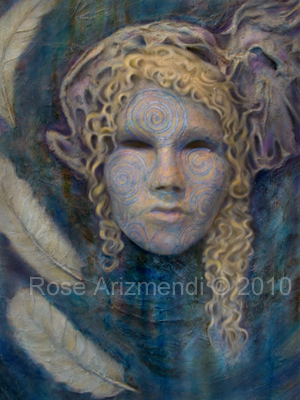 Lady of the Sacred Spirals – 4 x 5 inches – Mixed Media
I created this digital painting from an acrylic mixed medium painting of mine. First I made the mask and then attached it to a canvas.
After it had dried I applied a thick coat of  acrylic medium and then sculpted the feathers and the drape over the head, next I applied wool for the hair and various kinds of art paper to give the image more texture. It took almost two weeks for the piece to dry. lol
It was painted using golden acrylics, watercolor and inks. When it was finished I took a bunch of photos and selected one to scan into photo shop. I used Painter 7 to create the final painting you see now. The original canvas was 22 x 28 inches and has already found a home.
I really let my child out to play on this one and the whole process was way too much fun! I may have to do this again once the sun comes out again.
Please Stand by . . . Creative Jewelry Muse on Board!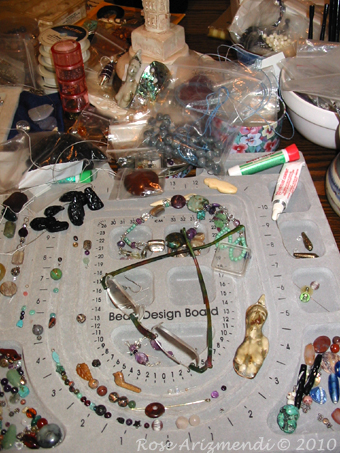 For the past week I have been in the process of designing a couple of beaded necklaces and unfortunately because of space constraints I'm using our dining room table as a temporary beading area.
The good news is I unpacked all my beading supplies and found all kinds of goodies I had forgotten about. I had purchased some beads for a pair of earrings about four years ago and stashed them away for safe keeping and completely forgot about them.
I got so excited about finding the beads I just had to sit down and make the earrings. They are made with Poppy & Maple Jasper, Carnelian, Botswana agates, turquoise beads with sterling silver spacers.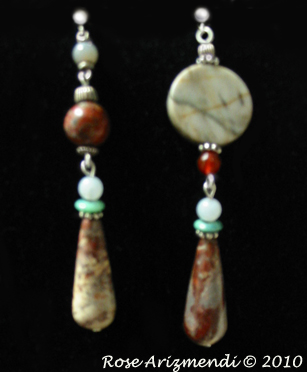 Sacred Source – Earrings by Rose
thought for the day; "Imagination is the beginning of creation. You imagine what you desire, you will what you imagine and at last you create what you will." – George Bernard Shaw
1st January. Early in the morning, the sky is gloomy and gray with rain. As  I drink my tea, I find myself trying to ignore the chaos of boxes stacked behind my chair as I write this post.
Over the holidays, I finally unpacked most of my art supplies. I'm still in the process of organizing everything and trying to figure out where some of my brushes disappeared to? … lol
Our new place is smaller so I carved out a little niche  for myself  in our bedroom for my art table & supplies. It's nice and cozy!
I'm sketching and painting for the first time in ages, and feeling better for getting back into the swing of things.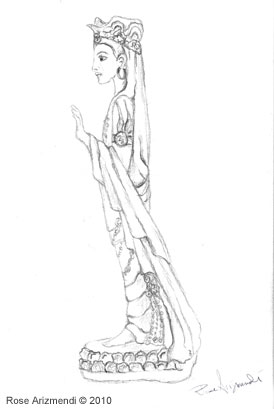 Sketch of Kuan Yin Lamp – Tombow Mono 100 # 2B & #3B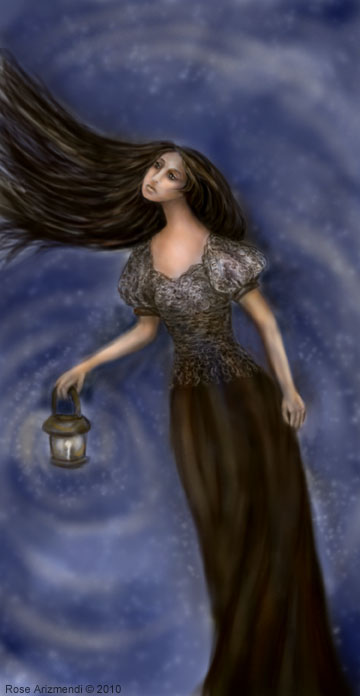 Morning Warm Up – Digital using Painter 7