Posted by
Rose
on Feb 20th, 2009 in
Acrylic/Mixed Media
|
0 comments
I wanted to be productive today and paint something so I created the abstract painting below. I am still working on this one.
I need to work some more on the angels and the background. I am thinking of  adding some touches of ink and metallic paint to spice it up a bit.
This afternoon, I prepped several sheets of watercolor paper with gesso and tissue paper for a project I want to do and they are drying as I type this.
Tomorrow I plan on letting my spirit out to play!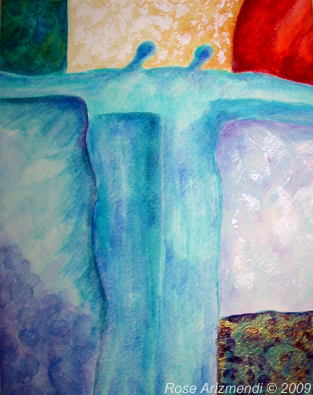 When Angels Dream – Acrylic/Watercolor – 8 x 10 inches on Watercolor Paper
"In order for my work to continue to evolve, I become involved in playfulness and take the opportunity to look at the 'what – ifs.' Whatever the result, it expands my vision by letting go of who I think I am and discovering the spirit within." – Jean Deemer