Posted by
Rose
on Jan 20th, 2009 in
Acrylic/Mixed Media
|
0 comments
I have been working on this painting again and have added a few new elements to it.
I am making progress on the piece despite the occasional interruptions. Oh, such is life. But I am having fun!
It felt really good to have two full days in the studio so I could get some work done. My current goal is to spend more time in the studio and less time with my nose in the computer. We will see how that works out . . .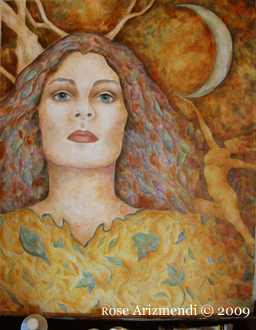 Lady of the Forest #2 – Acrylic/Watercolor/ Mixed Medium – 16 x 20 inches on Canvas
Metaphor
When you start on a long journey, trees are trees, water is water, and mountains are mountains. After you have gone some distance, trees are no longer trees, water no longer water, mountains no longer mountains. But after you have travelled a great distance, trees are once again trees, water is once again water, mountains are once again mountains. – Zen teaching