Posted by
Rose
on Jun 10th, 2009 in
Photography
|
0 comments
The studio is dark, silent . . . the easel sits empty.
However, in the kitchen, all is well!
Cooking relaxes me and engages me in a creative way . . . like blending the right spices or ingredients together.
I have homemade chicken curry simmering on the stove, and mangoes, papaya, and peaches in ceramic bowls on the counter waiting to be made into salsa.  Yum!
My creativity for right now is focused on preparing wholesome, nutritious food for my family.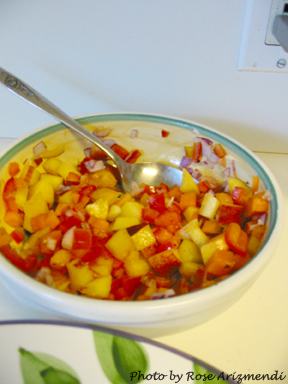 Peach & Papaya Salsa . . .
"Good painting is like good cooking, it can be tasted, but not explained." – Maurice de Vlaminck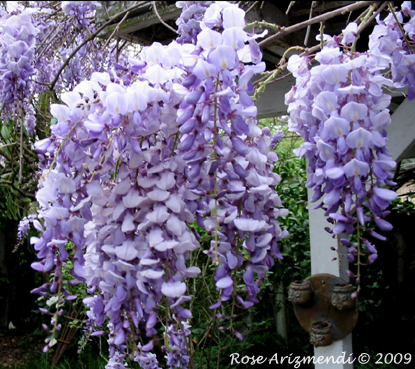 I spent the day wandering between the studio and the garden trying to decide on where to squeeze in another few plants.
What to do next . . . will it be herbs or flowers?
Being in the garden relaxes me completely. I love it! I feel  myself becoming unstuck, more energized . . . open . . . cleaner . . . and inspired to get back to painting.
Take care and have a great Memorial weekend!
thought for the day:
"I don't know what I'm doing  most of the time, but that's okay because I have a lot of fun. And, isn't that the great gift of art? Always seeking, always growing and always having the time of my life." – Tom Jensen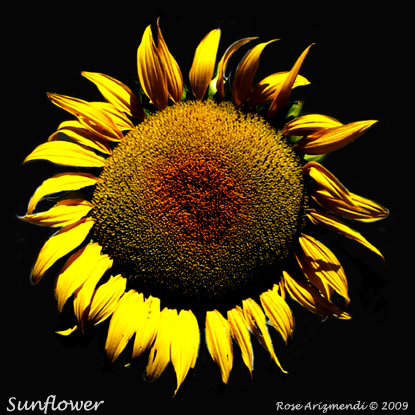 Today, I took a photo of this glorious sunflower and decided to take it into Photoshop, to play around with the image.
So for the moment, this is as far as I got on this project. I will add more as I go along.
The shape and form of the sunflower reminds me of a mandala.
thought for the day:
"Bring me then the plant that points to those bright Lucidites swirling up from the earth, And life itself exhaling that central breath! Bring me the sunflower crazed with the love of light." – Eugenio Montale
"And here the sunflower of the spring
Burns bright in morning's beam."
– Ebenezer Elliott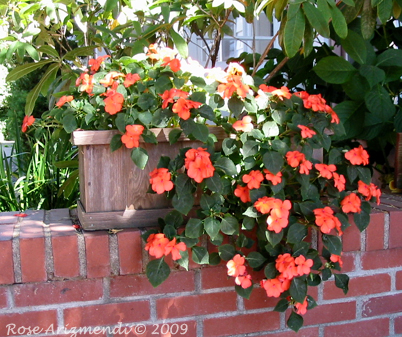 thought for the day:
"'Tis like the birthday of the world,
When earth was born in bloom;
The light is made of many dyes,
The air is all perfume:
There's crimson buds, and white and blue,
The very rainbow showers
Have turned to blossoms where they fell,
And sown the earth with flowers."
–   Thomas Hood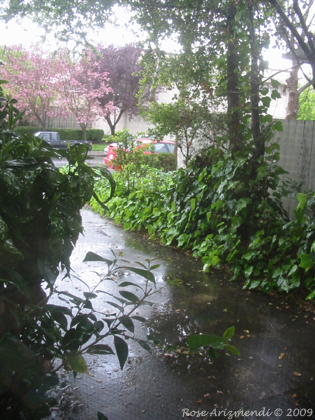 Well it has been a rainy day today in the bay area and it came down hard at times. I snapped this photo as the rain water gushed down our driveway.
I spent the day finishing up an acrylic painting I have been working on, and later I'm going to finish reading my book "The Artist's Quest for Inspiration" by Peggy Hadden. This book is absolutely wonderful and very helpful!
thought for the day: The spirit, like the body, can be strengthened and developed by frequent use. And  for this reason it is necessary for the artist to know the starting point for the exercise of his spirit." – Wassily Kandinsky
Everywhere I look I see signs of spring! The earth is awakening and everything is so vibrant and alive and full of energy.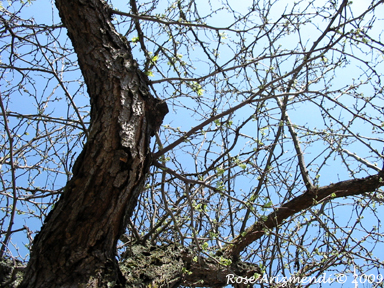 It is hard to believe April is here. The flowers are blooming and the trees are unfurling their leaves. When I took my walk today, I came across a novel way to inject some vibrant color into your garden. I noticed our neighbor had hung three large Christmas  balls from her tree. They appear to be made of crackled glass. My photo doesn't do them justice . . . so beautiful & surprising.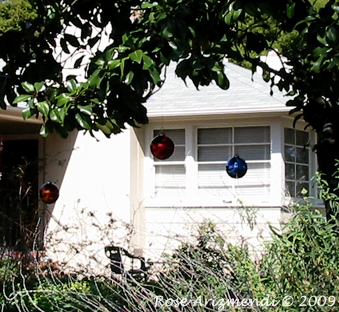 "The first of April, some do say,
Is set apart for All Fools' Day.
But why the people call it so,
Nor I, nor they themselves do know.
But on this day are people sent
On purpose for pure merriment."
–   Poor Robin's Almanac, 1790
Today, the birds were singing and the sun warmed my body, mind, and soul.
I found this patch of clover blooming in our garden. They are welcome reminders that spring is on its way.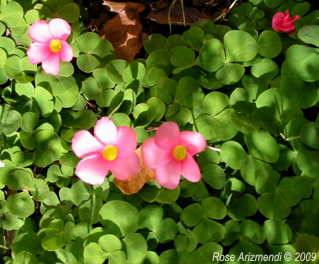 "The afternoon is bright,
with spring in the air,
a mild March afternoon,
with the breath of April stirring,
I am alone in the quiet patio
looking for some old untried illusion –
some shadow on the whiteness of the wall
some memory asleep
on the stone rim of the fountain,
perhaps in the air
the light swish of some trailing gown."
–   Antonio Machado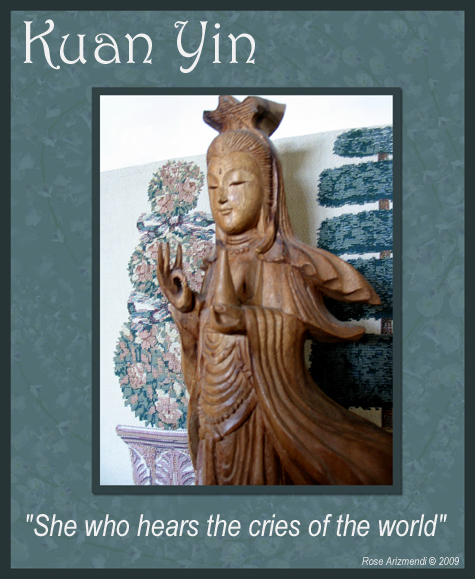 Here's my latest creation.
I created the digital collage above using Photoshop and Painter IX.
I started by taking a photo of one of my Kuan Yin statues with a digital camera. Then I loaded it into Photoshop and tweaked it a bit.
Next I created the background using Painter IX. I played around with color and texture until I came up with the image above, then I merged all the layers together, and added text to the image in Photoshop.
Kuan Yin is not generally regarded as a goddess, but rather a Bodhisattva. A Bodhisattva, is a being destined for full enlightenment and nirvana who, out of compassion for the suffering of other beings, has taken a vow to postpone his or her entry into nirvana in order to remain in the world to help other beings. She who hears the  cries of the world represents the virtues of compassion, mercy, forgiveness and faith.

"True compassion is not forged at a distance from pain but in its fires. We do not always have a solution for suffering. We cannot always fix pain. However, we can find the commitment to stay connected and to listen deeply. Compassion does not always demand heroic acts or great words. In the times of darkest distress, what is most deeply needed is the fearless presence of a person who can be wholeheartedly receptive." She Who Hears the Cries of the World, by Christina Feldman,.
Today I had my yearly retinal scan, during which they dilated my eyes. They gave me a set of plastic glasses to wear while my eyes readjusted.
I then left the doctor's office and everything was bright and blurry.  My husband laughed when he saw me wearing those big plastic glasses.
I guess I looked pretty weird.  hehe . . .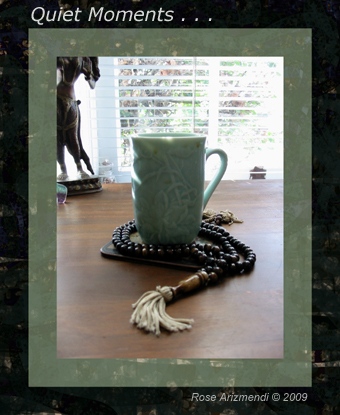 Quiet Moments – Digital Collage & Photography
I knew painting was out of the question so I decided to create a digital collage using a photo I took of a tea cup.
Afterwards I had a cup of chai tea and a quiet moment to myself.
"Traditionally we are taught, and instinctively we long, to give where it is needed – and immediately.  Eternally; woman spills herself away in driblets to the thirsty, seldom being allowed the time, the quiet, the peace, to let the pitcher fill up to the brim". – Anne Morrow Lindbergh
Today marks the one year anniversary of my art blog and I'm feeling as inspired as ever. I've learned a lot over the past year from reading other  peoples blogs, reflecting on my own processes and discovering there are other artists experiencing similar challenges, and most importantly that I am not alone. Yes, there is a wonderful supportive art community in blogland.
I took the leap this year and moved the large easel from the garage into my studio. A very dear friend gave this to me a couple years back and we stored it in the garage until we could make room for it in the house. We had to rearrange the furniture a bit  to make space for the easel, but it was so worth it.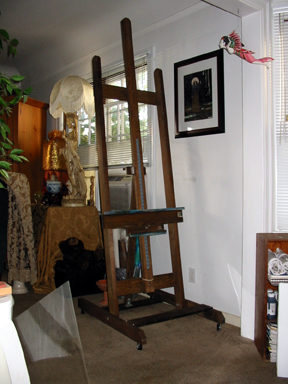 Anco Bilt Easel
Every child is an artist. The problem is how to remain an artist once he grows up.
– Pablo Picasso